This website uses cookies to ensure you get the best experience while browsing it. By clicking 'Got It' you're accepting these terms.


The best of EcoWatch, right in your inbox. Sign up for our email newsletter!
Climate Model Predicts Melting of West Antarctic Ice Sheet Could Double Sea Level Rise
Mar. 31, 2016 09:33AM EST
Climate
It is no longer a question of "if" the unthinkable happens, but a question of "when." And the "when" could happen sooner than you think.
For decades climate scientists have been worried about what happens if the vast West Antarctic ice sheet melts.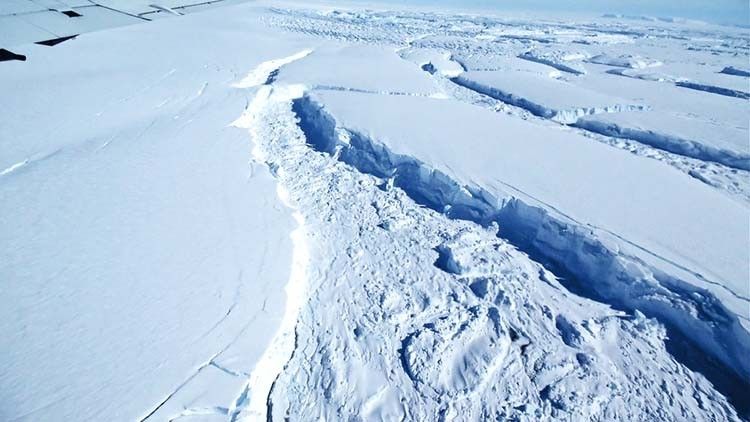 The melting of the ice-sheet, which is greater than the size of Mexico, has always been seen as somewhat of a doomsday scenario as it has to the potential to rise sea level by several meters. This is due to the fact that much of the ice-sheet sits on the ground, rather than floats.
Scientists have known about the threat for decades. As the respected British environmental journalist, Paul Brown, wrote 20 years ago in his book Global Warming—Can Civilization Survive?: If the West Antarctic Ice sheet melted "it could add between 4 and 7 m (13-23 feet) to sea level rise … such figures appear to create the potential for a series of large-scale catastrophes."
By its very nature, any sea level rise of this nature would be catastrophic—wiping out most coastal cities and low-lying areas.
Maybe because the thought is so unthinkable, it has been easy to dismiss. The deniers and climate skeptics have long responded that this kind of speculation was scaremongering.
The other source of comfort is that even in their worst nightmare scenarios, scientists thought that this would happen over a period of hundreds, if not thousands, of years.
But not any more.
Scientists now believe that that the vast ice sheet is melting much more quickly than before, in part due to rising air temperatures as well as rising sea-temperatures.
Yesterday a paper, published in the prestigious journal Nature predicted that "Antarctica has the potential to contribute more than a metre of sea-level rise by 2100."
Added to melting ice in other regions, this means that sea level rise could be some five to six feet higher by the end of this century.
As the New York Times reports: "That is roughly twice the increase reported as a plausible worst-case scenario by a United Nations panel just three years ago and so high it would likely provoke a profound crisis within the lifetimes of children being born today."
If this is not mind-blowing enough, the scientists add that sea level rise could be "more than 15 meters by 2500, if emissions continue unabated."
It is worth reading the next two sentences twice from the Times, allowing them to sink in:
"The long-term effect would likely be to drown the world's coastlines, including many of its great cities ... New York City is nearly 400 years old; in the worst-case scenario conjured by the research, its chances of surviving another 400 years in anything like its present form would appear to be remote."
For those of us who have written about climate change for decades, we have often wondered when the tipping point will come that spurts governments into radical and urgent action.
Great storms have come and gone, cities have already been plunged under water, destructive droughts have killed millions and yet we carry on roughly as normal. Yes, renewables are gaining hold, but not nearly fast enough and governments still subsidize fossil fuels to the tune of billions.
The obvious response to my last paragraph is to argue that we are not carrying as normal, that only a few months ago that governments signed an historic agreement to tackle climate change in Paris.
Before that lulls you into a false sense of security, the deal is not nearly enough to save the West Antarctic ice sheet. It does not go anywhere far enough to reduce carbon emissions to the degree necessary.
"The bad news is that in the business-as-usual, high-emissions scenario, we end up with very, very high estimates of the contribution of Antartica to sea-level rise," by 2100, Professor Robert DeConto, at the University of Massachusetts Amherst, who led the work, tells the Guardian. "This [doubling] could spell disaster for many low-lying cities."
YOU MIGHT ALSO LIKE
20 Attorneys General Launch Climate Fraud Investigation of Exxon
Arctic Sea Ice Hits Yet Another Record Low
95% of Meteorologists Back Climate Consensus
James Hansen: Dangerous Sea Level Rise Will Occur in Decades, Not Centuries
EcoWatch Daily Newsletter
Mr.TinDC / Flickr / CC BY-ND 2.0
Many nutrients are essential for good health.
By Pat Thomas
Throughout the U.S., major food brands are trying to get rid of GMO ingredients — not necessarily for the right reasons, but because nearly half of consumers say they avoid them in their food, primarily for health reasons.
But the CEO of Impossible Foods, purveyor of the Impossible Burger, is bucking that trend.
People in more than 100 countries are expected to take part in well over 1,000 strikes on May 24 to demand climate action from their governments. @ExtinctionR / Twitter
DoneGood
By Cullen Schwarz
Ethical shopping is a somewhat new phenomenon. We're far more familiar with the "tried and tested" methods of doing good, like donating our money or time.
Asian elephants frolic in Kaudulla Wewa at Kaudulla National Park in central Sri Lanka.
David Stanley /
CC BY 2.0
When it comes to saving some of the planet's largest animals, a group of researchers says that old methods of conservation just won't cut it anymore.
smcgee / Flickr / CC BY-NC 2.0
Several New York City Starbucks exposed customers to a potentially deadly pesticide, two lawsuits filed Tuesday allege.
Drinks with plastic straws on sale at London's Borough Market. Susie Adams / Getty Images
The UK government has set a date for a ban on the sale of single use plastics, The Guardian reported Wednesday. From April 2020, the sale of plastic straws, drink stirrers and cotton buds with plastic stems will be prohibited in England.