This website uses cookies to ensure you get the best experience while browsing it. By clicking 'Got It' you're accepting these terms.
Climate Flip-Flopper Marco Rubio Announces Presidential Candidacy
Apr. 13, 2015 11:37AM EST
Politics
Florida Sen. Marco Rubio once acknowledged that climate change was a serious issue that needed to be addressed. But now he's thrown his hat in the ring for the Republican presidential nomination, a field in which such science-based beliefs are taboo. So now he's a full-blown climate denier, spouting the GOP party line.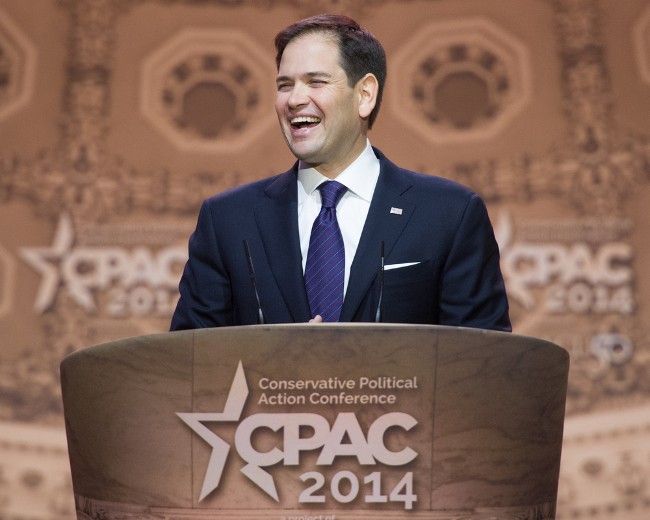 Photo credit: Shutterstock
It's been no secret for the last couple of years that Rubio had his eye on the White House. He was tapped by his party to do the response to President Obama's State of the Union address in January 2013. So by last year, when he was asked by interviewer Jonathan Karl on ABC's This Week, "You do not think that human activity, the production of CO2, has caused warming to our planet?" he responded with Tea Party talking points: "I do not believe that human activity is causing these dramatic changes to our climate the way these scientists are portraying it, and I do not believe that the laws that they propose we pass will do anything about it, except it will destroy our economy."
When Karl asked him "How big a threat is climate change?" Rubio said, "I don't agree with the notion that some are putting out there, including scientists, that somehow, there are actions we can take today that would actually have an impact on what's happening in our climate. Our climate is always changing. And what they have chosen to do is take a handful of decades of research and—and say that this is now evidence of a longer-term trend that's directly and almost solely attributable to manmade activity."
"I don't know of any era in world history where the climate has been stable," Rubio continued. "Climate is always evolving and natural disasters have always existed. But I do believe that the fact is, that these events that we're talking about are impacting us, because we've built very expensive structures in Florida and other parts of the country near areas that are prone to hurricanes. We've had hurricanes in Florida forever. I have no problem with taking mitigation activity. What I have a problem with is these changes to our law that somehow politicians say are going to change our weather. That's absurd."
In that interview, the 42-year-old U.S. senator asserted that he was ready to be president. But it was the 35-year-old state legislator Rubio who sounded more prepared. Those who only know the Rubio of today, who is just debuting on the national stage, would not have recognized the young legislator who spoke to the Florida House of Representatives back in 2007.
In touting energy independence, he appeared to accept climate change and taking action on climate as a given not to be argued with, as he promoted the potential for Florida to be a new energy leader.
"Another opportunity before us is to serve as an international model for energy efficiency and independence," he said. "On the issue of energy, global warming, dependence on foreign sources of fuel and capitalism have come together to create opportunities for us that were unimaginable just a few short years ago. Today Florida has the opportunity to pursue bold energy policies, not just because they're good for the environment but because people can actually make money doing them. This  nation, and ultimately the world, is headed towards emission caps and energy diversification. Those changes will require technological advances that make those measures cost effective. The demand for such advances will create an industry to meet it. Florida should become the Silicon Valley of that industry."
Some political observers have suggested that Rubio could bring Hispanic voters to the GOP in 2016 because he himself is Cuban-American, despite the fact that those of Cuban descent represent less than four percent of American Hispanics and there is another Cuban-American, Ted Cruz, already in the race. But polling suggests that Rubio's positions on the environment are way out of line with a majority of American Hispanics.
A 2014 poll conducted for the Natural Resources Defense Council (NRDC) by Latino Decisions found that nine out of 10 Latino voters want the government to take action on climate change, 8 in 10 want President Obama to take action against carbon emissions and 86 percent support setting limits on carbon emissions from power plants, an action Obama took with his Clean Power Plant rule last summer. Rubio is opposed to that rule. In each case, a majority of Latino Republicans polls agreed with government action on climate change and environmental pollution.
"Of the issues we've polled, the only other national issue Latinos feel more intensely about is immigration reform," said Matt Barreto, co-founder of Latino Decisions and associate professor of political science at the University of Washington. "Action on climate change is a very high priority for Latinos—regardless of age, income, party affiliation or where they live. This is a clear message for public officials who want support from Latinos: protecting the environment is a top priority. If you want their support, taking action on climate change is an important place to start."
"Latinos intensely support taking action on climate change and fighting air pollution," said NRDC senior attorney Adrianna Quintero, senior attorney for NRDC. "Latinos in the U.S. recognize the threat that climate change poses to the well being of our families and the future of our community in this country and abroad, and want our leaders to solve it. Latinos have a deep sense of interconnectedness, not only to family and friends we see every day but to our cousins, aunts and grandparents, whether they live in the United States or abroad. That powerful sense of community extends to concerns for others. Fighting climate change is part of our obligation to build a more hopeful future, for all."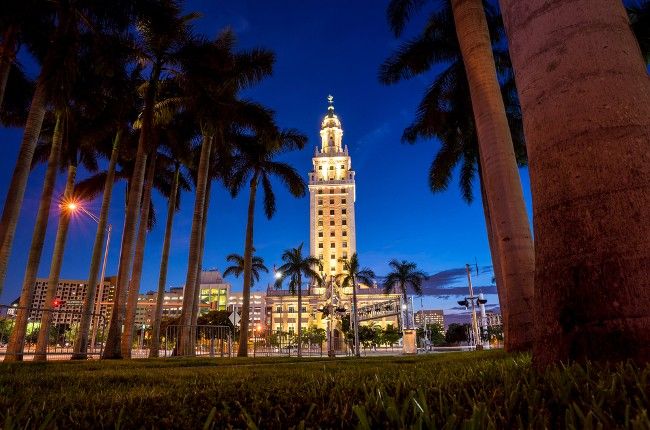 Photo credit: Shutterstock
Rubio launched his campaign in his native Miami, one of the American cities more threatened by the effects of climate change including sea level rise, flooding and hurricanes.
NextGen Climate, which has launched its "Hot Seat" campaign to call out the deniers in what it's referring to as "The Koch Primaries," said, "Millions of Floridians are already threatened by sea level rise—including a disproportionate number of Latinos—and are experiencing the negative impact of climate change first-hand. Florida's rising sea levels jeopardize the state's communities, homes and drinking water—and threaten $3.5 trillion of assets in Rubio's hometown of Miami alone. Even the Freedom Tower, the site of Rubio's campaign launch, could be underwater by 2060. As Rubio begins his campaign and visits key states, NextGen Climate will continue to urge him to stand up for our kids and take action to address climate change once and for all."
YOU MIGHT ALSO LIKE
Tom Steyer to Put GOP Presidential Climate Denier Candidates on 'The Hot Seat'
Climate Denier Ted Cruz Announces Presidential Run, Gov. Brown Calls Him "Unfit to Be Running for Office"
Hillary Clinton Announces 2016 Presidential Bid: Where Does She Stand on Climate
EcoWatch Daily Newsletter
Large food companies are following in the footsteps of fast-food restaurants such as Burger King and KFC by offering meat alternatives. Getty Images
By Elizabeth Pratt
Hormel, Kellogg's, and Kroger are among the large companies now planning to offer "fake meat" products at grocery stores.
Experts say the trend toward plant-based meats coincides with consumers' desires to eat less meat.
However, experts urge consumers to closely check package labels as a product isn't necessarily healthy just because it's described as plant-based.
In grocery stores and fast-food outlets around the U.S., a revolution is taking place.
Colombia rainforest. Marcel Oosterwijk / CC BY-SA 2.0
Many of us think of the Amazon as an untouched wilderness, but people have been thriving in these diverse environments for millennia. Due to this long history, the knowledge that Indigenous and forest communities pass between generations about plants, animals and forest ecology is incredibly rich and detailed and easily dwarfs that of any expert.
picture-alliance / Newscom / R. Ben Ari
By Wesley Rahn
Plastic byproducts were found in 97 percent of blood and urine samples from 2,500 children tested between 2014 and 2017, according to a study by the German Environment Ministry and the Robert Koch Institute.

Pexels
Medically reviewed by Daniel Bubnis, MS, NASM-CPT, NASE Level II-CSS
Hot yoga has become a popular exercise in recent years. It offers many of the same benefits as traditional yoga, such as stress reduction, improved strength, and flexibility.
Lara Hata / iStock / Getty Images
By SaVanna Shoemaker, MS, RDN, LD
Rice is a staple in many people's diets. It's filling, inexpensive, and a great mild-tasting addition to flavorful dishes.
An image of the trans-alaskan oil pipeline that carries oil from the northern part of Alaska all the way to valdez. This shot is right near the arctic national wildlife refuge. kyletperry / iStock / Getty Images Plus
The Trump administration has initialized the final steps to open up nearly 1.6 million acres of the protected Alaskan National Wildlife Refuge to allow oil and gas drilling.