This website uses cookies to ensure you get the best experience while browsing it. By clicking 'Got It' you're accepting these terms.
Climate Denying Governor Touts Record Coal Exports
May. 03, 2013 02:00PM EST
Energy
Within hours of renowned climate scientists announcing a staggering milestone in carbon dioxide emissions, Illinois Gov. Pat Quinn rolled out the booster wagons for Big Coal and celebrated his state's five-fold increase in record coal exports.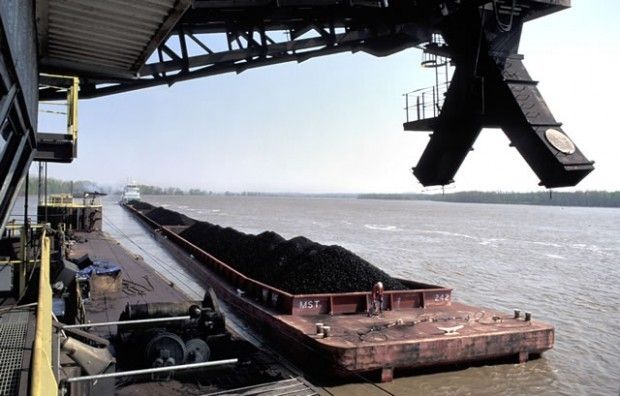 Gov. Quinn, once hailed by the Sierra Club as "the clear choice for Illinois voters who want to move to a clean energy economy and protect our drinking water and wild places," despite the fact that he had received huge contributions from the coal industry, declared:
"Illinois coal is in high demand overseas and we have the resources and infrastructure to take advantage of this opportunity for economic growth," Gov. Quinn said. "Our rail lines and river ports, which we continue to improve under the Illinois Jobs Now! capital construction program, give us a unique export advantage over other states in the region."
Never mind that climate destabilizing torrential rains and floods, along with coal barge accidents, tied up the Mississippi River last week.
Never mind that CO2 emissions will reach an alarming 400 parts-per-million (ppm) for the first time in 3 million years.
Never mind that last year's historic drought and climate destabilization had nearly brought the Mississippi River to a standstill.
Never mind that world coal consumption, thanks in part to U.S. coal exports, will keep coal-fired plants as the lead source of CO2 emissions, according to the U.S. Energy Information Administration.
Never mind that Illinois' own rogue coal industry and state regulatory agencies have failed to protect coal miners, waterways and watersheds, farms and forests, and communities from deadly and costly toxic pollution.
Never mind that the job-robbing union-busting heavily-mechanized economic-diversification-blocking coal industry has left Illinois' historic coal mining counties at the bottom of the charts in entrenched poverty, hopeless unemployment and ruin.
As Illinois Department of Commerce and Economic Opportunity Assistant Director Dan Seals said, "It is truly an unbelievable achievement."
As a historian, I do give Gov. Quinn credit for following in the great tradition of coal exports in Illinois. In 1810, a black slave named Peter Boon shoveled and loaded the outcroppings of coal along the south bank of the Big Muddy River in Jackson County, Illinois. Pushing off toward the Mississippi River in their flatboat, William Boon, a captain in the mounted rangers, and his slave Peter transported the first commercial barge of coal in the heartland.
In effect, Illinois' coal industry was launched with legal slavery—not that Gov. Quinn's notoriously shameless "Coal Education Curriculum" teaches that to Illinois students and teachers, as part of the state coal marketing slush fund.
Despite Peter Boon's presence on the slave schedules, virtually every history book and modern news report of this historic event failed to recognize his enslavement, or the fact that William Boon purchased a "voluntarily indentured" servant as late as 1822. One text geared toward children referred to Peter as Boon's African American friend. As a former lead miner from Kentucky and Missouri, Boon engineered the first commercial slope mine in Illinois.
He and his slave embarked on six epic voyages down the Mississippi to New Orleans, where they were paid in European currency for coal and loads of forest and farm products. Boon's efforts attracted attention. As the first state legislator from southwestern Illinois, he also played a role in shaping the laws that allowed for slave labor to assist his work. He would also set the precedent for the entrepreneurial coal foundations in government office—effectively, the first coal lobby in cahoots with the statewide government.
And the coal ships move on.
Visit EcoWatch's COAL and CLIMATE CHANGE pages for more related news on this topic.
——–
Click here to tell Congress to Expedite Renewable Energy.

EcoWatch Daily Newsletter
Artist's conception of solar islands in the open ocean. PNAS
Millions of solar panels clustered together to form an island could convert carbon dioxide in seawater into methanol, which can fuel airplanes and trucks, according to new research from Norway and Switzerland and published in the Proceedings of the National Academy of Sciences journal, PNAS, as NBC News reported. The floating islands could drastically reduce greenhouse gas emissions and dependence on fossil fuels.
Marcos Alves / Moment Open / Getty Images
More than 40 percent of insects could go extinct globally in the next few decades. So why did the U.S. Environmental Protection Agency (EPA) last week OK the 'emergency' use of the bee-killing pesticide sulfoxaflor on 13.9 million acres?
EcoWatch teamed up with Center for Biological Diversity via EcoWatch Live on Facebook to find out why. Environmental Health Director and Senior Attorney Lori Ann Burd explained how there is a loophole in the The Federal Insecticide, Fungicide, and Rodenticide Act under section 18, "that allows for entities and states to request emergency exemptions to spraying pesticides where they otherwise wouldn't be allowed to spray."
Simple swaps that cut down on kitchen trash.
Sponsored
By Kayla Robbins
Along with the bathroom, the kitchen is one of the most daunting areas to try and make zero waste.
View of downtown Miami, Florida from Hobie Island on Feb. 2, 2019.
Michael Muraz / Flickr
The Democratic candidates for president descended upon Miami for a two-night debate on Wednesday and Thursday. Any candidate hoping to carry the state will have to make the climate crisis central to their campaign, as The New York Times reported.
By Sharon Kelly
On Monday, the Wall Street Journal featured a profile of Scott Sheffield, CEO of Pioneer Natural Resources, whose company is known among investors for its emphasis on drawing oil and gas from the Permian basin in Texas using horizontal drilling and hydraulic fracturing, or fracking.
Pexels
By Craig K. Chandler
The federal government has available to it, should it choose to use them, a wide range of potential climate change management tools, going well beyond the traditional pollution control regulatory options. And, in some cases (not all), without new legislative authorization.
Denis Poroy / Getty Images
By Dan Gray
Processed foods, in their many delicious forms, are an American favorite.
But new research shows that despite increasing evidence on just how unhealthy processed foods are, Americans have continued to eat the products at the same rate.
By Sarah Steffen
With a profound understanding of their environmental surroundings, indigenous communities around the world are often cited as being pivotal to tackling climate change.