Climate Deniers Attack 'Rock Star' Pope as 'Nature-Worshipping Pagan' Amid U.S. Visit
Sep. 22, 2015 11:58AM EST
Climate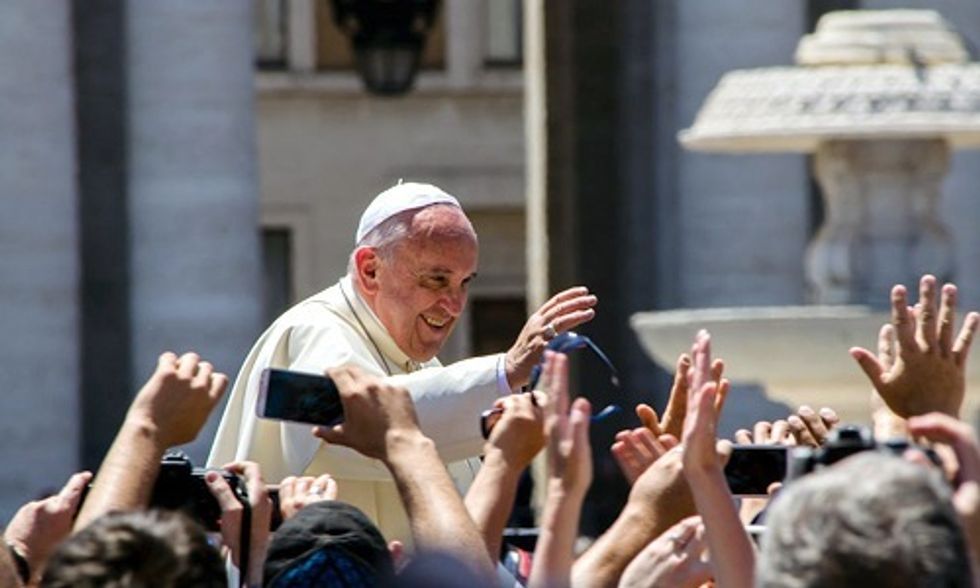 The Pope's visit to the U.S. has been heralded for months, and now the day has finally arrived. The Pope is expected to arrive in Washington, DC later this afternoon. It will be the Pope's first visit to the U.S. and the first time a Pope has ever addressed Congress, which he will do on Thursday.
What do #thePope and snow have in common? They're two white things that'll shut down DC. #OverheardatAU #DCprobs

— Bridget Bradley (@Bridget Bradley)1442868269.0
Many in the U.S. have eagerly awaited the visit from the "rock star," who enjoys wide support among Catholics, other religious groups and even non-religious people. In light of the Pope's message on climate change and his groundbreaking call to action in his encyclical, the University of Notre Dame has announced they will completely get off coal within five years, while investing in renewable energy including solar and geothermal.
"In recognition of both Pope Francis' encyclical and his visit this week to the United States, Notre Dame is recommitting to make the world a greener place, beginning in our own backyard," Father Jenkins said in a statement.
And other Catholic institutions are facing mounting pressure to follow in Notre Dame's footsteps. Reuters conducted a review today into Catholic churches with oil and gas leases. The review found "235 oil and gas leasing deals signed by Catholic Church authorities in Texas and Oklahoma with energy and land firms since 2010." And in one archdiocese—Oklahoma City—church officials have signed three new oil and gas leases since Pope Francis released his encyclical on the environment.
2/2 "and hoping to touch their hearts and make them change the behavior that we have had in the past" on @WNEW now: http://t.co/wBRsAQEkAn

— EDF (@EDF)1442928885.0
This is going on despite the fact that Oklahoma's public utilities commission shut down two disposal wells last week amid earthquake increases from two a year to two a day due to increased fracking. The Reuters report said "it was not clear whether production on the church leases was through fracking ... or more conventional methods." But, regardless of the type of extraction, many find the situation problematic. "There may be some kind of inconsistency here between what the Pope has said and what the Church is doing in U.S. oil and gas country," Mickey Thompson, a consultant and former director of the Oklahoma Independent Petroleum Association, told Reuters.
Last week, 11 Republican members of Congress called for climate action ahead of Pope Francis' visit, introducing a resolution that put the climate challenge in the broader context of conservation, stewardship, innovation and conservatism. Today, Senate Democrats will introduce a climate change bill "intended to signal their full-throated support of President Obama's aggressive climate change agenda to 2016 voters and to the rest of the world, reports The New York Times. The bill, which The Times says has "no chance of passage in the Republican-controlled Congress" would "establish as United States policy a reduction of greenhouse gas emissions by two percent each year through 2025—a cut even larger than the target set by the Obama administration."
But not everyone is on board with the Pope's message, though—climate deniers in particular. As reported previously on EcoWatch, some conservatives including Donald Trump and Rep. Paul Gosar (R-AZ) are not pleased that the Pope is so vocal about climate change. Gosar told The Hill Pope Francis' calls to combat the effects of climate change remind him of a "leftist politician" and he will be boycotting the Pope's speech to Congress.
Republicans want Pope Francis to shut-up about climate change, guns and capitalism http://t.co/Ws8ljaZivQ

— The Independent (@The Independent)1442850561.0
George Will at The Washington Post wrote a column last week—Pope Francis's Fact-Free Flamboyance—which focuses on defending fossil fuels. The Pope has repeatedly called on the rich and powerful to care for the planet and though Francis has not specifically called out fossil fuel executives, many media outlets have drawn the comparison to fossil fuel CEOs, including Exxon CEO Rex Tillerman, who is "notoriously obstinate in his opposition to Pope Francis' call for a shift from intensive fossil fuel use to alternatives like solar and wind."
George Will sneers at the Pope: His condescending takedown of Pope Francis' "fact-free flamboyance" misses the point http://t.co/E8v2GNhHSI

— Salon.com (@Salon.com)1442891405.0
The Heartland Institute, which holds the world's largest annual climate denial conference, held a conference last week in Philadelphia ahead of the Pope's visit to the City of Brotherly Love. Participants at the event accused Pope Francis of being inspired by "pagan remnants" of "nature worship" and claimed that "we're seeing the revelation of an animistic form in the church."
Also in attendance was Philadelphia radio host and Daily News columnist Dom Giordano, who called Pope Francis "potentially a dangerous figure, given his celebrity and his holiness." He added, "The Pope does seem to be enamored with solutions that are not pro-American in the slightest." Climate Depot even put together a "climate skeptics guide to Pope Francis' U.S. visit" in which they instruct the faithful that Catholics do not have "to believe in man-made global warming in order to be good Catholics."
The Climate Skeptic's Guide To Pope Francis' U.S. Visit http://t.co/oS0eFO1BCx Get 'em while they're hot!

— William M. Briggs (@William M. Briggs)1442926122.0
All of these attacks from conservatives led Matt Lewis at The Daily Caller to jump to the Pope's defense yesterday, calling the attacks "silly and counterproductive." He calls Francis a "pop culture star" and says conservatives should "welcome the opportunity his visit presents." And the latest report from the Organization of Economic Cooperation and Development (AKA "the club of the world's richest countries") only bolsters the Pope's stance on fossil fuels. The report published yesterday says "the world needs to abandon the harmful and outdated policies which support fossil fuels."
YOU MIGHT ALSO LIKE
96 Cities That Are Quitting Fossil Fuels and Moving Toward 100% Renewable Energy
Jon Stewart: If Trump Becomes President, 'I Would Consider Getting in a Rocket and Going to Another Planet'
EcoWatch Daily Newsletter
Recent Stories from EcoWatch