Climate Denier Ted Cruz Announces Presidential Run, Gov. Brown Calls Him "Unfit to Be Running for Office"
Mar. 23, 2015 10:23AM EST
Climate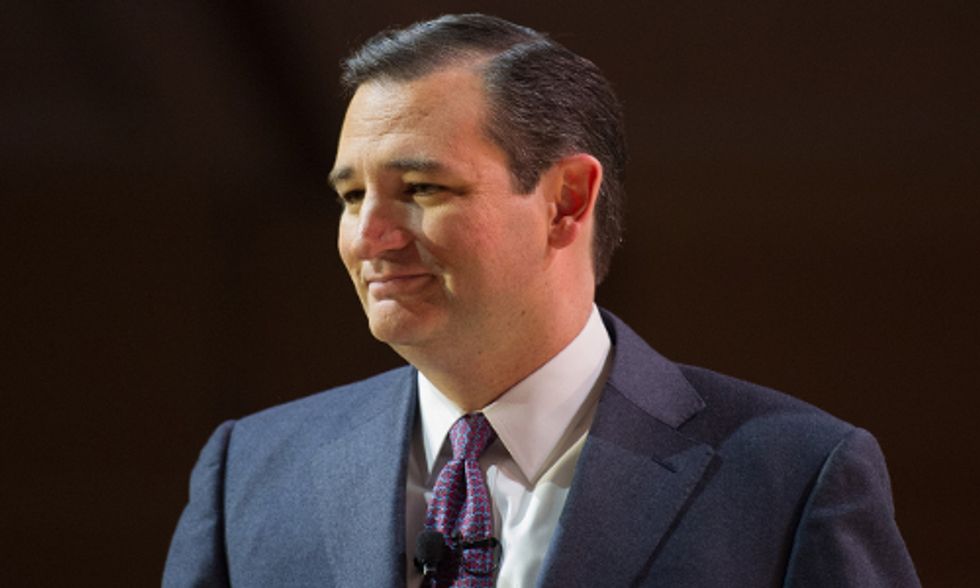 The list of issues on which Texas Sen. Ted Cruz is far to the right of most Americans is long—ranging from destroying Social Security and Medicare to demolishing the government itself. He was a key driver behind the costly 2013 government shutdown, opposed by most Americans.
But that hasn't deterred the man who is possibly the most extreme member of the U.S. Senate from announcing his presidential bid. When he did so with a middle-of-the-night tweet last night, he became the first to enter what's expected to be potentially the most crowded Republican primary field ever.
I'm running for President and I hope to earn your support! pic.twitter.com/0UTqaIoytP

— Ted Cruz (@tedcruz) March 23, 2015
It's also a field that's going to be packed with climate deniers, with fossil fuel interests eager to pour money into whatever candidate is most anti-clean energy and most supportive of totally unlimited oil and gas exploration—anywhere, any time, with no limits or oversight. Ted Cruz's candidacy should give them hope.
Environmentalists will have a field day picking Cruz's most fact-challenged quote.
Last year he told CNN, "Data are not supporting what the advocates are arguing. The last 15 years, there has been no recorded warming. Contrary to all the theories that they are expounding, there should have been warming over the last 15 years. It hasn't happened."
"I remember the '70s, we were told there was global cooling," he said in the same interview. "And everyone was told global cooling was a really big problem. And then that faded. And then we were told by Al Gore and others there was global warming and that was going to be a big problem. And then it morphed. It wasn't global warming anymore, it became climate change. And the problem with climate change is there's never been a day in the history of the world in which the climate is not changing."
He was interviewed by CNN at the Spindle Top Boomtown Museum in Beaumont, Texas, where the discovery of oil kicked off Texas' oil-producing boom 100 years ago, following an event to introduce his "American Energy Renaissance Act," which among other things would have barred the U.S. Environmental Protection Agency (EPA) from regulating greenhouse gas emissions, expanded fossil fuel exploration on Native American reservations and Alaska nature preserves, facilitated the export of crude oil and liquid natural gas, stopped EPA regulations that "adversely impact coal," barred the federal government from "disrupting" states' approval of fracking and of course called for immediate approval of the construction of the Keystone XL pipeline as well as any other pipelines private companies chose to build.
"We ought to be allowing the private sector to pursue every form of energy because the energy of the future, it's not going to come from the government picking winners and losers," he said. "We ought to open up energy innovation across the board and—and remove the barriers to every form of energy."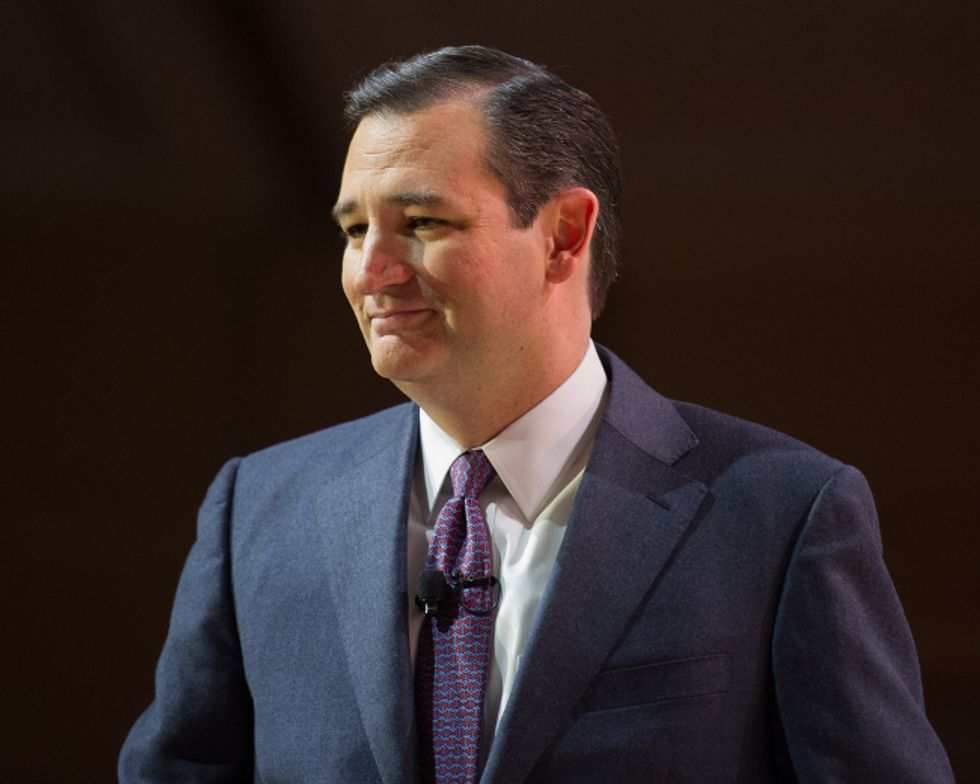 Photo credit: Shutterstock
Just last week, Cruz got into an exchange during a Senate hearing with NASA administrator and former astronaut Charles Bolden over NASA's mission, telling him it should stick to space exploration and keep its nose out of Earth's climate issues.
"I would suggest that almost any American would agree that the core function of NASA is to explore space," said Cruz. "I am concerned that NASA in the current environment has lost its full focus on that core mission."
"It is absolutely critical that we understand Earth's environment, because this is the only place we have to live," Bolden was forced to explain to the climate-denying senator. "We've got to take care of it and the only way to take care of it is to know what's happening."
Also last week Cruz made an appearance on Late Night With Seth Meyers, where he responded to his host's concern about global warming, saying, "I just came back from NH where there's snow and ice everywhere. And my view actually is simple. debates on this should follow science and should follow data. And many of the alarmists on global warming they got a problem because the science doesn't back them up. And in particular, satellite data demonstrate for the last 17 years there's been zero warming, none whatsoever. It's why, you remember how it used to be called global warming, and then magically the theory changed to climate change?"
On Sunday's edition of Meet the Press, California Gov. Jerry Brown, whose state has been aggressively battled in the impacts of climate change, responded to Cruz's remarks, saying "What he said is absolutely false. That man betokens such a level of ignorance and a direct falsification of existing scientific data. It's shocking and I think that man has rendered himself unfit to be running for office."
Cruz graduated cum laude from Princeton and magna cum laude from Harvard Law School, so it's hard not to think he's deliberately lying on behalf of his benefactors. He's received almost a million dollars in campaign contributions from oil and gas interests that we know off. But one of his biggest benefactors is far-right PAC Club for Growth, which doesn't reveal its funders. Cruz has called for removing all limits on campaign spending, another policy opposed by a vast majority of Americans on both the left and right.
YOU MIGHT ALSO LIKE
Dark Money Fuels Election Wins for Climate Deniers
Have You Filled Out Your Bracket Yet? Which Climate Deniers Will Make It to the Final Four?
Presidential Hopeful Senator Graham: Climate Deniers Will Be 'Political Problem' for Republicans in 2016
EcoWatch Daily Newsletter
Related Articles from EcoWatch