This website uses cookies to ensure you get the best experience while browsing it. By clicking 'Got It' you're accepting these terms.
Climate Concerns are Key in Keystone XL Pipeline Debate
Jan. 17, 2013 11:04AM EST
Climate
[Editor's note: Today, scientists and advocates speaking at the National Press Club in Washington unveiled new research showing that the Keystone XL tar sands pipeline would damage the climate much more than previously thought, by dramatically expanding tar sands production and because it will lead to increased combustion of a particularly dirty form of oil. Two reports were presented today, including Petroleum Coke: The Coal Hiding in the Tar Sands revealing that current analyses of the impacts of tar sands fail to account for a high-carbon byproduct of the refining process that is a major source of climate change causing carbon emissions: petroleum coke—known as petcoke, and The Climate Implications of the Proposed Keystone XL Oilsands Pipeline from the Pembina Institute—a Canadian environmental think tank—revealing how the Keystone XL tar sands pipeline would accelerate expansion of the tar sands and significantly increase greenhouse gas emissions.
Energy and Commerce Committee Ranking Member Henry A. Waxman issued the following statement on these two reports: "The new reports show that TransCanada's Keystone XL pipeline is the key that will unlock the tar sands. If the pipeline is approved, the world will face millions more tons of carbon pollution each year for decades to come. After Hurricane Sandy, devastating drought, unprecedented wildfires and the warmest year on record in the United States, we know that climate change is happening now, we have to fight it now, and we must say no to this pollution pipeline now."]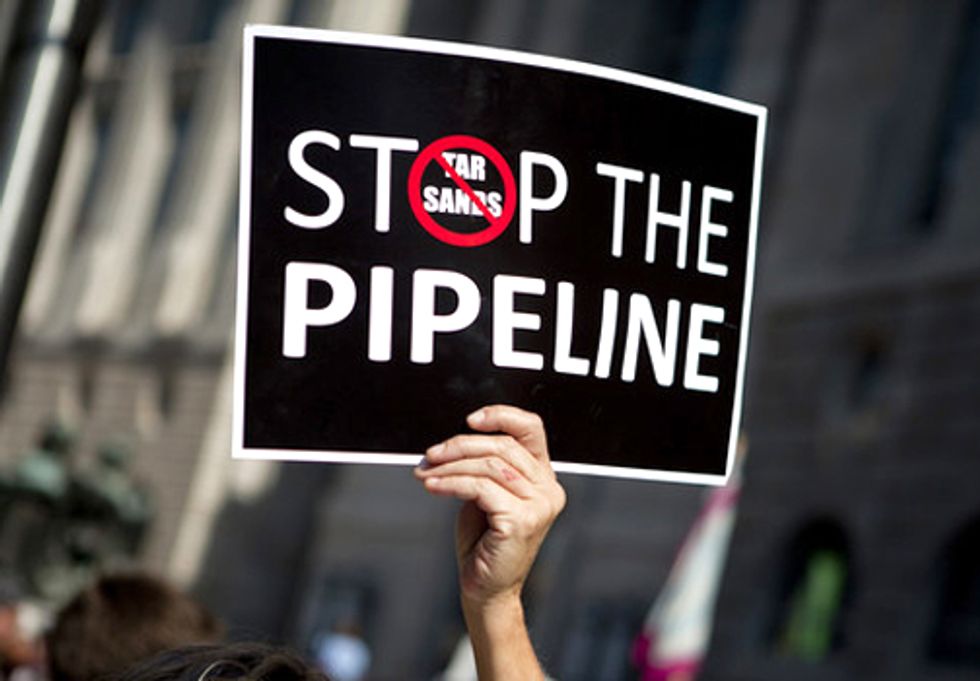 Scientists and advocates today unveiled new research showing that the Keystone XL tar sands pipeline would damage the climate much more than previously thought, by dramatically expanding tar sands production and because it will lead to increased combustion of a particularly dirty form of oil.
Concerns about oilsands pipelines dominated Canadian headlines in 2012, and the issue is unlikely to step out of the limelight anytime soon. Hearings into the Enbridge Northern Gateway proposal are expected to continue until the middle of this year; meanwhile, proposals to move oil sands bitumen through pipelines to Eastern Canada are also facing significant opposition.
South of the border, the future of TransCanada's proposed Keystone XL pipeline, which would connect Alberta's oilsands with refineries on the U.S. Gulf Coast, is once again up for debate. The release of a draft environmental impact statement on the pipeline, which takes into account the revised route through Nebraska, is expected any day now. The draft statement will be open for comments for 90 days; after that, the final environmental impact assessment will be published and the U.S. State Department's final decision on the pipeline will follow shortly thereafter.
To help inform the debate over the Keystone XL pipeline, the Pembina Institute has produced a backgrounder about the climate impacts associated with the proposed pipeline. The backgrounder features new analysis showing that producing enough bitumen to fill the Keystone XL pipeline would lead to a significant increase in greenhouse gas emissions, and inhibit Canada's ability to meet its climate targets.
Given our expertise on oilsands-related issues, several prominent U.S.-based environmental groups, the Natural Resources Defense Council, 350.org and Oil Change International, invited the Pembina Institute down to Washington, D.C., today to share our latest analysis on the climate implications of the Keystone XL pipeline. 
While the oilsands industry lacks a credible plan to do its share to manage the growing greenhouse gas emissions associated with oilsands production, oilsands producers have ambitious plans to triple production from 1.8 million barrels per day to more than 5 million barrels per day by 2030 (currently regulators in Canada have already approved the more than 5.2 million barrels per day in bitumen production). And here's where Keystone XL comes in.
To realize this growth, new pipelines are needed—but many of the other proposed oilsands pipelines are smaller than Keystone XL, in the early stages of planning, or facing significant public opposition. Even if all of the currently proposed pipelines were built, there would still be a need for even more pipelines to realize industry's extremely ambitious growth plans.
Pipeline plans would undermine climate action
If approved, Keystone XL alone would require oilsands production to increase by 36 percent. While this growth may align with industry's ambitions, it's critical to consider the corresponding cost of this growth in terms of the climate consequences, and how supplying the pipeline with bitumen would affect Canada's ability to meet our emissions reduction targets.
This is the focus of the Pembina Institute's research on the Keystone XL pipeline. Planned oilsands growth will cause a doubling of emissions by 2020. This new emissions growth is troubling, because emissions from the oilsands are expected to increase by 72 megatonnes (Mt) at a time when the rest of the economy is expected to reduce emissions by 67 Mt by 2012. As it stands, Environment Canada reported this past summer that Canada is on track to miss our 2020 target by 113 Mt.
Our analysis shows that Keystone XL, if filled with oilsands, would cause an additional 22.4 Mt of greenhouse gases to be emitted in Canada. This is the equivalent in carbon emissions to building 6.3 new coal-fired power plants or putting 4.6 million cars on the road. (The numbers are even higher when additional emissions from upgrading and refining of the bitumen in the U.S. are considered). In other words, the emissions enabled by Keystone XL alone would be responsible for nearly 20 percent of the gap in reaching Canada's 2020 climate target.
For the U.S., the decision on Keystone XL will clearly have significant impacts on climate emissions within the country's borders—but it will also have a major impact on Canada's emissions and our ability to deliver on our commitments under the Copenhagen Accord.
In the continued absence of a credible plan for responsible development of the oilsands, including mitigating greenhouse gas emissions growth to a level that would allow Canada to meet its international climate commitments, the Keystone XL pipeline should not be approved. Moving forward with a pipeline that would undermine other critical efforts to reduce emissions is not an example of responsible resource development.
Visit EcoWatch's TAR SANDS and  KEYSTONE XL pages for more related news on this topic.
——–
Click here to tell Congress to Expedite Renewable Energy.

EcoWatch Daily Newsletter
America's national bird is threatened by hunters. Not that hunters are taking aim at the iconic bald eagle, but bald eagles are dying after eating lead bullets, as CNN reported.
Bill Bader, owner of Bader Farms, and his wife Denise pose in front of the Rush Hudson Limbaugh Sr. United States Courthouse in Cape Girardeau, Missouri on Jan. 27, 2020.
Johnathan Hettinger /
Midwest Center for Investigative Reporting
A jury in Missouri awarded a farmer $265 million in a lawsuit that claimed Bayer and BASF's weedkiller destroyed his peach orchard, as Reuters reported.
Earthjustice says Louisiana has violated the Clean Water Act and given Formosa Plastics Group the "greenlight to double toxic air pollution in St. James" (seen above).
Louisiana Bucket Brigade
A coalition of local and national groups on Friday launched a legal challenge to a Louisiana state agency's decision to approve air permits for a $9.4 billion petrochemical complex that Taiwan-based Formosa Plastics Group plans to build in the region nationally known as "Cancer Alley."
Bears Ears National Monument in Utah. Bob Wick / BLM / onEarth
Well, he told us he would do it. And now he's actually doing it — or at least trying to. Late last week, President Trump, via the U.S. Department of the Interior's Bureau of Land Management, announced that he was formalizing his plan to develop lands that once belonged within the Bears Ears and Grand Staircase-Escalante National Monuments in southern Utah. The former is a stunningly beautiful, ecologically fragile landscape that has played a crucial role in Native American culture in the Southwest for thousands of years; the latter, just as beautiful, is one of the richest and most important paleontological sites in North America.
Smoke pours from the exhaust pipes on a truck on Nov. 5, 2019 in Miami, Florida. According to a 2017 EPA study the largest source of greenhouse gas emissions in the U.S. is from the transportation sector. Joe Raedle / Getty Images