This website uses cookies to ensure you get the best experience while browsing it. By clicking 'Got It' you're accepting these terms.
Climate Change Threatens Mexico's Cloud Forest
Jun. 12, 2012 08:30AM EST
Climate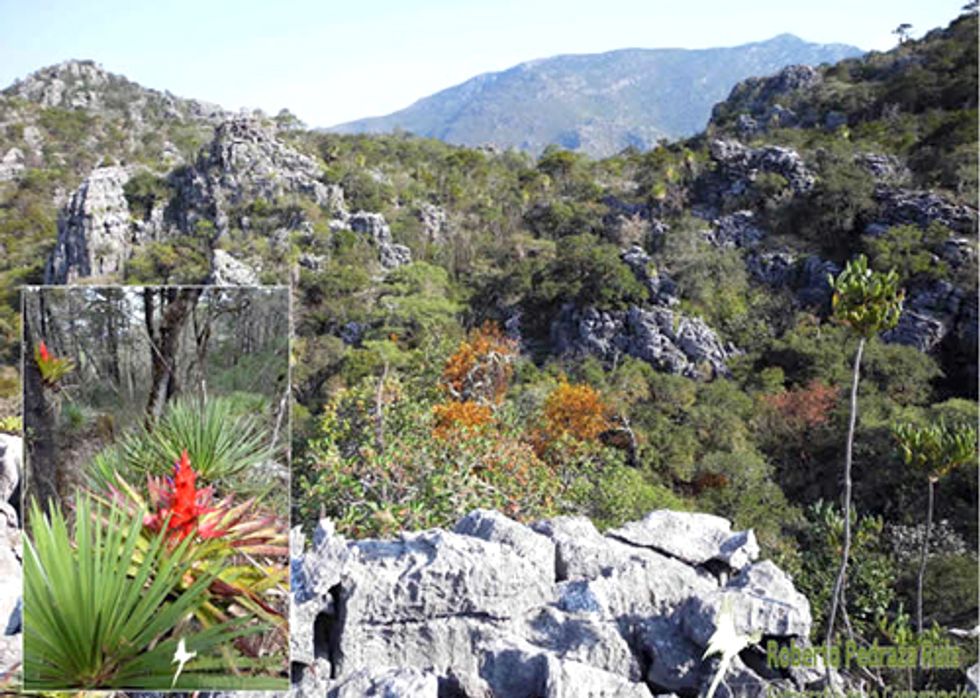 Climate change could cause Mexico to lose 68 percent of its cloud forests by 2080, according to research published in Nature Climate Change. World Land Trust (WLT) is working in partnership with local conservation organization Grupo Ecológico Sierra Gorda (GESG) to save as much of this threatened habitat as possible.
At the end of May, we celebrated the creation of another 754 acre (305 hectare) nature reserve, called El Oregano, which is helping protect the vast wilderness of the Sierra Gorda—part of a remote mountain range in Central Mexico that is known to be one of the most diverse regions in the country. This land purchase success was achieved thanks largely to generous donations through the The Big Give online fundraising event in December 2011.
Climate change and habitat loss
Roberto Pedraza was born in the Sierra Gorda and works for GESG, a conservation organization his family set up with the support of local people. Roberto works tirelessly to protect as much of his environment as possible, establishing innovative conservation projects to save this threatened habitat and its wildlife. He said, "I don't have any traumas in my life, apart from climate change. The adaptation rates are failing and already ecosystems are under threat. Our cloud forests have less fog inside them, which puts a great stress on this habitat."
Cloud forests, found at an altitude of more than 2,500-3,000 meters (6,600-10,000 feet) in elevation, receive most of their moisture from fog. They are unique ecosystems, home to many species found nowhere else.
Roberto's concern over the effects of climate change on the fragile forests of his homeland is supported in the report published by Nature Climate Change, titled Vulnerability of cloud forest reserves in Mexico to climate change. The report said:
"Tropical montane cloud forests are among the most vulnerable terrestrial ecosystems to climate change owing to their restricted climatic requirements and their narrow and fragmented distribution. […] if we assume unprotected forests are cleared, 99 percent of the entire ecosystem could be lost through a combination of climate change and habitat loss, resulting in the extinction of about 70 percent of endemic cloud forest vertebrate species."
Yet despite the threat that climate change poses, Roberto remains optimistic: "I think we are doing the right thing; making sure these forests suffer less human pressure is the best way to help and to endure this threat." On an almost daily basis, Roberto is exposed to the effects of deforestation and the devastating impact it has on his local wildlife: "Recently we went on horseback to the main ridge of the Sierra, the eastern portion of the new reserve, an area that is one of the wildest in the Sierra Gorda but sadly not safe from human pressure—loggers are always looking for new areas to plunder and they are already active not very far away."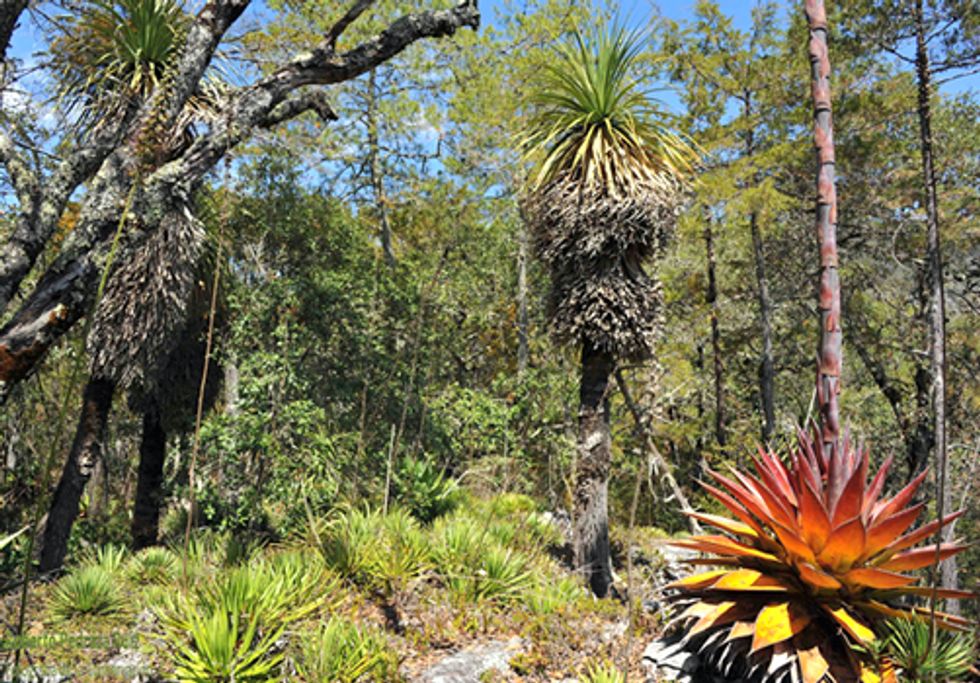 Stopping deforestation and saving wildlife
In the face of this deforestation, WLT has been able to help GESG create three protected nature reserves in just over a year thanks to generous donations to the Buy and Acre appeal.
"The new reserve is 305 hectares of almost pristine temperate and cloud forest," explained Roberto. "It's truly a very wild piece of forest and bizarre looking with ancient oak trees—reminiscent of the British countryside—growing alongside agave plants with flowers that tower nearly twice my height and strange looking nolina plants."
Roberto's enthusiasm as he discovers more about the new reserve is enough to give anyone hope for the future. After a recent visit to the area, he sent this up-date about his wildlife sightings:
"According to our guide it's common to see 'gatos chicos' (small cats) in the reserve, referring to both Margays and Ocelots. We saw fresh puma marks in the reserve's 'trail' (this is usual for the area), while jaguars and black bears are found in the surrounding forest—stretching across thousands of hectares of vast, empty wilderness.

"I am keen to camp in the reserve and explore more. In the rainy season there is a small creek, which sounds like a very exciting spot to look for salamanders! The whole area feels very old and rugged, with great jagged peaks all around. Any moment you expect a dinosaur to appear."
WLT is celebrating this great success with Roberto, but we know that we must do more to save this fragile habitat from climate change and deforestation. Most of Mexico's cloud forest, about 88 percent, is unprotected and at risk from deforestation and degradation.
Sir David Attenborough, WLT's patron, said: "While on one hand we need to take responsibility for our daily life, or to use the catchphrase 'our Carbon Footprint', we also have the ability to save wildlife. Let us all rise to the challenge, reduce our impact on the environment and vest any extra cash we have in saving what is left of the world's wild spaces."
Visit EcoWatch's BIODIVERSITY and CLIMATE CHANGE pages for more related news on these topics.
EcoWatch Daily Newsletter
The Rio San Antonio, in the headwaters basin of the Rio Grande in New Mexico, will lose federal protections under a new rule. Bob Wick / BLM California
By Tara Lohan
The Santa Fe River starts high in the forests of New Mexico's Sangre de Cristo mountains and flows 46 miles to the Rio Grande. Along the way it plays important roles for wildlife, irrigation, recreation and other cultural uses, and provides 40 percent of the water supply for the city of Santa Fe's 85,000 residents.
Climate activists protest Chase Bank's continued funding of the fossil fuel industry on May 16, 2019 by setting up a tripod-blockade in midtown Manhattan, clogging traffic for over an hour. Michael Nigro / Pacific Press / LightRocket / Getty Images
By Julia Conley
Climate campaigners on Friday expressed hope that policymakers who are stalling on taking decisive climate action would reconsider their stance in light of new warnings from an unlikely source: two economists at J.P. Morgan Chase.
Protesters holding signs in solidarity with the Wet'suwet'en Nation outside the Canadian Consulate in NYC. The Indigenous Peoples Day NYC Committee (IPDNYC), a coalition of 13 Indigenous Peoples and indigenous-led organizations gathered outside the Canadian Consulate and Permanent Mission to the UN to support the Wet'suwet'en Nation in their opposition to a Coastal GasLink pipeline scheduled to enter their traditional territory in British Columbia, Canada. Erik McGregor / LightRocket / Getty Images
Tensions are continuing to rise in Canada over a controversial pipeline project as protesters enter their 12th day blockading railways, demonstrating on streets and highways, and paralyzing the nation's rail system