This website uses cookies to ensure you get the best experience while browsing it. By clicking 'Got It' you're accepting these terms.
Climate Change Threatens Billion-Dollar Oyster Business
Jun. 24, 2013 03:32PM EST
Climate
By Tim Radford
Bad news for American gourmets: the commercial oyster industry in the Pacific Northwest has been failing for several years, and may go on failing as increasingly acid oceans put the larvae of the bivalve Crassostrea gigas seriously at risk.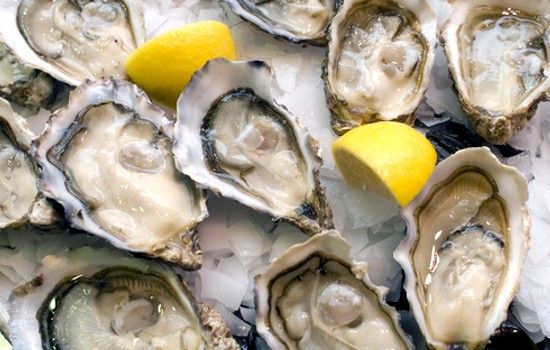 Photo courtesy of Shutterstock
The good news is that U.S. scientists now know exactly why things are going wrong in the oyster beds, which opens up the possibility of commercial hatcheries finding ways to get around the problem.
First, the facts: as carbon dioxide (CO2) levels in the atmosphere rise inexorably, so the gas dissolves in water and falls as a very weak carbonic acid rain, with a subtle but measurable change in the pH values of the planet's oceans.
There have always been dissolved gases in rainwater, but as long as pH levels remain stable, the oceans' corals and molluscs not only adapt, they subtly exploit the water chemistry to build stronger bones and shells.
Sensitive to Change
Oysters seem unusually sensitive to changes in pH, but marine biologist George Waldbusser and research colleagues at Oregon State University report in Geophysical Research Letters that the failure of the oyster harvest isn't a simple case of acid waters dissolving calcium carbonate shells.
Instead, water high in dissolved CO2 tends to alter the shell formation rates, the energy usage and ultimately, the growth and survival of young oysters.
Females tend to produce eggs by the million as water temperatures reach around 20 degrees Celsius. Once fertilized and hatched, the embryos have about two days to start building a shell. Raised CO2 levels in the water impose an extra energy cost for the little shell-builders.
Mature oysters can take their time and assemble calcium carbonate production more slowly, but larvae don't have the time. Their only energy supply is the nourishment in the egg.
"From the time eggs are fertilized, Pacific oyster larvae precipitate roughly 90 percent of their body weight as calcium carbonate shell within 48 hours," Dr. Waldbusser says. "They must build their first shell quickly on a limited amount of energy—and, along with the shell, comes the organ to capture external food."
Death Race
"It becomes a death race of sorts. Can the oyster build its shell quickly enough to allow its feeding mechanism to develop before it runs out of energy from the egg?", the report asks.
Armed with this insight into oyster bed ecology, the scientists say, there are interventions that can be introduced at hatcheries that may offset some of the effects of ocean acidification. Some hatcheries have started to "buffer" the water supplies in commercial hatcheries that supply the marine and estuary oyster beds—essentially, adding antacids to incoming waters.
However, what may be hopeful news for fish farmers may not be such good news for the wild oyster, which will no doubt experience more stress in its native waters as CO2 levels go on rising.
The research matters at one level because Pacific oyster farming is now a billion-dollar business, and at another because it exposes something of the intricate connection between sea-dwelling creatures and the chemistry of the sea.
It is also a reminder that any creature faces different hazards at every stage of its life cycle. 
"We suggest that the predictions of winners and losers in a high CO2 world may be better informed by calcium carbonate kinetics, bioenergetics, ontogeny and life-history characteristics than by shell mineralogy alone," said the report's authors.
Visit EcoWatch's CLIMATE CHANGE and FOOD pages for more related news on this topic.
EcoWatch Daily Newsletter
DESIREE MARTIN / AFP / Getty Images
Wildfires raging on Gran Canaria, the second most populous of Spain's Canary Islands, have forced around 9,000 people to evacuate.
Wolves in Mount Rainier, Washington. Ron Reznick / VW Pics / Universal Images Group via Getty Images
The last four members of an embattled wolf pack were killed in Washington State Friday, hours before the court order that could have saved them.
Plateau Creek near De Beque, Colorado, where land has been leased for oil and gas production. Helen H. Richardson / The Denver Post / Getty Images
By Randi Spivak
Slashing two national monuments in Utah may have received the most attention, but Trump's Interior Department and U.S. Forest Service have been quietly, systematically ceding control of America's public lands to fossil fuel, mining, timber and livestock interests since the day he took office.
Aerial view of lava flows from the eruption of volcano Kilauea on Hawaii, May 2018. Frizi / iStock / Getty Images
Hawaii's Kilauea volcano could be gearing up for an eruption after a pond of water was discovered inside its summit crater for the first time in recorded history, according to the AP.
Global SO2 Emission Hotspot Database / Greenpeace
A new report by Greenpeace International pinpointed the world's worst sources of sulfur dioxide pollution, an irritant gas that harms human health. India has seized the top spot from Russia and China, contributing nearly 15 percent of global sulfur dioxide emissions.
The huge surge this year in Amazon deforestation is leading some European countries to think twice about donations to the Amazon Fund. LeoFFreitas / Moment / Getty Images
By Sue Branford and Thais Borges
Ola Elvestrun, Norway's environment minister, announced Thursday that it is freezing its contributions to the Amazon Fund, and will no longer be transferring €300 million ($33.2 million) to Brazil. In a press release, the Norwegian embassy in Brazil stated:
Gina Lopez, the Philippine secretary of the environment, at a meeting with residents affected by a mine tailing disaster. Keith Schneider
Gina Lopez, a former Philippine environment secretary, philanthropist and eco-warrior, died on Aug. 19 from brain cancer. She was 65.
Trump speaks to contractors at the Shell Chemicals Petrochemical Complex on Aug. 13 in Monaca, Pennsylvania. Jeff Swensen / Getty Images
Thousands of union members at a multibillion dollar petrochemical plant outside of Pittsburgh were given a choice last week: Stand and wait for a speech by Donald Trump or take the day off without pay.