This website uses cookies to ensure you get the best experience while browsing it. By clicking 'Got It' you're accepting these terms.
Climate Change Projected to Double Lightning Strikes by 2100
Nov. 14, 2014 01:50PM EST
Climate
A new study published in Science Magazine projects that climate change-induced warming will lead to more lightning strikes and more—and more dangerous—wildfires.
A team of four researchers from the University of California at Berkeley and the State University of New York at Albany said, "Lightning occurs more frequently when it is hotter than when it is colder," and asked "How much more lightning should we expect as global temperatures increase?" The team crunched 11 studies on precipitation and cloud buoyancy to come up an answer: lightning strikes could increase by 50 percent by the end of the century if greenhouse gas emissions continue at the current rate.
"With warming, thunderstorms become more explosive," said lead author David Romps of UC Berkeley. "This has to do with water vapor, which is the fuel for explosive deep convection in the atmosphere. Warming causes there to be more water vapor in the atmosphere, and if you have more fuel lying around, when you get ignition, it can go big time."
"Big time" indeed. Currently there are around 25 million lightning strikes per year. Romps and his team predicted that lightning strikes will increase by about 12 percent for each degree Centigrade of rise in global average air temperature if greenhouse gas emissions are not decreased. And while lightning strikes do cause human injuries and even scores of deaths each year, Romps said the main impact would be an increase in wildfires. He said that almost half of all wildfires—and often the hardest ones to fight—are caused by lightning strikes. That's a double whammy for states like California where prolonged drought has turned its forests into tinderboxes.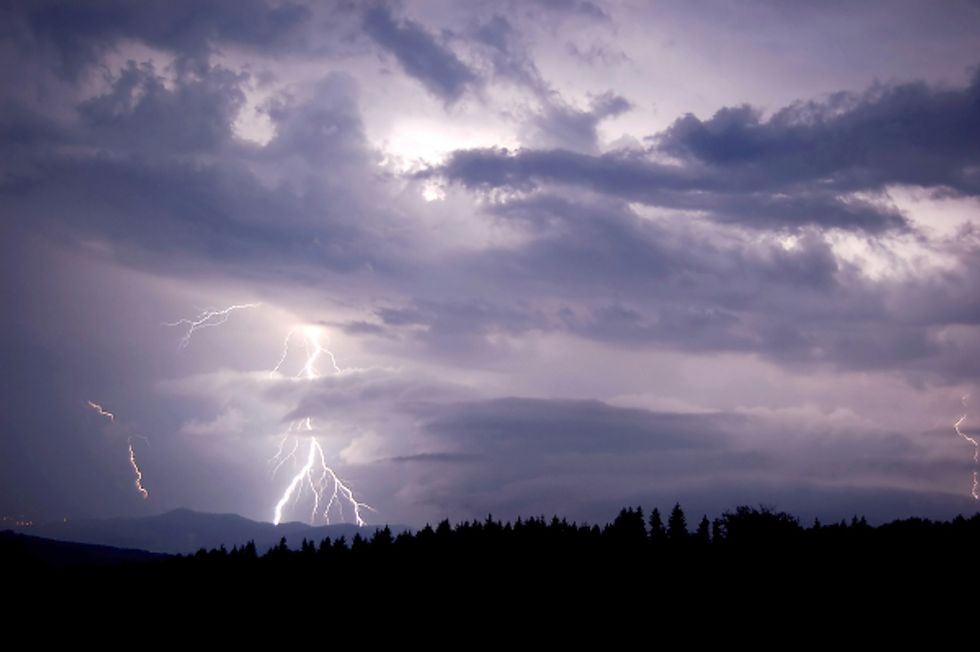 Photo credit: Shutterstock
The team looked at both precipitation data from the U.S. Weather Service and a factor called Convective Available Energy Potential (CAPE), measured twice a day by instruments carried on balloons released around the country. CAPE increases as air warms. They combined those measures to arrive at their conclusion.
"We were blown away by how incredibly well that worked to predict lightning strikes," said Romps.
YOU MIGHT ALSO LIKE
Scientists Find Extreme Weather Events Fueled by Climate Change
Extreme Weather Ravages the West Coast
Earthquake, Drought and Wildfires Ravage California
EcoWatch Daily Newsletter
California Gov. Gavin Newsom speaking with attendees at the 2019 California Democratic Party State Convention at the George R. Moscone Convention Center in San Francisco.
Gage Skidmore
/ Flickr /
CC BY-SA 2.0
California Gov. Gavin Newsom imposed new restrictions on oil exploration in his state yesterday by putting a moratorium on hundreds hydraulic fracturing permits until the projects are reviewed by independent scientists, as the AP reported.
The endangered Houston toad. Courtesy of U.S. Fish and Wildlife Service
While the planet continues to heat up, almost every single one of the 459 species listed as endangered in the U.S. will struggle as the climate crisis intensifies, according to new research published in the journal Nature Climate Change.
"This singular scientific achievement was accomplished at Heliogen's commercial facility in Lancaster, California."
Heliogen
A startup backed by Bill Gates unveiled a breakthrough solar technology Tuesday that could free heavy industry from fossil fuels.
Rhodiola rosea is an adaptogenic herb that can help with chronic fatigue and stress-related burnout. Tero Laakso / Flickr
By Gavin Van De Walle, MS, RD
While everyone has specific life stressors, factors related to job pressure, money, health, and relationships tend to be the most common.
Stress can be acute or chronic and lead to fatigue, headaches, upset stomach, nervousness, and irritability or anger.
A video shows a woman rescuing a koala from Australia's wildfires.
VOA News / YouTube screenshot
More than 350 koalas may have died in the wildfires raging near the Australian town of Port Macquarie in New South Wales, but one got a chance at survival after a woman risked her life to carry him to safety.