This website uses cookies to ensure you get the best experience while browsing it. By clicking 'Got It' you're accepting these terms.
Climate Change + Population Growth + Economic Expansion = More Severe Flooding
Apr. 06, 2016 12:22PM EST
Climate
By Giulio Boccaletti
Defending homes and businesses from flooding is an expensive business. After catastrophic inundations in the north of England, the British Government has increased spending on flood defenses by $1 billion. South Carolina, hit by October floods that left 40,000 people without clean drinking water, will spend $190 million to cover the damage the disaster caused. These sums would be dwarfed by requirements in Asia. In South Asia alone 200 million people are exposed to flood hazards, with Pakistan losing 4.75 percent of its GDP every year to flooding.
Already the most destructive and deadly of all natural disasters, science tells us that flooding events will increase in frequency and intensity with climate change. Meanwhile population pressures will continue to see more and more building in low-lying coastal areas and flood plains. Investment in adequate defenses will need to grow massively to protect against this advancing threat.
The engineering challenge comes when excess water, usually from too much rainfall or melting snow, flows where and when people do not want it. "Grey infrastructure"—walls, barriers, dams, dikes, levees, tunnels and drains—is the traditional solution but cannot offer sufficient protection. If you bottle up the power of a river and the levees burst, there is often far greater devastation than if the river followed its natural course. We have seen this many times, going back at least to the great Mississippi floods in 1927.
On April 15 that year, heavy rains swelled the river to a massive size and the levees started to break. Over the next few weeks the entire levee system gave way, inundating more than 23,000 square miles of land and displacing hundreds of thousands of people. About 250 people died. After much soul-searching, a new era of adaptive management shifted focus from levees to include floodways and tributary management. This allowed strategic floodplain areas to fulfill their original purpose of absorbing excess water. In 2011 and then again last month when floods levels in certain reaches of the Mississippi surpassed 1927 records, hundreds of homes and businesses were damaged or destroyed. But the adaptive management held, saving cities downstream from far worse.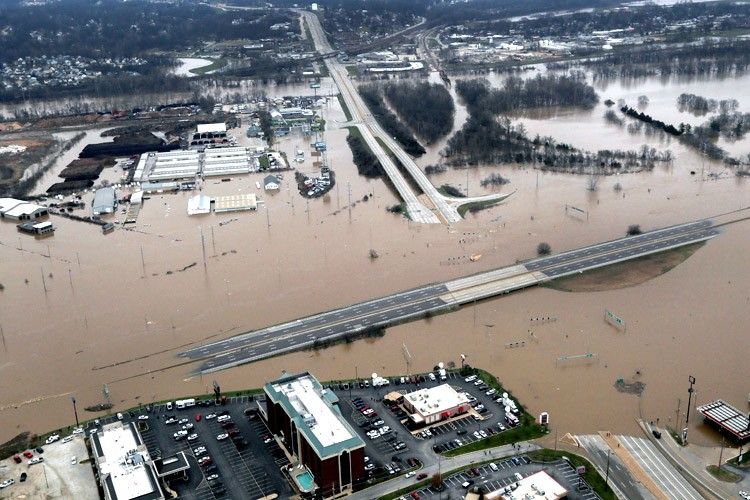 Despite this success, natural flood defenses remain poorly understood and rarely deployed around the world even though they are often cheaper than concrete. But change is afoot. Holland, a country whose existence depends on flood prevention, has decided that natural defenses can be cheaper and more effective than grey infrastructure. The Dutch are now investing in setting aside polders to give rivers room to flood.
In the city of Pickering in northern England, research by universities and others prompted community investment in hillside reforestation to slow hillside run-off as well as natural catchments to hold back water. This winter these efforts succeeded in preventing the city from being flooded, while others in the area were inundated. Parliamentary hearings and hints from the Environment Agency indicate that natural flood defenses are gaining in currency. There is still no systematic approach in the UK to their deployment, however.
Natural flood defense measures are a huge missed opportunity, in developed countries and developing. Innovative approaches to funding can align economic interests such as agriculture or property development with flood prevention measures. This is all consistent with integrating Disaster Risk Reduction into development policy and the United Nations' Sustainable Development Goals (SDGs), now known as Agenda 30.
Better use of green spaces in cities is an exciting innovation. Washington, DC has a massive problem with rain runoff which overloads its sewers and dumps up to 3.2 million gallons of contaminated water into its rivers every year. Complementing a new $2.6bn tunnel system, a market in tradable "retention credits" has been set up to encourage property owners and developers to make green surfaces more permeable so that excess water sinks into the ground and never reaches the river. This model could easily be replicated as a flood prevention measure in affected cities.
Climate change, population growth and economic expansion are all incentives to move faster towards blending gray infrastructure with natural solutions and green finance. Overcoming vested interests such as construction companies and local politicians, for whom grey infrastructure is still the reflex response, can be challenging. But in doing so, we could save thousands of lives, spare millions from the scars of destruction and boost economies around the world increasingly prone to the vagaries of climate change.
YOU MIGHT ALSO LIKE
Surgeon General's Warning: We Must Act on Climate
6 Colorado Teenagers File Appeal in Fracking and Climate Lawsuit
Mark Ruffalo: TPP Would Fuel Climate Chaos and Empower Corporate Polluters
Apple, Google, Amazon and Microsoft File Amicus Brief in Support of the Clean Power Plan
EcoWatch Daily Newsletter
Oil palm plantations in northeastern Borneo, state of Sabah, Malaysia. Recently planted oil palms can be seen in the bright green grassy areas and a tiny bit of natural rainforest still struggles for survival farther away. Vaara / E+ / Getty Images
A fuel truck carries fuel into a fracking site past the warning signs Jan. 27, 2016 near Stillwater, Oklahoma. J Pat Carter / Getty Images
By Jessica Corbett
For more than three decades, the U.S. government has mismanaged toxic oil and gas waste containing carcinogens, heavy metals and radioactive materials, according to a new Earthworks report — and with the country on track to continue drilling and fracking for fossil fuels, the advocacy group warns of growing threats to the planet and public health.
European Union blue and gold flags flying at the European Commission building in Brussels, Belgium. 35007/ iStock / Getty Images Plus
Newly adopted guidelines set forth by the European Commission Tuesday aim to tackle climate change by way of the financial sector. The move comes to bolster the success of the Sustainable Action Plan published last year to reorient capital flows toward sustainable investment and manage financial risks from climate change, environmental degradation and social issues.
Prime Minister Justin Trudeau delivering remarks to supporters at a Liberal Climate Action Rally in Toronto, Ontario on March 4. Arindam Shivaani / NurPhoto / Getty Images
Canadian Prime Minister Justin Trudeau announced Tuesday that his government would once again approve the expansion of the Trans Mountain pipeline, which would triple the amount of oil transported from Alberta's tar sands to the coast of British Columbia (BC).
An exhausted polar bear wanders the streets of Norilsk, a Siberian city hundreds of miles from its natural habitat. IRINA YARINSKAYA / AFP / Getty Images

An exhausted, starving polar bear has been spotted wandering around the Siberian city of Norilsk, Reuters reported Tuesday. It is the first time a polar bear has entered the city in more than 40 years.
Bumblebees flying and pollinating a creeping thyme flower. emeliemaria / iStock / Getty Images
It pays to pollinate in Minnesota.