Climate Change Linked to Spread of Zika Virus
The Zika virus, transmitted by the same mosquito as dengue fever, has spread with alarming speed throughout South and Central America—and scientists in Brazil suspect that global warming is exacerbating the problem.
Although the virus, named after the Ugandan forest where it was first identified, usually causes only mild symptoms and often passes undetected, it has been associated with a surge in the number of cases of babies born with microcephaly, which can cause brain damage.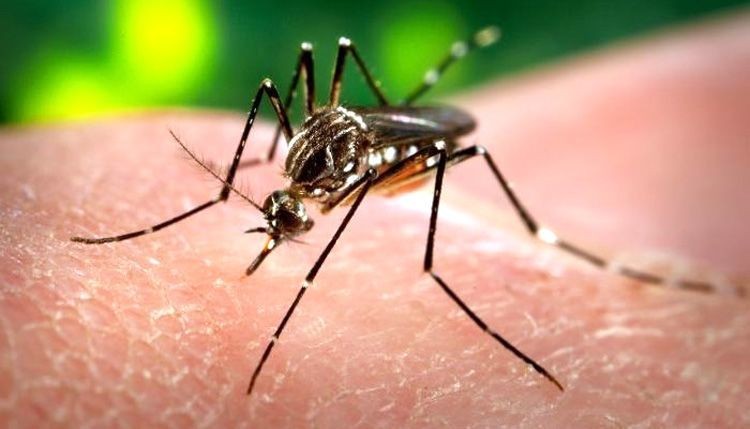 The World Health Organization (WHO) has now declared the situation an international public health emergency.
The numbers are alarming. Until last year, while dengue fever claimed many victims, Zika was unknown in Latin America. Since first detected in April 2014, there have been more than 4,000 births of babies with suspected microcephaly in Brazil, compared with a previous yearly average of 154.
Twenty-four countries in South and Central America have reported cases of microcephaly and the rapid spread of the virus is being attributed by some scientists to global warming.
Abnormal Warming
Last year was the hottest on record, with temperatures for the first time about 1 C above pre-industrial levels. But in some parts of Brazil, average temperatures rose by between 3 and 5 C, according to data from the Centre for Weather Forecasting and Climate Studies at Brazil's National Institute for Space Research. The abnormal warming of the Pacific caused by El Niño contributed to this.
Studies by Brazilian scientists show that the Aedes egypti mosquito has spread to 80 percent of the country, an area of 6.9 million sq km (2.6 million square miles)—four times larger than a decade ago.
Paolo Zanotto, a virologist at the University of São Paulo's Biomedical Sciences Institute, is co-ordinating a network of laboratories studying the Zika virus.
He says: "The number of mosquitoes is increasing, their area of activity is increasing and contact with populations who have never before had contact with dengue is increasing. Global warming is probably collaborating with its spread to previously free areas."
Other scientists agree. Christovam Barcellos, a geographer at the Fiocruz Institute in Rio de Janeiro, says: "We have noticed that dengue has spread to areas that were previously too cold for it, like the south of the country."
In colder regions the mosquito has a shorter life, but it can still spread dengue and Zika.
However, Oliver Brady, an Oxford University epidemiologist and co-author of a research paper recently published by The Lancet on the potential export of dengue from Brazil by travelers, is more cautious, warning that the connection between global warming and the spread of Zika is still speculative.
"What is clear is that 2015 and 2016 present an increased risk, because of the high temperatures and rainfall that have been observed, but we don't know yet if this will be confirmed as a long-term tendency," he told the newspaper O Estado de São Paulo.
Brazilian specialists believe that the spread of dengue and Zika has also been facilitated by successive governments' failure to provide basic sanitation and clean water to the poorer part of the population. Only 58 percent are connected to the sewage system and 15 percent lack running water.
Breeding Places
Added to these factors, the drought of 2015, which affected both the semi-arid zone of the Northeast and the urban conglomerations of the Southeast, caused severe water shortages and led to a big increase in the informal storage of water.
This provided many more potential breeding places for the mosquito and dengue fever cases reached 1.5 million, with 863 deaths.
The government has declared war on the insect, drafting in 220,000 soldiers to reinforce health agents in a campaign to visit every residence in Brazil and clear away anything where mosquito larvae breed—including old tyres, empty bottles, badly-closed water tanks, plant containers and even the leaves of Bromeliad plants.
Free mosquito repellent is being distributed to women on welfare programs. The WHO decision to declare a public health emergency will make it easier to get funding for the urgent work of developing a vaccine.
Another possible solution is the "good mosquito," a transgenic mosquito developed by the UK firm Oxitec. When it breeds with normal mosquitoes, it leaves them sterile.
It is now being trialled in Brazil, Panama and the Cayman Islands. In the town of Piracicaba, São Paulo state, it was reported that the release of thousands of "good mosquitoes" led to the death of 82 percent of the Aedes population.
YOU MIGHT ALSO LIKE 
3 Things You Should Know About the Hottest Year Ever Recorded
Signing Polluter-Friendly TPP Trade Deal Is Gambling Away Our Future
Which Is the Biggest Threat to Americans: Zika, Cancer or ISIS?
Could Lawsuit Against Exxon Finally Force the Fossil Fuel Industry to Pay for Its Lies About Climate Change?
As the Trump administration moves full speed ahead on boosting the oil and fossil fuel industry, opposition to increased pipeline construction is cropping up in different communities around the country.
Keep reading...
Show less
Minke whale stranding near Havergate Island in Suffolk. MCGA.
By Simon Evans
Last Saturday, two dead whales washed up on the coast of Suffolk, in eastern England, and a third was spotted floating at sea.
What happened next illustrates how news can spread and evolve into misinformation, when reported by journalists rushing to publish before confirming basic facts or sourcing their own quotes.
Keep reading...
Show less
By Monica Amarelo and Paul Pestano
Sun safety is a crucial part of any outdoor activity for kids, and sunscreen can help protect children's skin from harmful ultraviolet rays. Kids often get sunburned when they're outside unprotected for longer than expected. Parents need to plan ahead and keep sun protection handy in their cars or bags.
Keep reading...
Show less
By Joe McCarthy
A lot of people take part in community clean-up efforts—spending a Saturday morning picking up litter in a park, mowing an overgrown field or painting a fence.
Keep reading...
Show less
May. 26, 2017 03:22PM EST
Rink Glacier in western Greenland, with a meltwater lake visible center. NASA/OIB
Scientists have had their eyes on Greenland as its iconic glaciers have begun disappearing due to a warming climate. But, what they didn't expect to see was a whole new type of melting.
Keep reading...
Show less
May. 26, 2017 03:40PM EST
A coalition of conservation groups and others announced Thursday that a historic number of comments and petitions of support have been submitted to the U.S. Department of the Interior in support of Bears Ears National Monument. Despite the entirely inadequate 15-day comment period ending on May 26, more than 685,000 comments in support of Bears Ears National Monument have been collected.
Keep reading...
Show less
May. 26, 2017 02:50PM EST
Mountain View Fire
By Lena Moffitt
An oil tanker in Mead, Colorado exploded, killing one and injuring three on Thursday. Authorities are continuing to investigate the cause of the explosion.
Keep reading...
Show less
May. 26, 2017 01:27PM EST
Banner created by Alliance for Climate Education
Keep reading...
Show less


Get EcoWatch in your inbox