This website uses cookies to ensure you get the best experience while browsing it. By clicking 'Got It' you're accepting these terms.
Climate Change Linked to Spread of Zika Virus
Feb. 05, 2016 08:48AM EST
Climate
The Zika virus, transmitted by the same mosquito as dengue fever, has spread with alarming speed throughout South and Central America—and scientists in Brazil suspect that global warming is exacerbating the problem.
Although the virus, named after the Ugandan forest where it was first identified, usually causes only mild symptoms and often passes undetected, it has been associated with a surge in the number of cases of babies born with microcephaly, which can cause brain damage.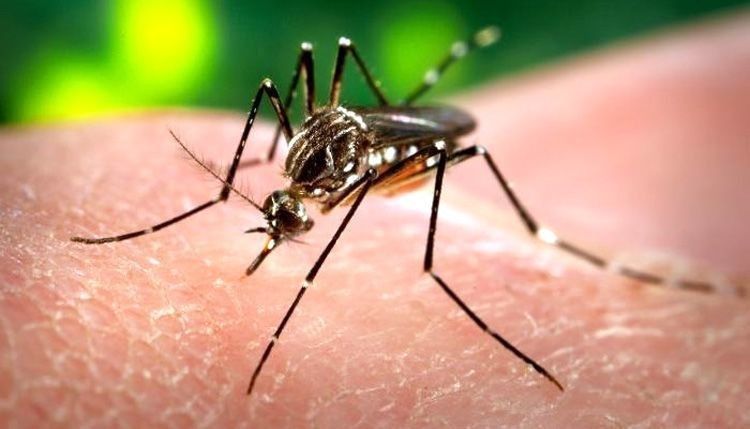 The World Health Organization (WHO) has now declared the situation an international public health emergency.
The numbers are alarming. Until last year, while dengue fever claimed many victims, Zika was unknown in Latin America. Since first detected in April 2014, there have been more than 4,000 births of babies with suspected microcephaly in Brazil, compared with a previous yearly average of 154.
Twenty-four countries in South and Central America have reported cases of microcephaly and the rapid spread of the virus is being attributed by some scientists to global warming.
Abnormal Warming
Last year was the hottest on record, with temperatures for the first time about 1 C above pre-industrial levels. But in some parts of Brazil, average temperatures rose by between 3 and 5 C, according to data from the Centre for Weather Forecasting and Climate Studies at Brazil's National Institute for Space Research. The abnormal warming of the Pacific caused by El Niño contributed to this.
Studies by Brazilian scientists show that the Aedes egypti mosquito has spread to 80 percent of the country, an area of 6.9 million sq km (2.6 million square miles)—four times larger than a decade ago.
Paolo Zanotto, a virologist at the University of São Paulo's Biomedical Sciences Institute, is co-ordinating a network of laboratories studying the Zika virus.
He says: "The number of mosquitoes is increasing, their area of activity is increasing and contact with populations who have never before had contact with dengue is increasing. Global warming is probably collaborating with its spread to previously free areas."
Other scientists agree. Christovam Barcellos, a geographer at the Fiocruz Institute in Rio de Janeiro, says: "We have noticed that dengue has spread to areas that were previously too cold for it, like the south of the country."
In colder regions the mosquito has a shorter life, but it can still spread dengue and Zika.
However, Oliver Brady, an Oxford University epidemiologist and co-author of a research paper recently published by The Lancet on the potential export of dengue from Brazil by travelers, is more cautious, warning that the connection between global warming and the spread of Zika is still speculative.
"What is clear is that 2015 and 2016 present an increased risk, because of the high temperatures and rainfall that have been observed, but we don't know yet if this will be confirmed as a long-term tendency," he told the newspaper O Estado de São Paulo.
Brazilian specialists believe that the spread of dengue and Zika has also been facilitated by successive governments' failure to provide basic sanitation and clean water to the poorer part of the population. Only 58 percent are connected to the sewage system and 15 percent lack running water.
Breeding Places
Added to these factors, the drought of 2015, which affected both the semi-arid zone of the Northeast and the urban conglomerations of the Southeast, caused severe water shortages and led to a big increase in the informal storage of water.
This provided many more potential breeding places for the mosquito and dengue fever cases reached 1.5 million, with 863 deaths.
The government has declared war on the insect, drafting in 220,000 soldiers to reinforce health agents in a campaign to visit every residence in Brazil and clear away anything where mosquito larvae breed—including old tyres, empty bottles, badly-closed water tanks, plant containers and even the leaves of Bromeliad plants.
Free mosquito repellent is being distributed to women on welfare programs. The WHO decision to declare a public health emergency will make it easier to get funding for the urgent work of developing a vaccine.
Another possible solution is the "good mosquito," a transgenic mosquito developed by the UK firm Oxitec. When it breeds with normal mosquitoes, it leaves them sterile.
It is now being trialled in Brazil, Panama and the Cayman Islands. In the town of Piracicaba, São Paulo state, it was reported that the release of thousands of "good mosquitoes" led to the death of 82 percent of the Aedes population.
YOU MIGHT ALSO LIKE 
3 Things You Should Know About the Hottest Year Ever Recorded
Signing Polluter-Friendly TPP Trade Deal Is Gambling Away Our Future
Which Is the Biggest Threat to Americans: Zika, Cancer or ISIS?
Could Lawsuit Against Exxon Finally Force the Fossil Fuel Industry to Pay for Its Lies About Climate Change?
EcoWatch Daily Newsletter
Maximum heat indices expected in the continental U.S. on Saturday July 20. NOAA WPC
Retired Supreme Court Justice John Paul Stevens, who was appointed by President Gerald Ford in 1975, was presented with the Presidential Medal of Freedom by President Barack Obama on May 29, 2012. MANDEL NGAN / AFP / GettyImages
John Paul Stevens, the retired Supreme Court Justice who wrote the opinion granting environmental agencies the power to regulate greenhouse gases, died Tuesday at the age of 99. His decision gave the U.S. government important legal tools for fighting the climate crisis.
Golde Wallingford submitted this photo of "Pure Joy" to EcoWatch's first photo contest. Golde Wallingford
EcoWatch is pleased to announce our third photo contest!

EPA Administrator Andrew Wheeler signs the so-called Affordable Clean Energy rule on June 19, replacing the Obama-era Clean Power Plan that would have reduced coal-fired plant carbon emissions. U.S. Environmental Protection Agency / Twitter
By Elliott Negin
On July 8, President Trump hosted a White House event to unabashedly tout his truly abysmal environmental record. The following day, coincidentally, marked the one-year anniversary of Andrew Wheeler at the helm of the U.S. Environmental Protection Agency (EPA), first as acting administrator and then as administrator after the Senate confirmed him in late February.
A timber sale in the Kaibab National Forest. Dyan Bone / Forest Service / Southwestern Region / Kaibab National Forest
By Tara Lohan
If you're a lover of wilderness, wildlife, the American West and the public lands on which they all depend, then journalist Christopher Ketcham's new book is required — if depressing — reading.
Somalians fight against hunger and lack of water due to drought as Turkish Ambassador to Somalia, Olgan Bekar (not seen) visits the a camp near the Mogadishu's rural side in Somalia on March 25, 2017. Sadak Mohamed / Anadolu Agency / Getty Images
World hunger is on the rise for the third consecutive year after decades of decline, a new United Nations (UN) report says. The climate crisis ranks alongside conflict as the top cause of food shortages that force more than 821 million people worldwide to experience chronic hunger. That number includes more than 150 million children whose growth is stunted due to a lack of food.
Eduardo Velev cools off in the spray of a fire hydrant during a heatwave on July 1, 2018 in Philadelphia. Jessica Kourkounis / Getty Images
By Adrienne L. Hollis
Because extreme heat is one of the deadliest weather hazards we currently face, Union of Concerned Scientist's Killer Heat Report for the U.S. is the most important document I have read. It is a veritable wake up call for all of us. It is timely, eye-opening, transparent and factual and it deals with the stark reality of our future if we do not make changes quickly (think yesterday). It is important to ensure that we all understand it. Here are 10 terms that really help drive home the messages in the heat report and help us understand the ramifications of inaction.
Senator Graham returns after playing a round of golf with Trump on Oct. 14, 2017 in Washington, DC. Ron Sachs – Pool / Getty Images
Lindsey Graham, the South Carolina Senate Republican who has been a close ally of Donald Trump, did not mince words last week on the climate crisis and what he thinks the president needs to do about it.