Climate Change Ignored Entirely in Presidential Debate
Oct. 04, 2012 10:55AM EST
Climate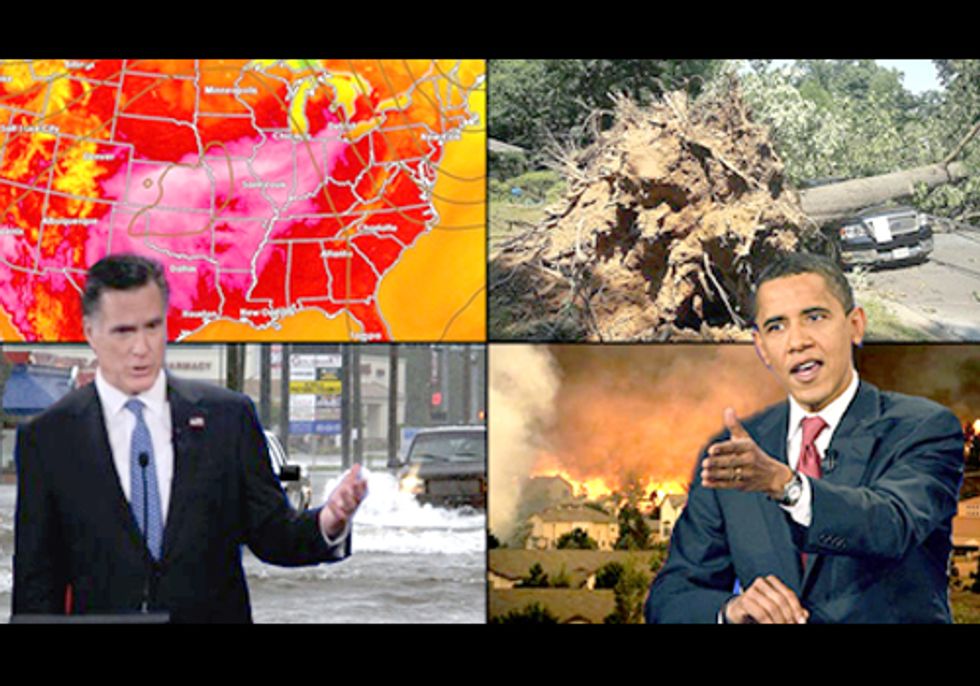 By Paul E McGinniss
[Editor's note: As I sat and watched the debate last night with my 13- and 15-year-old kids, I was hoping, mostly for their sake, that at least one of the two candidates running for President of the U.S. would focus on the most important issue our country faces—the health of our planet. Why is it so hard for people to understand that the health of the planet directly impacts our own survival? The Earth provides us with water, food, energy, shelter and all the other things that we need to live. We are destroying the resources that keep us alive at an unprecedented rate. So, how is it possible that neither candidate mentioned the importance of biodiversity, the need to conserve our natural resources, kicking our addiction to fossil fuels, curbing our greenhouse gas emissions, transitioning immediately to renewable energy sources, adopting strong energy efficiency policies...? Instead of holding my breath until the next debate, I'm going to keep on working to educate people on the importance of these issues through this online news service EcoWatch.org. Help me by sharing the content from this site with your family, friends and neighbors.]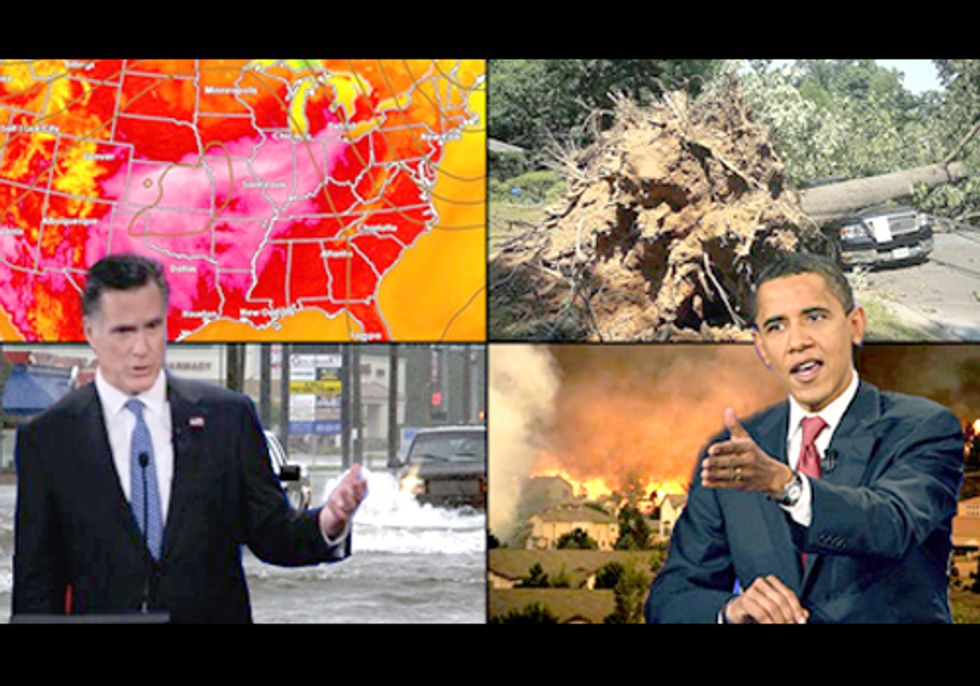 I guess it's official. Climate Change does not exist. At least when it comes to what is discussed at the Presidential Debates.   
A Coalition of groups across the country including the Environmental Defense Fund, Sierra Club, National Wildlife Federation and League of Conservation Voters, lobbied Jim Lehrer, the moderator of the first 2012 Presidential Debate, to bring up the important subject of Climate Change as a question in the discussion.
Almost 200,000 petitions were sent to PBS for Lehrer, to urge him to ask the candidates how they plan to address Climate Change. "Millions of voters will be watching this first presidential debate to hear how the candidates plan to address the nation's most urgent challenges—and the American people deserve to hear a substantive, meaningful conversation about confronting the climate crisis and building a clean energy economy," said Vanessa Kritzer, online campaigns manager for the League of Conservation Voters.
Well, I guess Lehrer wasn't listening. Or he didn't have a chance to pick up his mail or check his inbox.
He must have also missed the people rallying outside the Presidential Debate on the University of Denver Campus demanding that the candidates explain their plans for addressing what many consider the most serious issue currently facing humanity, the destabilization of our planet's climate, and the billboard in Denver asking the Presidential Candidate's their plans to tackle the climate crisis and lead this country into a new era of energy-efficiency. He obviously didn't get the chance to check out the new website ClimateSilence.org, a project of Forecast the Facts and Friends of the Earth Action, that urges voters to sign a petition to Obama and Romney to explain how they will address the growing climate crisis if elected to the nation's highest office.
Lehrer didn't even ask one question about national energy policy, or the role that clean energy and renewable technology could play in igniting a sustainable economy. Not to mention improving the environment and human health. So much time was spent on health care but no mention that our current addiction to fossil fuels is making people sick.
In the debate, the benefits of fostering a green economy and renewable technology barely scratched the surface. Granted, when asked about how to create more jobs and stimulate the economy, President Obama did bring up the need to boost our own energy production, including developing future energy sources such as wind, solar and bio fuels. Romney's response to this Obama statement did not mention anything about renewable fuels or clean technology and instead he countered Obama by saying he wants to drill more for oil and gas on public land, have more drilling  offshore, that he is big fan of coal (clean coal, cough, cough). Rommney then criticized Obama for not letting more oil and gas exploration on federal land, as if Obama was not letting it happen and that drilling for oil and gas on public land has screeched to a complete halt.
I followed the debate live on Think Progress and they pointed out, as the debate was unfolding, that Romney incorrectly claimed oil production on federal lands is down. Oil production from federal lands is higher, not lower. Production from federal lands is up slightly in 2011 when compared to 2007. And the oil and gas industry is sitting on 7,000 approved permits to drill.
Michael Brune, executive director of the Sierra Club, commented after the debate, "Mitt Romney said that he loves Big Bird, but what we saw tonight was that he loves Big Oil. Romney, whose energy plan was written by Big Oil, said he'd double the amount of destructive oil and gas drilling on public lands and that he would approve the dirty Keystone XL tar sands pipeline. He attacked investments in clean energy and even flat out said that he likes coal."
When it comes to seriously discussing climate change and renewable energy in the Presidential debates, so far it's strike one.  
There are two more debates left. Are you listening Governor Romney and President Obama? Three strikes and you're out.
Visit EcoWatch's CLIMATE CHANGE and ENERGY page for more related news on this topic.
EcoWatch Daily Newsletter