This website uses cookies to ensure you get the best experience while browsing it. By clicking 'Got It' you're accepting these terms.
Climate Change Could Diminish Valuable Cloud Cover, Scientists Say
Dec. 31, 2013 03:46PM EST
Climate
By Tim Radford
Australian and French scientists believe they have cracked one of the great puzzles of climate change and arrived at a more accurate prediction of future temperatures.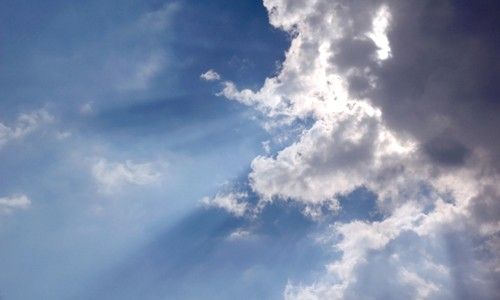 Photo courtesy of Shutterstock
The news is not good, according to Steven Sherwood of Australia's Centre for Excellence for Climate System Science at the University of New South Wales. If carbon emissions are not reduced, then by 2100 the world will have warmed by four degrees Celsius.
This figure does not, at first, sound high: researchers have been warning for 20 years on the basis of computer models that under the notorious business-as-usual scenario in which everybody goes on burning coal and oil, then as carbon dioxide levels double, global temperatures could rise by between 1.5 degrees Celsius and 4.5 degree Celsius.
Pessimists could cite one extreme, optimists the other: the range of uncertainty was a recognition that there were still some big unknowns in the machinery of climate, and one of those unknowns was the behavior of the clouds in a warmer world.
More warmth means more evaporation, more  water vapor could mean more clouds. Low-level clouds reflect sunlight back into space, and help cool the climate a bit. This is what engineers call negative feedback.
Drying the Clouds
But if more water vapor actually led to less cloud, then more sunlight would reach the surface and the world would warm even more: positive feedback would be in play. Climate models cater for such possibilities, but cannot choose between them.
What Sherwood and his colleagues from Pierre and Marie Curie University in Paris did was to start with some real-world observations of what happens when water vapor gets into the atmosphere.
They report in Nature that updraughts of water vapor can rise 15 kilometers to form high clouds that produce heavy rains, or the vapor can rise just a few kilometers before coming back to the surface without forming rain clouds.
When this happens the process actually reduces the overall cloud cover because it desiccates the clouds above: it draws away water vapor from the higher regions in a process called convective mixing.
Climate models in the past have tended to predict high cloud formation that damps warming. What Sherwood and his colleagues have done is demonstrate that the world may not work like that.
Profound Effects in Prospect
So the next step was to feed the new understanding into computer simulations. These then showed that climate cycles could develop that would take vapor to a wider range of heights in the atmosphere, with the consequence that fewer clouds would form as climate warms.
If so—and other climate scientists will have their own arguments with the findings—then as carbon dioxide levels double, which they will do in the next 50 years or so, the average planetary temperatures will increase by a colossal four degrees Celsuis.
Governments have expressed the wish, but not so far taken the necessary action, to contain planetary temperatures to a rise of no more than two degrees Celsius. If Sherwood and colleagues are right, they will not get their wish. And the process will go on. The temperatures will continue to soar beyond 2100, to reach an additional eight degrees Celsius by 2200.
"Climate skeptics like to criticize climate models for getting things wrong, and we are the first to admit they are not perfect, but what we are finding is that the mistakes are being made by those models that predict less warming, not those that predict more," said Sherwood.
"Rises in global average temperatures of this magnitude will have profound impacts on the world and the economies of many countries if we don't urgently curb our emissions."
Visit EcoWatch's CLIMATE CHANGE page for more related news on this topic.

EcoWatch Daily Newsletter
A visitor views a digital representation of the human genome at the American Museum of Natural History in New York City. Mario Tama / Getty Images
Genetics are significantly more responsible for driving autism spectrum disorders than maternal factors or environmental factors such as vaccines and chemicals, according to a massive new study involving more than 2 million people from five different countries.
Pixabay
By Emilie Karrick Surrusco
Across the globe, extreme weather is becoming the new normal.
Golde Wallingford submitted this photo of "Pure Joy" to EcoWatch's first photo contest. Golde Wallingford
EcoWatch is pleased to announce our third photo contest!

A worker in California sprays pesticides on strawberries, one of the crops on which chlorpyrifos is used. Paul Grebliunas / The Image Bank / Getty Images Plus
Conservationists estimate the orange-fronted parakeet population has likely doubled. Department of Conservation
Up until 25 years ago, New Zealand's orange-fronted parakeet, or kākāriki karaka, was believed to be extinct. Now, it's having one of its best breeding seasons in decades, NPR reported Thursday.
Pexels
The world's population will hit 10 billion in just 30 years and all of those people need to eat. To feed that many humans with the resources Earth has, we will have to cut down the amount of beef we eat, according to a new report by the World Resources Institute.
Beachgoers enjoying a pleasant evening on Georgia's St. Simons Island rushed into the water, despite warnings of sharks, to rescue dozens of short-finned pilot whales that washed ashore on Tuesday evening, according to the New York Times.
Six Extinction Rebellion protesters were arrested as they blocked off corporations in the UK. The group had increased their actions to week-long nationwide protests.