Climate Change Blamed for Southern India's Worst Flooding in More Than a Century
Dec. 04, 2015 10:23AM EST
Climate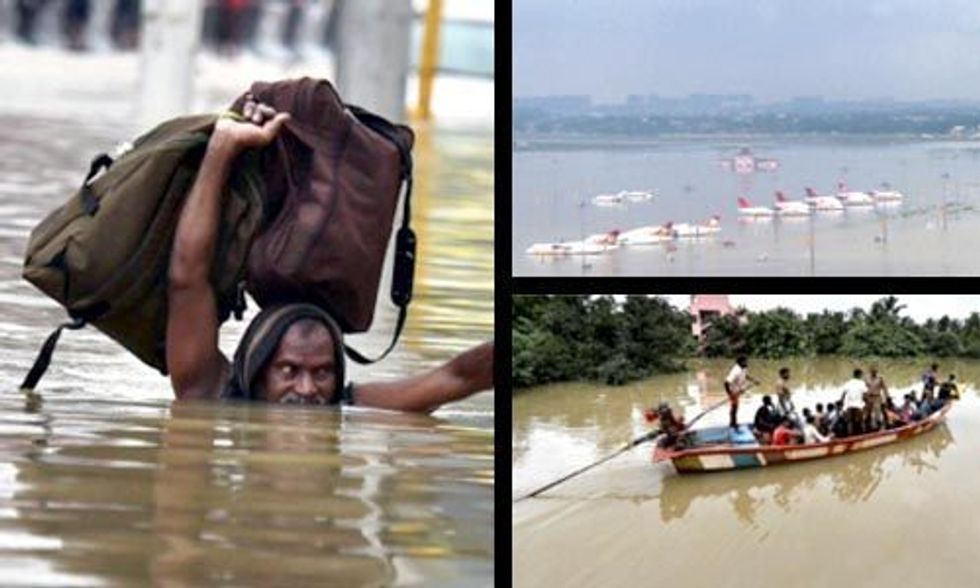 The heaviest rainfall in more than a century triggered massive flooding in Southern India, reports Reuters, as thousands have been driven from their homes. Since heavy rain began on Nov. 12, more than 1,000 people have been injured and 269 have died.
We are all pained by the devastation in TN. Took stock of the damage, on the ground & through an aerial survey. https://t.co/veEdDipooV

— Narendra Modi (@Narendra Modi)1449146450.0
The area saw as much as 14 inches of rain in a 24-hour period earlier this week (twice the amount of rain the area averages for all of December), according to Khaleej Times. And it's not over yet. The national weather service predicted three more days of "torrential downpours" in the southern state of Tamil Nadu—home to nearly 70 million people. "There will be no respite,"said Laxman Singh Rathore of the India Meteorological Department.
Local businesses and even the airport have been shut down due to the flooding. Roads remain impassible, and 3 million people have been cut off from basic services. Relief has come from helicopters dropping food, water and medicine, and the military has employed fishing boats to pick up some 18,000 stranded residents.
The scale and horror of #ChennaiFloods https://t.co/DH05Zv2ipp

— Saikat Datta (@Saikat Datta)1449153650.0
To reach the hospital in Chennai, physician Rupam Choudhury waded through neck-deep water to reach high ground where a military truck could bring him to the hospital. The hospital "was running out of oxygen for patients and diesel for power generators," he said. "Most mobile networks were down in the city and food supplies running low."
Visuals of woman swimming across a flooded road of Chennai for safety #ChennaiFloods WATCH: https://t.co/ZzlyJoAS8q https://t.co/2fZFS9QzlE

— ABP News (@ABP News)1449030339.0
More rain forecasted as record rainfall, floods in #India kill 269 - https://t.co/KoO4Zwvic3 #ChennaiFloods https://t.co/BNot2r7I0r

— Khaleej Times (@Khaleej Times)1449146919.0
Prime Minister Modi has ordered "an extensive relief and rescue operation" in the area, reports Reuters. Still, many Indians have bemoaned the slow response of relief efforts. "The police want to help but there are no boats. We are trying not to panic," said resident Ramana Goda, who was forced to leave his home with his family because of the flooding.
"Weather experts say the seasonal northeast monsoon was responsible for the flooding in the city of six million, but was amplified this year by El Nino, a warming of the eastern Pacific Ocean that can have far-reaching climate effects," said Reuters. Prime Minister Narendra Modi blamed climate change for the deluge, tweeting that India is already feeling the effects of climate change before heading to the UN COP21 climate summit in Paris this week.
India is also experiencing the impact of climate change & is concerned about our coast, islands, glaciers: PM @narendramodi in @FT #COP21

— PMO India (@PMO India)1448866819.0
This is not the first time that an Indian government official has blamed extreme weather in India on climate change. Earlier this year, a heat wave ravaged parts of India, killing more than 2,500 people. This led India's Earth Sciences Minister Harsh Vardhan to blame climate change for what became the fifth deadliest heat wave on record. Scientists have said again and again that extreme weather, including droughts, floods and heat waves, are on the rise because of climate change.
Check out this video of the devastating flooding from Mashable:
YOU MIGHT ALSO LIKE
Bill McKibben: 'Paris Summit is Missing One of the Great World Leaders on Climate' Because He's in Prison
EcoWatch Daily Newsletter
Recent Stories from EcoWatch