Climate Change Amplifies Groundwater Depletion, Threatening Food Supply
Dec. 05, 2013 01:02PM EST
Climate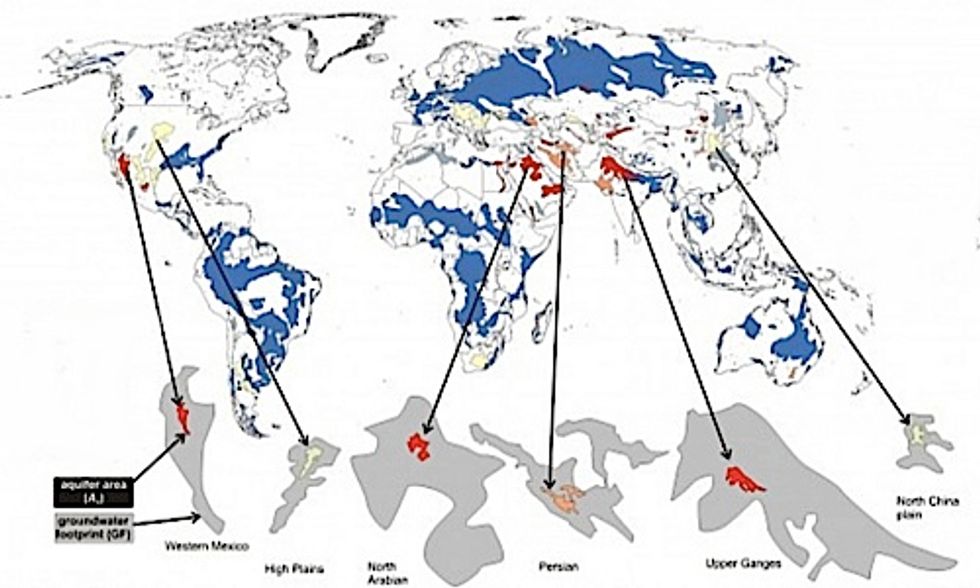 By Brett Walton
A National Research Council report argues that groundwater use today is leaving society poorly prepared for potential rapid climate changes in the future.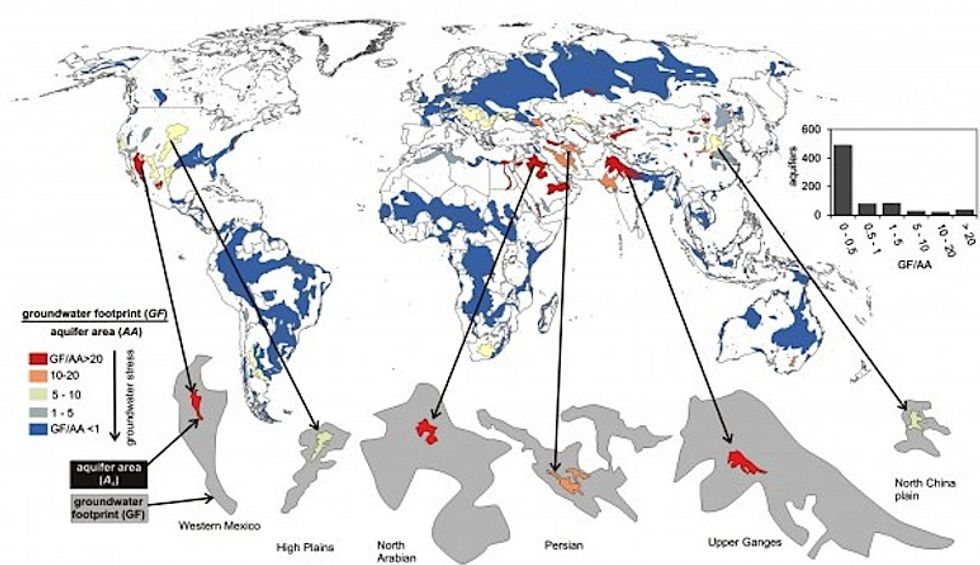 Nature
It is no exaggeration to claim that aquifers—water-saturated layers of subterranean sediment—have allowed agriculture, and thus modern life in our house of seven billion, to prosper.
America's Great Plains are a lucrative grain bin solely because of the Ogallala Aquifer, which waters eight states. In New Mexico, groundwater reserves helped farmers survive the recent drought in the Southwest. The key to India's Green Revolution, which pulled hundreds of millions out of hunger starting in the 1960s, was millions of wells irrigating land sown with new types of seeds.
These examples are twentieth and early twenty-first century success stories. But a new report from the National Research Council claims that these patterns of water use, if not recast, leave society vulnerable to climate surprises.
Surprises, in this context, are not felicitous. They are disruptive and destructive. They are the result of too much carbon in the atmosphere and the oceans and a warming of the global climate. They are changes in the rate of change, rapid upheavals that can overwhelm the rural and the urban, the coasts and the heartlands.
Published Dec. 3, Abrupt Impacts of Climate Change assesses the potential for these large-scale "tipping points" and whether they are expected sooner or later.
The good news is that the direst circumstances—a belch of heat-trapping methane from thawing polar soils or a seizure in the ocean's heat conveyor belt, which would affect rainfall, temperature, sea level and marine ecosystems—are not expected to occur this century.
A rapid melting of the West Antarctic ice sheet, which would raise sea levels by at least three meters (10 feet) if it completely melted, was judged plausible by 2100 but with a low probability and high uncertainty.
The more likely disruptions are the ones that are familiar: heat waves, extinctions, droughts and floods. They are "more likely, severe and imminent," according to the report. Their effects will be amplified by how society manages its resources and builds its infrastructure.
"Groundwater aquifers, for example, are being depleted in many parts of the world, including the southeast of the U.S.," the report states. "Groundwater is critical for farmers to ride out droughts, and if that safety net reaches an abrupt end, the impact of droughts on the food supply will be even larger."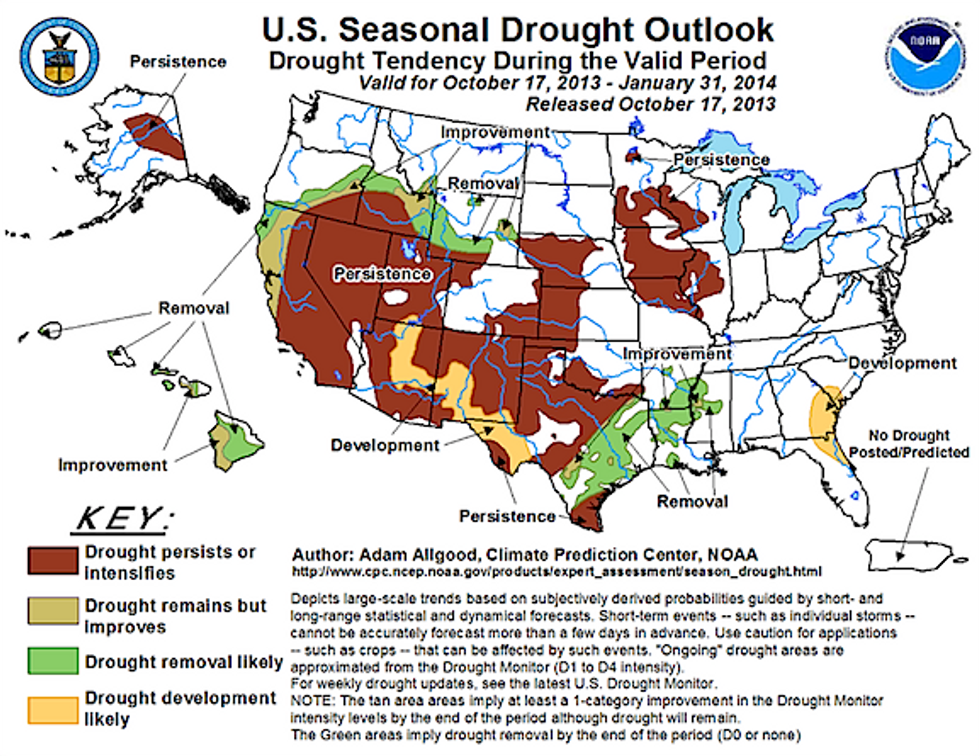 When rain is scarce, farmers turn on the pumps. But in most key agricultural regions, more water is being taken out than filters back in. In money terms, farmers are blowing through their savings account, leaving little in the bank if an expensive bill comes due.
To be fair, groundwater regulations have popped up with increasing frequency in states such as Arizona, Kansas and Nebraska and many cities are storing more water underground, but spendthrifts still outnumber mattress-stuffers.
Caution Signs Needed
In light of this, the report's authors—all U.S. professors that study the Earth, air and oceans—argue for an advance warning system for abrupt changes, a flashing yellow semaphore to jar society out of an all-systems-go complacency.
An Abrupt Change Early Warning System, they write, would require three activities:
identification of vulnerable areas that are then monitored frequently to detect changes
development of models that can predict changes
incorporation of new knowledge and analysis
Regarding monitoring, the report calls out for special attention NASA's GRACE satellite mission, which measures changes in the Earth's water resources by detecting changes in gravitational pull between two satellites.
When coupled with climate forecasts, continuous global groundwater assessments could anticipate failed harvests and poor crop production.
"A successful ACEWS that monitors for food security should include such monitoring, as groundwater withdrawal is the common approach to combating the impact of drought on crop yields. A failure of groundwater to backstop rain would be a tipping point in the production of food, and a central part of a system to forecast famine."
Some small regional or topical warning systems exist—the report mentions America's National Integrated Drought Information System and the Famine Early Warning System in East Africa and the Sahel—but big global schemes will take time, the authors acknowledge.
Best to begin now.
Visit EcoWatch's WATER page for more related news on this topic.

A recent study focused on regions in Ethiopia, Africa's largest coffee-producing nation. Edwin Remsberg / Getty Images
Climate change could make it harder to find a good cup of coffee, new research finds. A changing climate might shrink suitable areas for specialty coffee production without adaptation, making coffee taste blander and impacting the livelihoods of small farms in the Global South.
EcoWatch Daily Newsletter
In "Weather," Jenny Offill tells the story of a librarian named Lizzie who prepares for a climate apocalypse. Andrew Merry / Getty Images
By Suzanne Cords
One day Lizzie, the first-person narrator of the novel, receives an old book as a gift, with a dedication wishing the reader to be among the survivors. Like the preppers who build bunkers and stockpile supplies in remote areas to be ready for the end of the world, Lizzie is convinced that the end of the world is definitely near in times of a threatening climate disaster.
Lizzie, who lives in New York with her husband and son, is a university campus librarian. She worries about almost everything: her brother, an ex-junkie, or her dental insurance and the future in the face of the apocalypse. She is obsessed with reading reference books and articles about climate change.
She also devours words of wisdom, including about Buddhist spirituality: "A visitor once asked the old monks on Mount Athos what they did all day, and was told: We have died and we are in love with everything." But nothing can lift her spirits.
'Lizzie Is Just Like Us'
Lizzie observes rich New Yorkers plan their move to regions that are less threatened by climate change, something she simply cannot afford. Sometimes she watches disaster movies, which lead her to worry even more.
Above all, she is a gifted observer of her fellow human beings. "Young person worry: What if nothing I do matters? Old person worry: What if everything I do, does?"
Lizzie, the U.S. author told DW, is a bit like the rest of us — well aware of the climate crisis, but because she cares and worries about so many other things, that awareness falls by the wayside. That's how she felt herself, Jenny Offill said, but the more she looked into the issue, the more she saw a need for action on her part, too.

"I also was trying to see if there was a way to make it funny, because, you know, so much of the world of prepping and imagining disaster is actually sort of strangely funny."
The novel was shortlisted for the 2020 UK's Women's Prize for Fiction and has now been released in German translation.
Climate Activist With a Vision
But then, there is also this serious, scientifically based concern about what climate change means. In the past, says Offill, artists were the ones who would predict disasters; today it's the experts, as well as the students she teaches. In the end, their fears and their justified anger motivated her to take a closer look at the issue. Today, she is a climate activist herself, and is involved in initiatives along with many other artists.
Lizzie, the heroine of Weather, hasn't gotten that far. But she voices her fears, and that's a start. "Of course, the world continues to end," says Sylvia, a mentor of Lizzie's, at one point — and commences to water her garden. There is hope after all.
Reposted with permission from Deutsche Welle.
A Shell oil drilling rig off the coast of Alaska in the Chukchi Sea on May 21, 2015. Orjan F. Ellingvag / Corbis via Getty Images
By Jake Johnson
A federal appeals court on Tuesday dealt the final blow to former President Donald Trump's attempt to open nearly 130 million acres of territory in the Arctic and Atlantic Oceans to oil and gas drilling.
Electric vehicles are the cars of the future. sl-f / Getty Images
By 2035, every new car and truck sold in the U.S. could be an EV, a new report says.
Accelerations in technology and especially battery affordability, paired with new policy, mean the dramatic transition would save American drivers $2.7 trillion by 2050, an average savings of $1,000 per household per year.
The ramp up in EV production would also create 2 million new jobs by 2035. Battery prices have fallen 74% since 2014, and their unexpectedly rapid fall is a key driver of the cost savings.
EVs are far simpler mechanically, and more efficient, than internal combustion engine (ICE) vehicles, which translates to reduced climate pollution and lower costs for consumers.
Strengthened vehicle efficiency standards and investment in fast charging infrastructure are needed to accelerate the transition, which would prevent 150,000 premature deaths and save $1.3 trillion in health environmental costs by 2050.
For a deeper dive:

The Guardian, Fast Company, E&E, Morning Consult, Canary Media

For more climate change and clean energy news, you can follow Climate Nexus on Twitter and Facebook, sign up for daily Hot News, and visit their news site, Nexus Media News.
The Gowanus Canal in Brooklyn, New York, a polluted nearly 2 mile-long waterway that is an EPA Superfund site. Jonathan Macagba / Moment / Getty Images
Thousands of Superfund sites exist around the U.S., with toxic substances left open, mismanaged and dumped. Despite the high levels of toxicity at these sites, nearly 21 million people live within a mile of one of them, according to the U.S. Environmental Protection Agency (EPA).