Climate Activists to Converge on NYC for UN Summit, People's Climate March and More
For one week surrounding the UN Climate Summit 2014, the focus of the environmental movement will be in New York City. A dizzying array of events will take place, sponsored by hundreds of nonprofit organizations, businesses and religious groups all demanding immediate climate action.
One of the most high-profile events of the week that will capture widespread international attention is the People's Climate March on Sept. 21.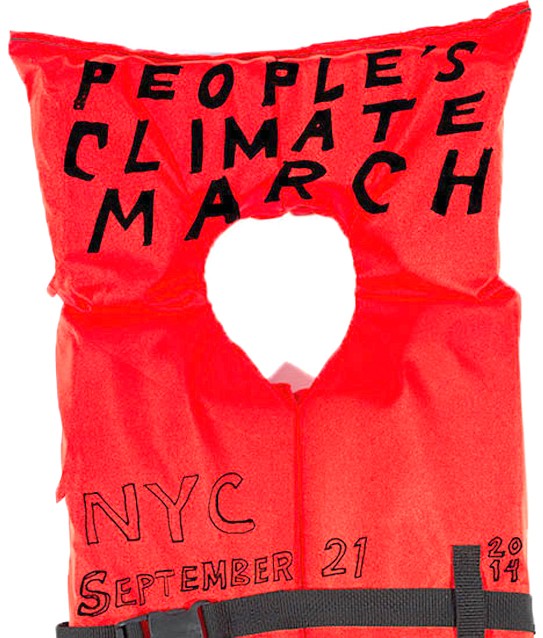 Busloads of marchers are coming from all parts of the country and international participants are expected as well. With more than a thousand partnering groups, including nonprofits, religious groups, advocacy organizations, schools and businesses, tens of thousands—maybe more—could show up, with expectations of this event being the largest climate action in world history.
March organizers hope to impress on the world leaders who will be meeting at the UN on Sept. 23 that there is mass public demand for action on climate change and to take that level of public engagement to an even higher level.
"We believe that world leaders will only act (or be able to act) on climate change when everyday people express the desire, and create the political mandate for them to do so," said organizers of the march. "Therefore, we aren't opposed to this summit happening, and it is generally a good thing for heads of state to discuss climate change. We don't have blind faith that the summit will solve the crisis either. We think that organizing, mobilizing and building social movements are ultimately what changes the course of history."
While the UN Climate Summit on Sept. 23 is not open to the public (although it will be broadcast for public viewing), the schedule of activities is so dense that finding time to sleep that week might be a concern for any activist heading to NYC.
There are many small preliminary events including sign-making parties, rallies, meetings, concerts, forums and social gatherings. There are conferences, lectures, meetings and other events, both public and invitation only, listed at Climate Week NYC.
Here is a small sampling of some of the events going on in NYC that week:
NYC Climate Convergence from Sept. 19 - 21, an alternative to the UN Climate Summit. This event will "challenge the corporate-dominated UN Climate Summit Sept. 23 and raise the bar for real solutions to the climate emergency that also solve the crises of economic and racial justice, human rights, democracy and peace." It will feature speakers like The Shock Doctrine author Naomi Klein, workshops, teach-ins, music and more.
Join Riverkeeper and Waterkeeper Alliance as part of NYC Climate Convergence Sept. 20 at St. Johns University in Room 112 from 10:45 a.m. - 12:15 p.m. to learn how water warriors are battling climate change from the Himalayas to the Hudson Valley. Hudson Riverkeeper Paul Gallay will moderate an all-star panel of leaders and experts on the climate-water nexus.
Religions for the Earth Conference: This event will gather together more than 200 international religious and spiritual leaders at the Union Theological Seminary to address the impacts of the global climate crisis and plan actions from a spiritual standpoint.
Solutions Grassroots Tour: Nightly music and theater performance and film screening at the Irondale Center in Brooklyn. Organized by Gaslands filmmaker Josh Fox, Sept. 22-26, it's "an interactive music, theater and film event that motivates towns to adopt renewable energy solutions for individual, community and commercial settings, as well as campaign for pro-renewable energy legislation." Watch the trailer here.
People's Climate Justice Summit hosted by the Climate Justice Alliance will feature workshops, interactive panels and other activities to provide an alternative voice to the UN Climate Summit, which it says represents "the corporate takeover of the UN climate negotiations and the privatization of land, water and air resources under the guise of a global climate compact." This event is at the New School University Auditorium & UN Church Center from Sept. 22-23.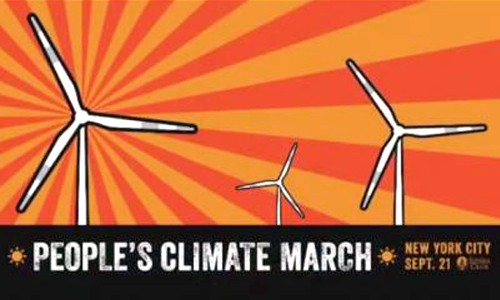 Women's Earth and Climate Action Network (WECAN) is hosting "Women Leading Solutions on the Front Lines of Climate Change" with an international panel of women leaders at the UN Church Center on Sept. 22. The following day it's co-sponsoring "Rights of Nature and Systemic Change in Climate Solutions" with the Global Alliance for the Rights of Nature on Sept. 23.
Women and Climate Justice: A Panel Discussion will be moderated by Amy Goodman, host of Democracy Now! On Sept. 23 from 7 - 11 p.m., Three women will talk about the challenges, successes and support women activists need to thrive. You will also hear how different local and international groups—Global Greengrants Fund, North Star Fund and Bolder Giving—are supporting communities on the front lines of climate change.
Clinton Global Initiative Annual Meeting: The theme of this four-day event, Sept. 21-24, is "Reimagining Impact" and it will stress the effectiveness of various climate strategies. It features plenary sessions, breakout groups, workshops and a star-studded lineup of speakers including President Obama, Bill Clinton, Hillary Clinton and Matt Damon.
The UN Climate Summit itself will be broadcast online Sept. 23. "The Summit will consist of an opening ceremony; announcements by heads of state and governments; announcements by the private sector; and the launch of new initiatives that address key action areas by coalitions of governments, businesses and civil society organizations," according to the UN. "There will also be sessions that focus on critical aspects of climate change, including science, people living on the front lines of climate change, the societal benefits of action and the economic case for action on climate change. The Secretary-General will summarize the outcome of the day at the closing ceremony." 
YOU MIGHT ALSO LIKE
People's Climate March—Largest Climate March in World History—Launched in Times Square
Protesters at UN Climate Talks in Bonn: We Choose Renewable Energy. Stand With Us or Step Aside
Wikimedia Commons
By Stacy Malkan
Neil deGrasse Tyson has inspired millions of people to care about science and imagine themselves as participants in the scientific process. What a hopeful sign it is to see young girls wearing t-shirts emblazoned with the words, "Forget princess, I want to be an astrophysicist."
Keep reading...
Show less
www.youtube.com
By Andy Rowell
Any day now we will truly witness climate change in action. Within days at worst, maybe weeks at best, scientists predict that a huge section of the Larsen C ice shelf in Antarctica will break off into the ocean, in what is called a major "carving" event.
Keep reading...
Show less
www.youtube.com
President Trump visited Cedar Rapids, Iowa on June 21 to speak to a large crowd in the U.S. Cellular Center at a political rally organized by his campaign.
As Trevor Noah noted during The Daily Show episode last night (starts at 2:25), the real reason Trump has these rallies is to "get back in front of his loyal crowds and feed of their energy." Noah believes that "Trump supporters are so on board with their dude he can say anything and they'll come along for the ride."
Keep reading...
Show less
The Kamuthi solar plant in the southern Indian state of Tamil Nadu.
The rapid growth in renewable energy continues to put a dent in the demand for coal.
Coal India, the world's biggest coal mining company and producer of 82 percent of the country's coal, announced the closure of 37 mines that are financially "unviable."
Keep reading...
Show less
www.youtube.com
By Katie O'Reilly
Two years ago—long before coal became one of the most dominant and controversial symbols of the 2016 presidential election—Bloomberg Philanthropies approached production company RadicalMedia with the idea of creating a documentary exploring the U.S. coal mining industry. Last spring, they brought on Emmy-nominated director Michael Bonfiglio, tasked with forging a compelling story out of the multitudes of facts, statistics and narratives underlying the declining industry.
Keep reading...
Show less
Mayors for 100% Clean Energy
Keep reading...
Show less
www.youtube.com
Thanks to Newsy for their coverage on Thursday's news that the U.S. Fish and Wildlife Service removed grizzly bears in the Greater Yellowstone region from the Endangered Species List.
Watch above as Newsy explains that the decision comes despite serious concerns from the environmental and scientific community, and Tribal Nations about a declining, isolated grizzly bear population with diminishing food resources and record-high mortalities.
Keep reading...
Show less
www.facebook.com
By Francine Kershaw
Seismic airguns exploding in the ocean in search for oil and gas have devastating impacts on zooplankton, which are critical food sources for marine mammals, according to a new study in Nature. The blasting decimates one of the ocean's most vital groups of organisms over huge areas and may disrupt entire ecosystems.
And this devastating news comes on the heels of the National Marine Fisheries Service's proposal to authorize more than 90,000 miles of active seismic blasting. Based on the results of this study, the affected area would be approximately 135,000 square miles.
Keep reading...
Show less
By Jill Richardson
Is coconut oil:
good for you
bad for you
neither good nor bad
scientists don't know
The subject of this question is the source of a disagreement. Initially, the question was thought to be settled decades ago, when scientist Ancel Keys declared all saturated fats unhealthy. Coconut oil, which is solid at room temperature, is a saturated fat.
Keep reading...
Show less


Get EcoWatch in your inbox