This website uses cookies to ensure you get the best experience while browsing it. By clicking 'Got It' you're accepting these terms.
Climate Action = Economic Gains
Oct. 10, 2014 09:05AM EST
Evidence continues to pour in that policies that reduce greenhouse gas emissions not only aren't detrimental to economic growth but in fact can fuel it. A new study by World Resources Institute, Seeing Is Believing: Creating a New Climate Economy in the United States, adds compelling evidence by providing examples of areas where government policies and technological progress are already offering the chance to reduce emissions and address climate change while also producing economic benefits. And it shows how new technologies can produce still more reductions with the right policies in place.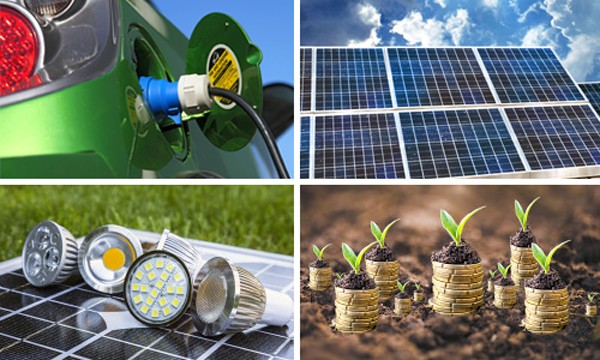 Photo credit: Shutterstock
The new study builds on another recent report from the New Climate Economy Better Climate, Better Growth: The New Climate Economy Report, which came to a similar conclusion about the global economy. And it comes the day after two reports were issued by the Climate Policy Institute showing that moving to clean-energy, low-carbon policies that help mitigate the effects of climate change could actually provide fuel for the economy.
"These new studies provide a one-two punch that smart policies can drive growth and reduce emissions,"said Andrew Steer, president and CEO of the World Resources Institute, which did Seeing Is Believing. "Business leaders are waking up to this reality and it's time for more U.S. elected officials to do the same. From Texas to Iowa, more real-world success stories are emerging each day. We need to seize these opportunities to put America on a strong, low-carbon pathway."
Seeing Is Believing identifies and amplifies on opportunity in five sectors that produced more than have the U.S.'s carbon emissions: electricity generation, electricity end-use efficiency, natural gas systems, passenger vehicles, and consumption of hydrofluorocarbons (HFC). Taken together, it will be essential to reduce emissions in these five areas to cut emissions by 17 of 2005 levels by 2020.
The study found, for instance, that natural gas-fired plants cost 19-44 percent less than coal-fired plants and that, with the cost of renewable energy dropping it is already cheaper than both in some areas of the country, that energy-efficient appliances are already saving users billions of dollars and that state energy-efficiency programs save consumers anywhere from $1-$5 or every dollar invested.
It also identified savings in more energy-efficient vehicles coming online as well as decreases in the cost of electric vehicles which could make them more affordable in the future. And it asserted that new standards to reduce methane leaks from natural gas systems will save the industry millions as reductions pay for themselves in three years or less, while reducing pollution saves money in health care costs. And finally, it said that many companies including Coca-Cola, General Motors, Red Bill and Heineken have already cut their energy costs by switching from HFC refrigerants to safer ones.
"Honeywell's nearly $900 million investment commitment to commercialize our low-global-warming Solstice hydrofluoro-olefin refrigerants, blowing agents, solvents and aerosols will support U.S. jobs and reduce greenhouse gas emissions globally," said Ken Gayer, the company's vice president and general manager of its fluorine products business. "The strong demand for these innovative and environmentally-friendlier products is proof that the HFC findings in World Resources Institute's Seeing Is Believing study are accurate—the business community can play a crucial role in both growing our economy and bettering our environment."
"States, companies and federal agencies have been demonstrating for years that there is much that can be done to reduce greenhouse gas emissions while providing net economic benefits to average Americans," said the study's lead author Nicholas Bianco. "Now the question is whether the nation will build on that success by scaling up its investment in low-carbon technologies that save money. The right policy environment will be vital to fully realize this opportunity."
YOU MIGHT ALSO LIKE
Reducing Carbon Emissions Would Fuel Global Economy
The Economics of Global Warming
Plus, learn if there's one that's best for your health.
Catherine Falls Commercial / Moment / Getty Images
An invasive Amynthas worm, also known as a crazy snake worm, Asian jumping worm and Alabama jumper Tom Potterfield / Flickr
By Jason Bittel
My wife and I built a house two years ago on a few acres of woodland outside of Pittsburgh. The backyard is full of maples, poplars, briars and common spicebush. Two-lined salamanders and grumpy-looking crayfish wade among the rocks in the small stream that runs down the edge of the property. Deer, raccoon and opossum tracks appear regularly in the snow and mud. Sometimes, my trail-cam even catches a pair of gray foxes as they slink through the night.
AleksandarNakic / Getty Images
By Kate Murphy
No matter the time of year, there's always a point in each season when my skin decides to cause me issues. While these skin issues can vary, I find the most common issues to be dryness, acne and redness.

David Woodfall / The Image Bank / Getty Images
By Sam Nickerson
The U.S. Environmental Protection Agency (EPA) in April 2018 proposed relaxing standards related to how it assesses the effects of exposure to low levels of toxic chemicals on public health.
Now, correspondence obtained by the LA Times revealed just how deeply involved industry lobbyists and a controversial, industry-funded toxicologist were in drafting the federal agency's proposal to scrap its current, protective approach to regulating toxin exposure.
Steve Irwin poses with a three foot long alligator at the San Francisco Zoo on June 26, 2002. Justin Sullivan / Getty Images
February 22 is the birthday of conservationist and beloved TV personality "Crocodile Hunter" Steve Irwin, who would have been 57 years old today.
Irwin's life was tragically cut short when the barb from a stingray went through his chest while he was filming in 2006, but his legacy of loving and protecting wildlife lives on, most recently in a Google Doodle today honoring his birthday.