'Climatarian' Makes New York Times List of Top New Food Words for 2015
Dec. 22, 2015 01:32PM EST
Climate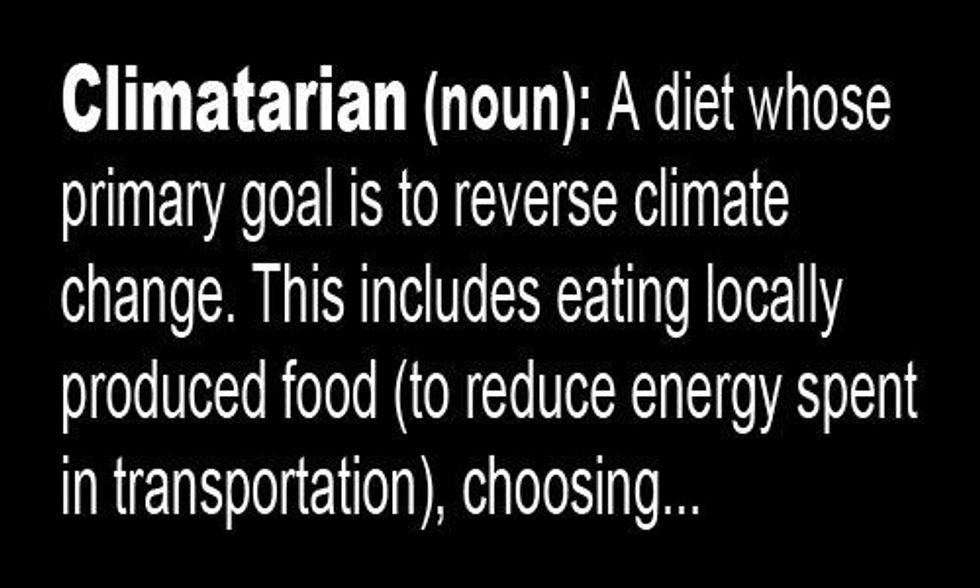 The New York Times published its list of the top new food words for 2015. Words and phrases that made this year's list range from "beer o'clock," one's personal assessment of the right time of day to start drinking, to "hangry," the state of being so hungry that you become angry or irritable.
But, the one word most relevant to the environmentally conscious is "climatarian." The New York Times defines it as "a diet whose primary goal is to reverse climate change. This includes eating locally produced food (to reduce energy spent in transportation), choosing pork and poultry instead of beef and lamb (to limit gas emissions) and using every part of ingredients (apple cores, cheese rinds, etc.) to limit food waste."
The word gained popularity this year in part because it was promoted by a group called Climates (yes, the organization's official name is formally half-bold). They encourage people to "go climatarian" and save a tonne (1.1 short tons) of carbon dioxide equivalent, which includes carbon dioxide, methane, nitrous oxide and other greenhouse gases.
Climatarian defined in NYT's top food words 2015: https://t.co/Jw2WFV2HLi see https://t.co/ZpwOaNy0UE for more info https://t.co/8YioFVpIRw

— Climates Network (@Climates Network)1450292063.0
The evidence supporting a climatarian diet is abundant. Several reports within the past year, including one from the UK think tank Chatham House, have found that eating less meat and dairy is essential to curbing climate change.
And a carbon-conscious diet is not only good for the planet, but is healthy for people, too.
The health benefits of eating less meat have been touted by nutritionist Marion Nestle, former Daily Show host Jon Stewart, singer Beyoncé and director James Cameron. After retiring as the host of the Daily Show in August, Stewart and with his wife turned their New Jersey farm into an official Farm Sanctuary site. Beyoncé launched a vegan meal delivery service, 22 Days Nutrition. And James Cameron helped launch America's first vegan school.
Meat, especially processed meat, is looking less and less appetizing, especially since the release of the World Health Organization's report that found the consumption of processed meat is linked to an increase in cancer risk.
While #climatarian has gained some traction on Twitter, it remains to be seen if the word is here to stay.
YOU MIGHT ALSO LIKE
Find Out if Your Eggs Are Truly Organic and Support Local Farms
Europe's Dirty Little Secret: Moroccan Slaves and a 'Sea of Plastic'
Aziz Ansari Blasts Factory Farming for Cruelty to Chickens
EcoWatch Daily Newsletter
Related Articles from EcoWatch
Recent Stories from EcoWatch