This website uses cookies to ensure you get the best experience while browsing it. By clicking 'Got It' you're accepting these terms.
Clever Interactive Video Encourages Americans to Join Renewable Energy Revolution
Mar. 10, 2015 09:54AM EST
Nuclear energy doesn't produce the same climate change-driving carbon emissions as burning fossil fuels. That's led to it being touted as a "clean energy" solution.
But when a tsunami, triggered by a major earthquake, hit the Fukushima nuclear plant in Japan four years ago tomorrow, triggering a meltdown of three of its six reactors and the release of large amounts of radioactive material, it showed once again the frightening impacts of nuclear power. It caused many people to question the safety of U.S. nuclear reactors.
Among those gravely concerned are five environmental and clean energy advocacy groups. They have combined forces to produce an interactive online video, Our Epic Future: Create It With Clean Energy, at MakeNuclearHistory.org. It offers viewers the opportunity to explore what the world would be like powered by three different types of energy: fossil fuels, nuclear power and clean, renewable energy.
"While the nuclear industry continues to grasp at straws for relevance, it is more apparent than ever that the clean energy revolution has taken hold in communities across the country," said Annie Leonard, executive director of Greenpeace, one of the groups behind the video. "The Fukushima disaster is a constant reminder that nuclear energy is a dirty and dangerous distraction from real solutions like wind and solar. We should commit to rejecting costly nuclear pipe dreams and supporting the renewable efforts that can help avert our climate crisis."
The Make Nuclear History website explains: "There is a better way. There is a way to power our lives without fossil fuels. There is a solution to climate change without nuclear energy. There is a future where we can solve the climate crisis and power our lives from 100 percent renewable sources and energy efficiency. Now is the time to create our fossil and nuclear-free future … A fossil and nuclear-free future powered by renewable sources is possible and the transition is happening now. The benefits of clean, affordable and renewable energy compared with the dirty, expensive legacy of fossil fuels and nuclear reactors are obvious."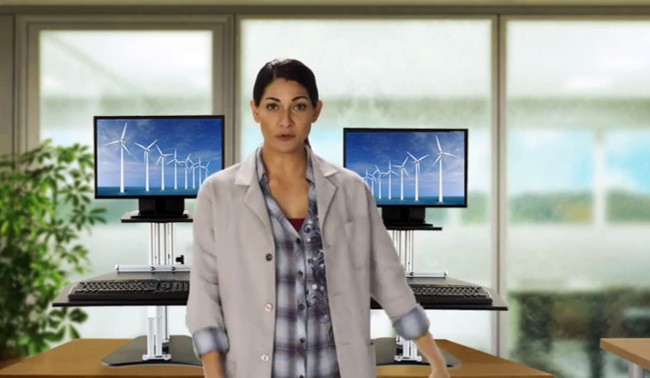 The video introduces three characters: an old-school oilman wearing a Stetson and string tie singing the praises of natural gas and clean coal, which he calls "cheap, safe and real friendly on the environment;" a smooth-talking nuclear scientist in a white lab coat lauding "the power of the atom;" and a bouncy young woman speaking on behalf of clean energy.
Viewers can follow each into their "lab" where they can follow different options to see the potential outcome of using each energy source. Using simple vivid visuals that recall old-fashioned educational films, a diverse cast of characters and humor, the video makes its point that fossil fuels are dirty and polluting and that nuclear power is no solution.
"Choosing between clean energy and dangerous fuels like coal and nuclear isn't difficult," said Michael Brune, executive director of the Sierra Club, another organization involved in producing the video. "Nuclear has proven time and time again to be too expensive, too slow to build and far too dangerous. Meanwhile, burning fossil fuels is making our families sick and making the climate crisis worse. That's a huge part of the reason our clean energy economy is growing by leaps and bounds, creating jobs while keeping pollution out of our air, our water and our communities."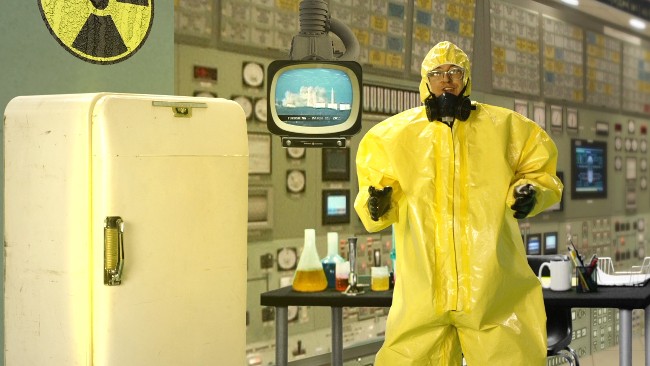 After viewing the video, visitors are encouraged to get involved in clean energy campaigns, including urging the Nuclear Regulatory Commission to put in place post-Fukushima safety measures at U.S. reactors and petitioning Congress to reinstate the Production Tax Credit for the wind energy.
Other groups involved in the campaign include Friends of the Earth, Nuclear Information and Resource Center and Public Citizen.
"Fukushima was a global watershed moment illustrating the potential for catastrophic nuclear accidents to occur," said Friends of the Earth president Erich Pica. "This video contributes to a growing people's movement demanding a fossil-free, nuclear-free future."
YOU MIGHT ALSO LIKE
Oil Can't Compete With Renewables, Says National Bank of Abu Dhabi
Thyroid Cancer in Young People Surge in Fukushima Since Nuclear Meltdown
Helen Caldicott's 'Nuclear-Free Planet' with Noam Chomsky and Other Great Minds
Plus, learn if there's one that's best for your health.
Catherine Falls Commercial / Moment / Getty Images
An invasive Amynthas worm, also known as a crazy snake worm, Asian jumping worm and Alabama jumper Tom Potterfield / Flickr
By Jason Bittel
My wife and I built a house two years ago on a few acres of woodland outside of Pittsburgh. The backyard is full of maples, poplars, briars and common spicebush. Two-lined salamanders and grumpy-looking crayfish wade among the rocks in the small stream that runs down the edge of the property. Deer, raccoon and opossum tracks appear regularly in the snow and mud. Sometimes, my trail-cam even catches a pair of gray foxes as they slink through the night.
AleksandarNakic / Getty Images
By Kate Murphy
No matter the time of year, there's always a point in each season when my skin decides to cause me issues. While these skin issues can vary, I find the most common issues to be dryness, acne and redness.

David Woodfall / The Image Bank / Getty Images
By Sam Nickerson
The U.S. Environmental Protection Agency (EPA) in April 2018 proposed relaxing standards related to how it assesses the effects of exposure to low levels of toxic chemicals on public health.
Now, correspondence obtained by the LA Times revealed just how deeply involved industry lobbyists and a controversial, industry-funded toxicologist were in drafting the federal agency's proposal to scrap its current, protective approach to regulating toxin exposure.
Steve Irwin poses with a three foot long alligator at the San Francisco Zoo on June 26, 2002. Justin Sullivan / Getty Images
February 22 is the birthday of conservationist and beloved TV personality "Crocodile Hunter" Steve Irwin, who would have been 57 years old today.
Irwin's life was tragically cut short when the barb from a stingray went through his chest while he was filming in 2006, but his legacy of loving and protecting wildlife lives on, most recently in a Google Doodle today honoring his birthday.