This website uses cookies to ensure you get the best experience while browsing it. By clicking 'Got It' you're accepting these terms.
Clevelanders Say 'No Cleveland Incinerator' and 'Yes Recycling/Composting
Feb. 02, 2012 10:28AM EST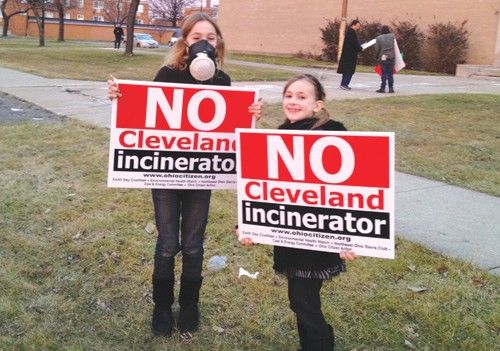 by Sandy Buchanan
Residents of Cleveland and neighboring suburbs are turning out in full force to protest the City of Cleveland's plans to build a garbage incineration facility designed to generate electricity at the Ridge Road Transfer Station on the city's near west side.
In late January, two public meetings held by the city drew standing room only crowds at the Estabrook Recreation Center on Fulton Road, with dozens of people speaking out in opposition of the proposed plant.
Dr. Anne Wise, a physician at Neighborhood Family Practice two blocks from the proposed site, testified at both hearings saying that her patients already suffer from breathing problems and heart disease, aggravated by Cleveland's poor air quality. She described how one of her patients didn't need her oxygen tank when she vacationed to southern Ohio, but had to use it again when she came home to Cleveland.
Andy Dzurick, a Cleveland resident that lives one mile from the Ridge Road transfer station, agreed with Dr. Wise, by saying, "It seems like we've got plenty of pollution sources already."
U. S. Rep. Dennis Kucinich (D-OH) testified that the incinerator is not an economically or environmentally sustainable way to make electricity or dispose of trash.
The city has linked the expansion of their curbside recycling program to the building of the garbage incinerator. Resident John Jenkins drew applause at the January meeting when he asked, "Why is the City of Cleveland holding the recycling program hostage to the building of this facility?" Cleveland City Councilman Brian Cummins probed the city administration on this issue and other council members are advocating that the city look at decoupling these proposals.
Red, black and white, "No Cleveland Incinerator" yard signs are sprouting up all over town, thanks to support from the Northeast Ohio Sierra Club. And at the public hearings, residents were holding up these signs with another message on the back: green signs that say "Yes Recycling/Composting." The Ohio Environmental Protection Agency (EPA) has issued a draft air pollution permit for the facility. The permit would make the facility one of the largest emitters of several dangerous pollutants in Cuyahoga County, including soot, mercury and lead. The public comment period, which had originally been set for January, has now been extended until Feb. 23 due to the public outcry and the intervention of several members of Cleveland City Council and Mayor Frank Jackson.
Chris Trepal, executive director of Earth Day Coalition, has repeatedly asked the city and the Ohio EPA to provide maps showing where the air pollution would travel when it leaves the facility, since so far they have provided only raw data that can only be opened with proprietary software, making it impossible for residents to access.
Cleveland Public Power's developer for the facility, Peter Tien, is the same individual who was involved in the failed attempt last year to sell a no-bid LED light bulb contract to Cleveland Public Power, from Chinese manufacturer Sunpo-Optu. For the incinerator deal, he is the U. S. representative for gasification technology developed by a Japanese company called Kinsei-Sangyo. Tien has a no-bid $1.5 million contract with the city, and has repeatedly fallen behind schedule.
Cleveland Public Power says the facility would generate 10 to 15 megawatts of power into its system, whose total peak power is 330 megawatts per year.
Stuart Greenberg, executive director of Environmental Health Watch, testified at the Jan. 9 hearing, saying "Gasification has been sold to the city as a clean technology, which it's not. There are cleaner ways to generate electricity and cleaner ways to manage waste."
Ann Knotek, a resident of the Old Brooklyn neighborhood, electrified the crowd at the hearing with a presentation demonstrating the contradictions in the city's proposal. There are no facilities of this type operating anywhere in the U. S., so none of the pollution estimates come from actual experience with burning the type of garbage generated in the U.S., or at the volume that Cleveland is proposing.
Cleveland Public Power has said that they don't know what this facility will cost or how they would finance it. Peter Tien originally provided an estimate of $180 million, but told Cleveland Scene in December that the cost would be $300 million.
Want to get involved? Letters can be written to Mayor Frank Jackson at 601 Lakeside Ave., Cleveland, Ohio 44114, City Council members at the same address and David Hearne at the Cleveland Division of Air Quality at 75 Erieview Plaza, Suite 200, Cleveland, Ohio, 44114. Letters sent to Hearne by Feb. 23 will be considered part of the official public comment for the Ohio EPA air pollution permit.
For more information, call Ohio Citizen Action at 216-861-5200, email or click here.
EcoWatch Daily Newsletter
Large food companies are following in the footsteps of fast-food restaurants such as Burger King and KFC by offering meat alternatives. Getty Images
By Elizabeth Pratt
Hormel, Kellogg's, and Kroger are among the large companies now planning to offer "fake meat" products at grocery stores.
Experts say the trend toward plant-based meats coincides with consumers' desires to eat less meat.
However, experts urge consumers to closely check package labels as a product isn't necessarily healthy just because it's described as plant-based.
In grocery stores and fast-food outlets around the U.S., a revolution is taking place.
Colombia rainforest. Marcel Oosterwijk / CC BY-SA 2.0
Many of us think of the Amazon as an untouched wilderness, but people have been thriving in these diverse environments for millennia. Due to this long history, the knowledge that Indigenous and forest communities pass between generations about plants, animals and forest ecology is incredibly rich and detailed and easily dwarfs that of any expert.
picture-alliance / Newscom / R. Ben Ari
By Wesley Rahn
Plastic byproducts were found in 97 percent of blood and urine samples from 2,500 children tested between 2014 and 2017, according to a study by the German Environment Ministry and the Robert Koch Institute.

Pexels
Medically reviewed by Daniel Bubnis, MS, NASM-CPT, NASE Level II-CSS
Hot yoga has become a popular exercise in recent years. It offers many of the same benefits as traditional yoga, such as stress reduction, improved strength, and flexibility.
Lara Hata / iStock / Getty Images
By SaVanna Shoemaker, MS, RDN, LD
Rice is a staple in many people's diets. It's filling, inexpensive, and a great mild-tasting addition to flavorful dishes.
An image of the trans-alaskan oil pipeline that carries oil from the northern part of Alaska all the way to valdez. This shot is right near the arctic national wildlife refuge. kyletperry / iStock / Getty Images Plus
The Trump administration has initialized the final steps to open up nearly 1.6 million acres of the protected Alaskan National Wildlife Refuge to allow oil and gas drilling.