Clevelanders Encourage City Council to Support Federal Ban on Misuse of Antibiotics on Factory Farms
Feb. 16, 2014 09:32AM EST
Food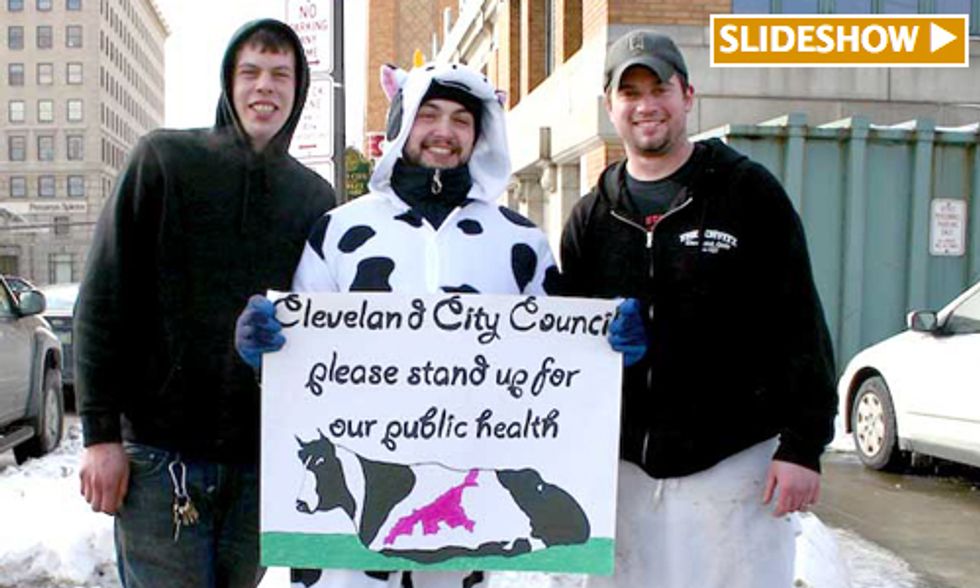 Yesterday at the West Side Market in Cleveland, OH concerned community members gathered in support of the Cleveland City Council anticipated vote to pass a local resolution calling for a federal ban on the misuse of antibiotics on factory farms.
The routine daily use of antibiotics on livestock, whether or not the animals are sick, is directly linked to the creation of antibiotic-resistant bacteria and has become a serious human health threat, according to Food & Water Watch. Pending federal legislation—Preservation of Antibiotics for Medical Treatment Act (PAMTA) in the House and the Prevention of Antibiotic Resistance Act (PARA) in the Senate—would prevent medically important antibiotics from being used needlessly on healthy farm animals.
"The overuse of antibiotics on factory farms is making our families sick," said Food & Water Watch organizer Cait De Mott Grady.
"We're out here today with members of the medical community, farming community and concerned Cleveland citizens to raise awareness about this urgent pubic health issue and to show our support for the city council resolution."
Factory farms feed livestock low doses of antibiotics to compensate for filthy living conditions and to unnaturally promote growth. The practice creates a breeding ground for antibiotic-resistant bacteria, which are responsible for two million human infections and 23,000 deaths annually, according to a study released by the Centers for Disease Control and Prevention. PARA would decrease the livestock's unnecessary exposure to antibiotics, and help to preserve our medicine's live-saving properties.
The resolution, sponsored by Cleveland Councilman Joe Cimperman, will be voted on March 3 at 7 p.m. at Cleveland City Hall. If passed, Cleveland would be one of the first cities in the country to pass such a resolution, continuing its long history of leadership on public health issues.
Visit EcoWatch's FOOD page for more related news on this topic.

EcoWatch Daily Newsletter
Recent Stories from EcoWatch