This website uses cookies to ensure you get the best experience while browsing it. By clicking 'Got It' you're accepting these terms.
Cleveland Rocks: From 'Mistake on the Lake' to 'Green City on a Blue Lake'
May. 01, 2015 11:14AM EST
Morgan Rogers is a senior at Baldwin Wallace University pursuing a Bachelor's degree in Sustainability with double minors in Urban Studies and Sociology. After graduating she would like to work with environmental nonprofit organizations in the Cleveland area.
Cleveland, Ohio was once a booming industrial city, home to winning sports teams and both economic growth and innovation. Cleveland was doing so well it was deemed the "best location in the nation" in the 1950s. But less than 20 years later that reputation would all change.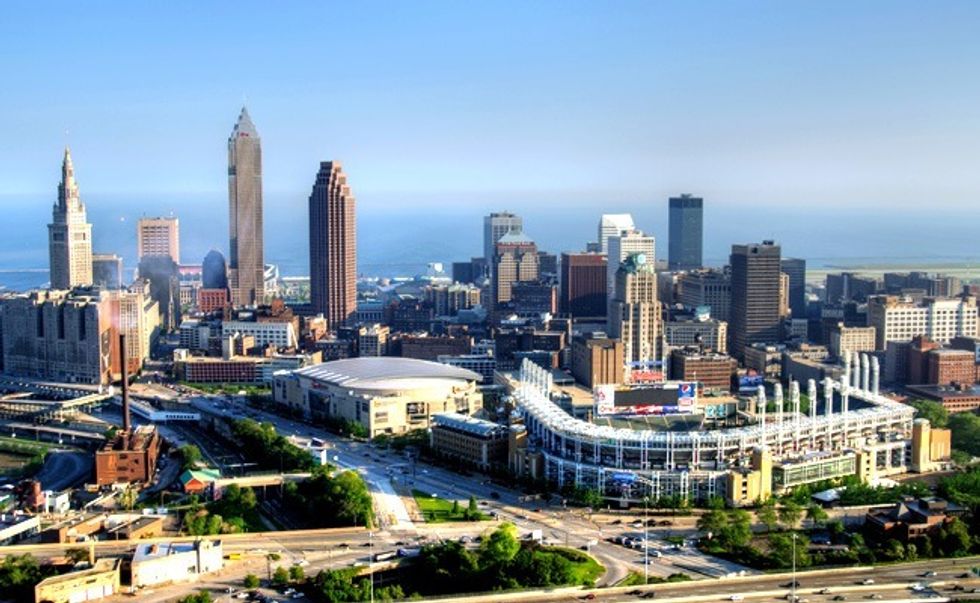 When Cleveland's Cuyahoga River caught fire in 1969 due to the water being so polluted from industrial waste, the event sparked national attention. As word spread about the "city whose river caught fire" Cleveland's reputation took a major hit. Cleveland became the symbol for environmental degradation, and the city was nicknamed the "mistake on the lake." This legacy continued for quite some time as the rust belt city's manufacturers moved out, praised sports teams declined and the city that was once considered to be the "best location in the nation" became somewhat of a joke to the rest of country—a place no one wanted to visit.
Fortunately, Cleveland has been trying to make a new reputation for itself in recent years and is beginning to step out of the smoke screen of its 1969 river fire. In 2009, the city created Sustainable Cleveland 2019, a 10-year action plan initiative devoted to addressing environmental issues and raising awareness. The goal of this action plan is to focus on a different aspect of sustainability within the city each year until the year 2019—50 years after the infamous fire. Cleveland is building a new reputation of a sustainable "green city on a blue lake" by promoting nine sustainability initiatives. Each initiative serves as the year's theme for addressing environmental issues in the city. The nine themes are:
2011: The Year of Energy Efficiency

2012: The Year of Local Foods

2013: The Year of Advanced and Renewable Energy

2014: The Year of Zero Waste

2015: The Year of Clean Water

2016: The Year of Sustainability Mobility

2017: The Year of Vibrant Green Space

2018: The Year of Vital Neighborhoods

2019: The Year of People
This is the year of Clean Water in which the City of Cleveland will be focusing on the region's vital water resources. Cleveland just celebrated EarthFest—the nation's longest running Earth Day celebration—which uses the sustainability initiatives as its theme every year as well. In the fall the City of Cleveland holds a sustainability summit that calls together environmentalists, business leaders, students and other concerned citizens to sit down and talk about what can be done to address the year's theme. Every year, the summit produces new working groups and new organizations to tackle the city's environmental challenges.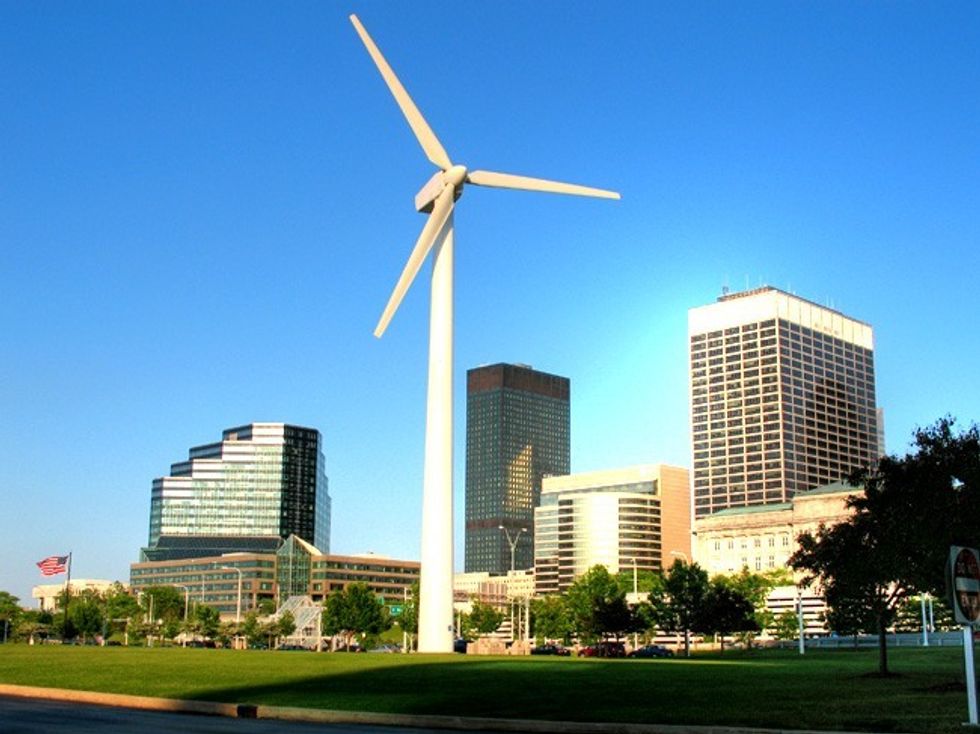 So, how successful is this type of action plan? Cleveland has made great strides in sustainability, particularly in the local food movement. In fact, Cleveland was recently ranked seventh place in Time's "America's Best Food Cities" for 2015, beating out notable "foodie cities" like San Francisco which came in at 19, New Orleans at 15, New York City at 10 and even Portland, Oregon which ranked 8. Cleveland is also home to Ohio City Fresh Food Collaborative, one of the largest contiguous urban farms in the U.S. at six acres.
Cleveland is even making serious strides in renewable energy. LEEDCo is planning to build an offshore wind pilot project, Icebreaker, seven miles offshore of downtown Cleveland, which could become the first offshore freshwater wind project in North America.
Cleveland has come a long way in the 50 years since the infamous Cuyahoga River fire, even hosting a sustainable celebratory Burning River Fest every year in the summer to help Clevelanders celebrate just how far the city has come. Home to one of the largest urban farms in the country, the longest running Earth Day celebration and what would be the country's first offshore freshwater wind farm, Cleveland is well on its way to achieving its vision of a "green city on a blue lake." The city is crafting a new reputation for itself and leading the way in sustainability efforts, all the while redeeming itself of the Cuyahoga River fire as well as its polluting legacy.
YOU MIGHT ALSO LIKE
America's First Offshore Wind Farm Breaks Ground
25 Most and Least Polluted Cities in America
Unity College Students Are Putting Biodiversity Loss and Global Warming Into Focus
EcoWatch Daily Newsletter
picture alliance / dpa / F. Rumpenhorst
By Arthur Sullivan
When was the last time you traveled by plane? Various researchers say as little as between 5 and 10 percent of the global population fly in a given year.
A Starbucks barista prepares a drink at a Starbucks Coffee Shop location in New York. Ramin Talaie / Corbis via Getty Images
By Cathy Cassata
Are you getting your fill of Starbucks' new Almondmilk Honey Flat White, Oatmilk Honey Latte, and Coconutmilk Latte, but wondering just how healthy they are?
By Sharon Kelly
Back in April last year, the Trump administration's Environmental Protection Agency decided it was "not necessary" to update the rules for toxic waste from oil and gas wells. Torrents of wastewater flow daily from the nation's 1.5 million active oil and gas wells and the agency's own research has warned it may pose risks to the country's drinking water supplies.
Swedish climate activist Greta Thunberg takes part in a "Friday for Future" youth demonstration in a street of Davos on Jan. 24, 2020 on the sideline of the World Economic Forum annual meeting. FABRICE COFFRINI / AFP via Getty Images
Treasury Secretary Steven Mnuchin pretended not to know who Greta Thunberg is, and then he told her to get a degree in economics before giving world leaders advice, as The Guardian reported.
The Visible Infrared Imaging Radiometer Suite on the Suomi NPP satellite acquired this image of forest fire smoke hovering over North America on Aug. 15, 2018. NASA Earth Observatory
New York City isn't known for having the cleanest air, but researchers traced recent air pollution spikes there to two surprising sources — fires hundreds of miles away in Canada and the southeastern U.S.