This website uses cookies to ensure you get the best experience while browsing it. By clicking 'Got It' you're accepting these terms.
7 Must-See Films at the 42nd Cleveland International Film Fest
Mar. 21, 2018 10:47AM EST
Popular
It's that time, again!
EcoWatch is proud to be a media partner of the Cleveland International Film Festival (CIFF), now celebrating its 42nd year. This year, EcoWatch is honored to be sponsoring Anote's Ark. This documentary spotlights Kiribati, a small remote island facing devastating effects due to climate change.
---
From April 4 through April 15, CIFF will be showcasing 216 feature films, 253 short films, 14 virtual reality films and six interactive media projects, representing 72 countries.
Here's a synopsis of seven eco-related films being featured this year, courtesy of CIFF:

The Pacific island republic of Kiribati is home to more than 100,000 people. Despite being one of the most remote places on the planet, this little island is on the front lines of climate change. Scientists predict that Kiribati will become uninhabitable within this century due to rising sea levels. The nation has already experienced unprecedented flooding and changing storm patterns, factors that will inevitably leave its communities without viable land or fresh water.
Anote's Ark follows the people of Kiribati as they struggle to retain their culture, tradition and dignity, while preparing for an uncertain future. The film's focus is on the nation's president Anote Tong, as he travels around the world advocating for support from the international community. At this point, climate change is irreversible, but preparations for migration and adaptation must be made. The way we react now is important, as what is currently happening in Kiribati may soon be the fate for the rest of the world. — G.S.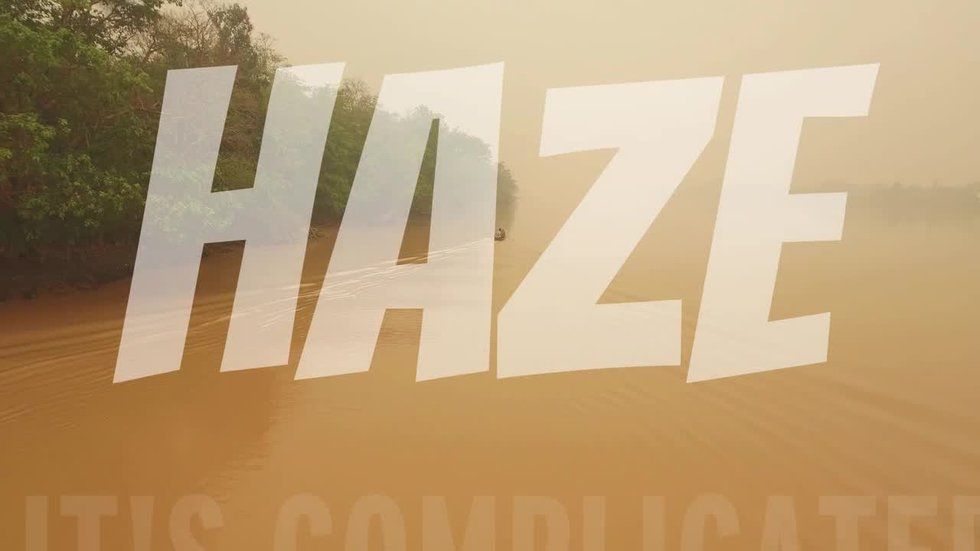 www.imdb.com
Palm oil farming has taken over many parts of Southeast Asia. It's raking in billions, and while locals don't see the bulk of that money, most of them are happy with the income it brings in. That's mainly because, before the palm oil boom, they were struggling to make ends meet in the declining rubber industry. But as the title of this documentary points out, the topic is extremely complex. Much of the region sits on peat, a dense, carbon-heavy substance made of organic matter and dead vegetation. In order to clear land for palm oil crops, many companies and farmers resort to the inexpensive option of setting fires. This method is extremely bad for the environment, contributing to a high percentage of carbon emissions. Because peatlands are dry and flammable, these fires spread quickly and are only contained by heavy rains.
Haze - It's Complicated ... does a terrific job of explaining the intricate science behind palm oil farming. Furthermore, it offers an intimate glimpse into the lives of those who are impacted—both positively and negatively—by its emerging presence. — E.F.

If the world can work together using innovation and technology to put a man on the moon, why can't we unite to solve climate change? To avoid the worst effects of global warming, we need a rapid, coordinated and global transition to renewable energy. Wind and solar energies have their flaws and limitations, and nuclear power is far too dangerous and costly ... or is it?
The New Fire is a documentary that explores the next generation of nuclear engineers and their work to create improved generators that address safety and waste issues, aspects of nuclear energy that have posed huge threats to its progress and sustainability. From reactors that can consume existing stockpiles of nuclear waste, to a plan for the mass production of small self-regulating plants, this film presents a variety of approaches to solving the biggest impending crisis of our time. The New Fire has a hopeful message that if we work together, we can change the future. No matter your current stance on nuclear energy, this film is definitely worth watching. — G.S.
Liberia is rich in valuable natural resources such as diamonds and timber, although the government has long allowed foreign companies to exploit these riches at the expense of the country's citizens. Enter activist Silas Siakor, who's determined not only to preserve Liberian land for residents, but also expose abuses of power and human rights violations. This gripping documentary follows Siakor as he and fellow activists document illegal logging operations and work tirelessly to chip away at the rampant corruption undermining political progress.
In some of the film's most touching moments, Silas also examines the toll this activism takes on Siakor's health and family life. And the film reveals the sobering differences between Liberia's international perception and what's actually happening in individual communities. Throughout the film, Siakor's resilience in the face of criticism and obstruction, as well as his selfless commitment to making Liberia a better place, is profoundly inspiring. The central takeaway of Silas is that one person does have the power to make a difference. — A.Z.
Janina Duszejko has retired to a mountain village on the Czech border. She is an astrology enthusiast and a passionate advocate of animal rights. Her village, filled with cruel and ruthless hunters, trappers and poachers, sees her as a harmless old eccentric—until the day her beloved dogs go missing, possibly murdered by hunters. Powerless against corrupt police and officials, Janina begins a one-woman crusade to fight for these helpless victims, warning that nature will retaliate. Suddenly, a series of bizarre deaths begins, and all the victims are hunters. Evidence suggests a serial killer and that it may even be Mother Nature herself, urging her woodland creatures to hunt the hunters. Have Janina's horoscopes foretold the vengeance of nature, or is the killer a villager hunting their own kind?
Spoor is a brilliantly twisted ecological parable that will thrill you with superb visuals and performances, while gleefully upending your moral core by what (or possibly who) it will have you cheering for. — C.R.
Spoor was selected as Poland's entry for Best Foreign Language Film for this year's Academy Awards®.
Nigeria is going through a serious electricity crisis. Though it's Africa's top energy producer, only 50 percent of Nigerians have access to electricity. For those who do, the service isn't all that great. Many receive electricity for just a few hours a day.
The documentary Take Light follows a charming electrician named Martins who remains optimistic, despite having one of the most dangerous and unpopular jobs in the country. At any given time, he's either risking his life to fix tangled high-voltage lines or trying to calm down angry mobs whose electricity has been cut-off due to nonpayment. The power company is fiercely vigilant in tracking down delinquent customers. Martins, who is just the middleman, does his best to be kind. The situation has gotten so bad that some have taken it upon themselves to illegally reconnect their own power, which can be deadly. Will this debacle be the catalyst for Nigeria to move towards renewable energy? With its oil-dependent economy failing, scarce fuel supplies, and the threat of militant attacks on oil and gas installations, substantial change is the only way forward. — E.F.

From her working-class beginnings to being made a Dame of the British Empire, Vivienne Westwood carved a life and a fashion empire unlike any other. Known throughout the world for her revolutionary and controversial clothing designs, Westwood followed nobody's advice and gleefully opposed decorum, public opinion and social norms. Westwood steers this brave documentary the way she steered her career: fearlessly, argumentatively, and in the face of reason and convention. The self-proclaimed creator of Punk, Westwood was always willing to translate her political passion into her design—an anarchist working the runways in Paris and happily weathering establishment derision.
Westwood: Punk, Icon, Activist sews together the wonderful, abrasive and culture-bending fabrics of her lifetime into a glittering archive to wrap yourself in. Here is a woman who skipped the opening of her New York store to write a thesis on climate change, a fiery and unsettled soul who turned political engagement into a crusade to dress the world for self-expression and action! — C.R.

EcoWatch Daily Newsletter
Aerial view of Ruropolis, Para state, northen Brazil, on Sept. 6, 2019. Tthe world's biggest rainforest is under threat from wildfires and rampant deforestation. JOHANNES MYBURGH / AFP via Getty Images
By Kate Martyr
Deforestation in Brazil's Amazon rainforest last month jumped to the highest level since records began in 2015, according to government data.
A total of 563 square kilometers (217.38 square miles) of the world's largest rainforest was destroyed in November, 103% more than in the same month last year, according to Brazil's space research agency.
From January to November this year an area almost the size of the Caribbean island of Puerto Rico was destroyed — an 83% overall increase in destruction when compared with the same period last year.
The figures were released on Friday by the National Institute for Space Research (INPE), and collected through the DETER database, which uses satellite images to monitor forest fires, forest destruction and other developments affecting the rainforest.
What's Behind the Rise?
Overall, deforestation in 2019 has jumped 30% compared to last year — 9,762 square kilometers (approximately 3769 square miles) have been destroyed, despite deforestation usually slowing during November and December.
Environmental groups, researchers and activists blamed the policies of Brazil's president Jair Bolsonaro for the increase.
They say that Bolosonaro's calls for the Amazon to be developed and his weakening support for Ibama, the government's environmental agency, have led to loggers and ranchers feeling safer and braver in destroying the expansive rainforest.
His government hit back at these claims, pointing out that previous governments also cut budgets to environment agencies such as Ibama.
The report comes as Brazil came to loggerheads with the Association of Small Island States (AOSIS) over climate goals during the UN climate conference in Madrid.
AOSIS blasted Brazil, among other nations, for "a lack of ambition that also undermines ours."
Last month, a group of Brazilian lawyers called for Bolsonaro to be investigated by the International Criminal Court over his environmental policies.
Reposted with permission from DW.
The Carolina parakeet went extinct in 1918. James St. John /
CC BY 2.0
The Carolina parakeet, the only parrot species native to the U.S., went extinct in 1918 when the last bird died at the Cincinnati Zoo. Now, a little more than 100 years later, researchers have determined that humans were entirely to blame.
Pexels
Vitamin C is a very important nutrient that's abundant in many fruits and vegetables.
BLM drill seeders work to restore native grasses after wildfire on the Bowden Hills Wilderness Study Area in southeast Oregon, Dec. 14, 2018. Marcus Johnson / BLM / CC BY 2.0
By Tara Lohan
In 2017 the Thomas fire raged through 281,893 acres in Ventura and Santa Barbara counties, California, leaving in its wake a blackened expanse of land, burned vegetation, and more than 1,000 destroyed buildings.