Cleveland City Council Passes Resolution Supporting Ohio's Renewable Energy and Energy Efficiency Laws
Apr. 09, 2013 12:39PM EST
Energy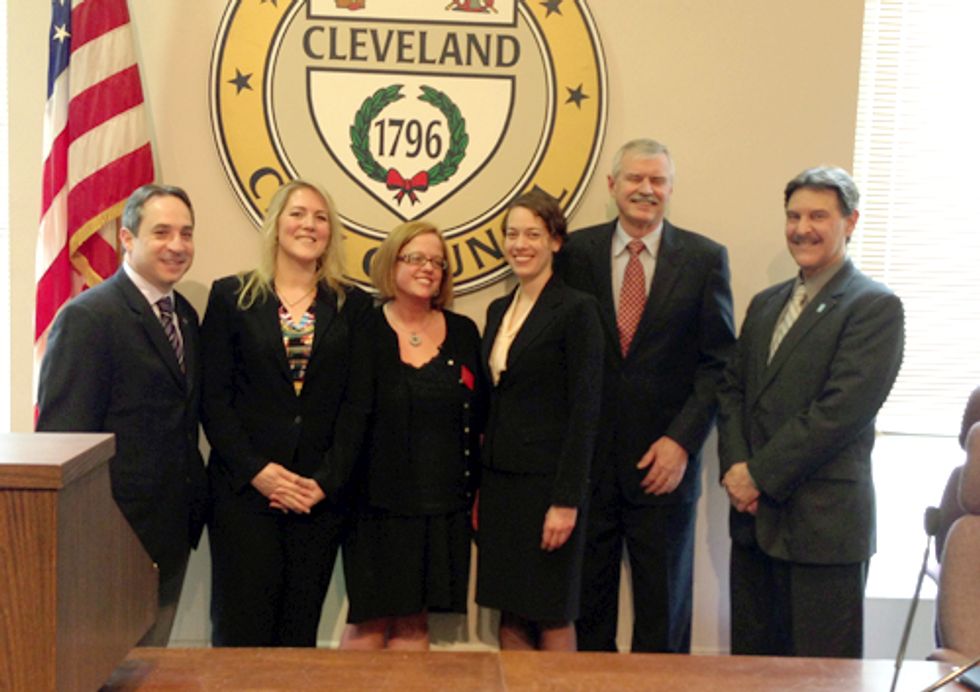 Last night, Cleveland City Council voted unanimously, 17-0, on an emergency ordinance, Resolution No. 13, supporting energy efficiency and renewable energy, and urging Governor Kasich and the Ohio General Assembly to preserve Ohio's cost-saving energy efficiency and renewable energy laws.
Yesterday, Cleveland Councilman Matt Zone and a coalition of supporters gathered in support of Cleveland City Council's leadership in promoting sustainability, renewable energy and energy efficiency. The press conference highlighted the city's clean energy investments and savings, clean energy job creation and a healthier place for children to grow.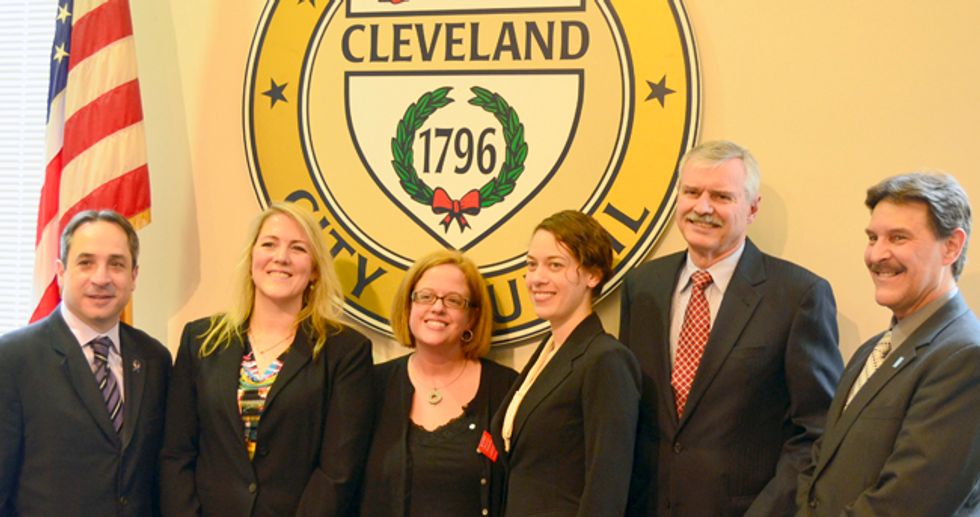 The state's energy efficiency and renewable energy standards are under review in the Ohio legislature. Last month, Ohio State Sen. Bill Seitz (R) told the Wall Street Journal that the state's renewable energy standard reminded him of "Joseph Stalin's five-year plan." Last year, Seitz joined fellow ALEC member Senator Kris Jordan in co-sponsoring a bill to repeal Ohio's renewable electricity standard. That bill failed to make it out of committee.
Seitz, who joined a nearly unanimous group of democratically elected state lawmakers to pass Ohio's renewable energy standard (RES) in 2008, has since reversed his position and is now working to undermine the policy. Seitz served on the board of directors for the American Legislative Exchange Council (ALEC), which is urging states to water down or repeal their renewable energy standards. ALEC's energy policies have been formulated in consultation with coal companies and oil refiners, such as Peabody Energy and Koch Industries.
According to Ohio Public Utilities Commission, more than 1,000 renewable energy projects have been built so far to meet the state's renewable energy standard, driving hundreds of millions of dollars in investments. Wind and solar companies alone employ almost 8,000 people in the state. At the same time, utilities' energy efficiency programs have generated almost $1 billion in net savings for Ohio ratepayers.
"Five years ago, the State of Ohio took a major step forward and required our utilities to generate at least 25 percent of their energy from advanced energy resources by 2025.  This law also requires our utilities to reduce their consumption by 22.5 percent by 2025," said Councilman Zone. "In the last five years we created thousands of jobs and will save our residents billions of dollars. Now is not the time to set this progress on pause. Now is the time to continue Ohio's success story and continue to create jobs, save energy and make Ohio competitive."
Jenita McGowan, chief of Cleveland's Office of Sustainability, said, "The City of Cleveland knows how energy efficiency and renewable energy can save tax dollars and create jobs. We have undertaken upgrades in 69 of our municipal buildings, saving more than $1 million dollars annually."
"We have an opportunity to build the first offshore, freshwater wind project in North America. This investment will create 600 jobs and provide manufacturing, engineering and high tech jobs of the future for Cleveland and Ohio," said Lorry Wagner, president of Lake Erie Energy Development Corporation, LEEDCo.
Dawna Rotert, president of BDL General Contracting said, "We know first-hand how residential energy efficiency programs are saving Ohioans real money, making their homes more energy efficient, comfortable and increasing the resale value down the road. These programs are working; now is not the time to turn our backs on helping customers save money."
"The fact that the single largest investment in Ohio in 2011 was a wind development may come as a surprise to some. But we know that in the last five years, Ohio's Renewable Energy Standard created thousands of jobs, lowering customer's energy bills and making Ohio a place people want to live and work," said Al Frasz, president of Dovetail Solar and Wind.
"As a mother, I want affordably priced energy choices that do not put my children's future at risk from harmful emissions," said Laura Ponikvar of Mom's Clean Air Force. "Reducing energy use and consumption through efficiency programs substantially reduces both carbon and mercury pollution, giving us all healthier air and reducing asthma and lung disease for our kids."
Unfortunately, Ohio is not the only state that has its renewable energy laws under attack. For example, a recent flood of Koch-supported think tanks, junk scientists and astroturf groups from inside and outside of Kansas are awaiting the outcome of a bill this week that could stall progress on the growth of clean energy in Kansas.
Visit EcoWatch's RENEWABLES page for more related news on this topic.
——–
Click here to tell Congress to Expedite Renewable Energy.

EcoWatch Daily Newsletter
Related Articles from EcoWatch