Clean Power Plan Paves Way Toward a Carbon-Free Economy
Aug. 04, 2015 07:54AM EST
Climate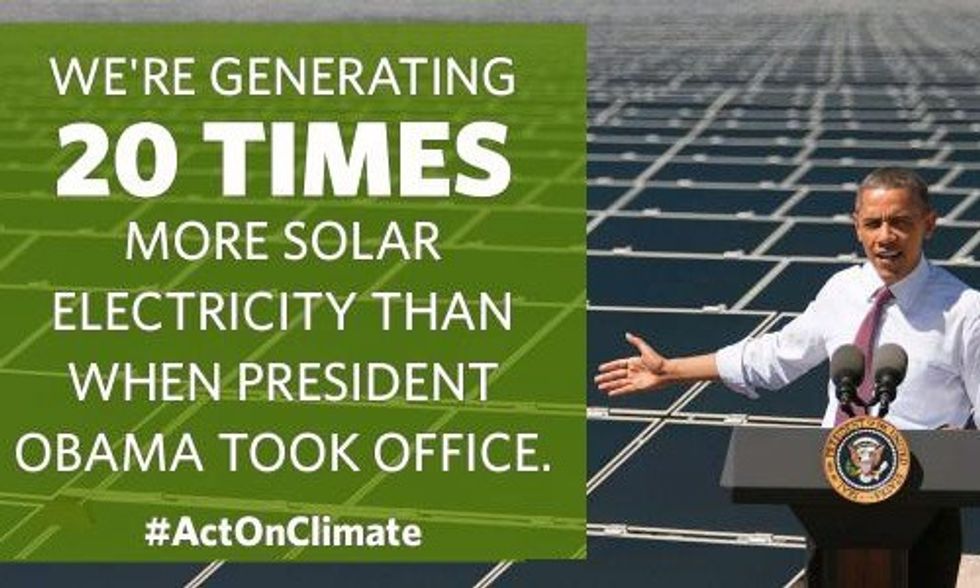 The long-awaited final Clean Power Plan rule was released yesterday by the U.S. Environmental Protection Agency.
"Suddenly I had this weird feeling, like I couldn't breathe" —@POTUS on running in L.A. in 1979 #CleanPowerPlan http://t.co/0mjv24on1Z

— The White House (@WhiteHouse) August 3, 2015
The summary of the final rule, states that the EPA is establishing:
carbon dioxide (CO2) emission performance rates representing the best system of emission reduction for two subcategories of existing fossil fuel-fired electric generating units—fossil fuel-fired electric utility steam generating units and stationary combustion turbines,

state-specific CO2 goals reflecting the CO2 emission performance rates, and

guidelines for the development, submittal and implementation of state plans that establish emission standards or other measures to implement the CO2 emission performance rates, which may be accomplished by meeting the state goals.
The EPA also released this video with Administrator Gina McCarthy explaining in detail the impact the Clean Power Plan will have on laying "the foundation for a healthier future and a stronger economy."
Watch here:
President Obama is calling the plan "the biggest, most important steps we've ever taken to combat climate change." He said in a White House video release Sunday, "It's time for America and the world to act on climate change."
Ken Berlin, president and CEO of The Climate Reality Project, agrees. "The final, strengthened Clean Power Plan comes at a critical time, not only for the United States, but also for the entire world," he said.
"Across the globe, this commitment to cut emissions from power plants by nearly a third from 2005 levels will be seen as a crucial step toward fulfilling President Obama's pledge to reduce our country's greenhouse gas emissions 26-28 percent by 2025, which will set us on the path to achieving a strong emissions reductions agreement at the upcoming COP21 climate negotiations."
In addition to reducing carbon emission by 32 percent below 2005 levels, the plan will grow and strength the U.S. economy by driving innovation and investment in renewable energy. According to McCarthy, the plan will "keep energy affordable and reliable."
"We're now generating 3 times as much wind and 20 times as much solar as we did in 2008." —@POTUS #CleanPowerPlan pic.twitter.com/Ba9pWNDFVf

— The White House (@WhiteHouse) August 3, 2015
"The Clean Power Plan is an opportunity for workers, entrepreneurs and businesses to prosper as we go above and beyond the goals set by this plan," said Michael Brune, executive director of the Sierra Club. "It is a signal to the rest of the world that the U.S. is serious about acting on climate disruption and ready to lead the way toward a strong international climate agreement in Paris later this year."
But not all environmental groups were cheering.
Wenonah Hauter, executive director of Food & Water Watch, said, "The Obama Administration has long touted a commitment to implementing meaningful regulation to address the climate crisis. Unfortunately, this plan fails that commitment. "The goal is too weak, and the tools aren't fit for the job. Relying on inherently flawed programs like cap-and-trade instead of serious federal regulation is a recipe for failure. His Clean Power Plan is nothing more than a market-based compromise with polluting industries. With this plan, we can expect more fossil fuel development, more dangerous fracking and only a symbolic investment in truly clean, renewable energy."
May Boeve, executive director of 350.org, agrees the plan needs to be stronger. "This is the most significant action yet from the Obama administration, but it's still not enough to secure his climate legacy. Cutting coal emissions is low hanging fruit, the next challenge will be standing up to Big Oil," she said.
"We'll be pushing the administration to build on this announcement and take the additional steps necessary to protect our climate, like rejecting the Keystone XL pipeline, ending fracking and preventing Arctic and offshore drilling. As the Clean Power Plan shows, tackling climate change helps save lives, cut pollution and create jobs. Thanks to the work of the millions of people involved in the climate movement, momentum is now clearly on our side."
Where do presidential candidates stand on the Clean Power Plan?
Democratic presidential front-runner Hillary Clinton was the first 2016 candidate to respond to President Obama's Clean Power Plan. Clinton called the plan "a significant step forward in meeting the urgent threat of climate change." Read page 1
Vermont Sen. Bernie Sanders (I-VT) also came out strong in support of the plan.
Climate change is a planetary crisis. Our task is clear. We must dramatically reduce greenhouse gas emissions. #CleanPowerPlan — Bernie Sanders (@SenSanders) August 3, 2015
In a statement Sanders said, "President Obama understands that climate change is the great planetary crisis facing us and that we must move boldly to transform or energy system away from fossil fuels and toward energy efficiency and renewable energy. I have not yet seen all of the details of the president's proposal but it sounds to me like a step forward in ending our dependence on fossil fuel and I support that effort."
Former Maryland Gov. Martin O'Malley responded to the plan in this tweet:
.@POTUS's clean power plan is a great step fwd, & I'd expand it to cover large emission sources beyond power plants. http://t.co/GdOejxHFWM — Martin O'Malley (@MartinOMalley) August 2, 2015
But not all candidates support the final rule.
According to the BBC, Republican presidential candidate Marco Rubio said, the plan would be "catastrophic," while former Florida Gov. Jeb Bush, said the plan was "irresponsible and over-reaching."
And, Wisconsin Gov. Scott Walker, who announced his run for president mid-July, had this to say about the final rule:
Obama's plan should be called the Costly Power Plan because it will cost hard-working Americans jobs and raise their energy rates. -SW

— Scott Walker (@ScottWalker) August 3, 2015
YOU MIGHT ALSO LIKE
President Obama: 'It's Time for America and the World to Act on Climate Change'
Heat Index in Iran Hits 164 Degrees: Among Hottest Urban Temperatures Ever Endured by Mankind
EcoWatch Daily Newsletter
Related Articles from EcoWatch
Recent Stories from EcoWatch