This website uses cookies to ensure you get the best experience while browsing it. By clicking 'Got It' you're accepting these terms.
Citizens Take Charge of Clean Air in Utah
Dec. 20, 2011 08:40AM EST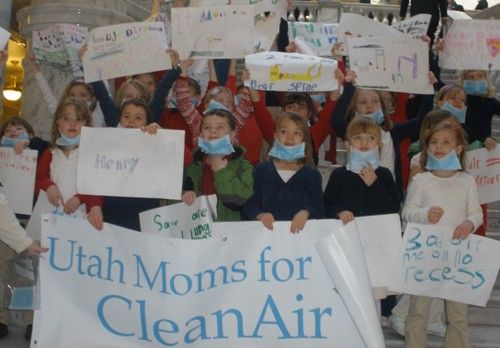 In the midst of the Wasatch Front's first air quality advisories of the winter, a coalition of doctors, moms, health and environmental groups filed suit against Kennecott Copper Dec. 19, a subsidiary of Rio Tinto, over the company's failure to protect clean air in Salt Lake County and beyond.
At issue are ongoing clean air violations at Kennecott's Bingham Canyon Copper Mine, the world's largest open pit copper mine located in western Salt Lake County in the Oquirrh Mountains. For at least the last five years, the company has violated its federal limits on ore and waste rock production. These production limits were put in place in 1994 to curb particulate matter emissions and meet health standards.
"Every Wasatch Front resident knows that our air pollution is often severe, and occasionally the worst in the nation. Rio Tinto, as a major contributor to this problem, is literally mining away our clean air. Worse, they are doing it illegally," said Dr. Brian Moench with the Utah Physicians for a Healthy Environment.
"Our families depend on clean air, plain and simple," said Cherise Udell, founder of Utah Moms for Clean Air. "All we're asking is that Kennecott take responsibility for protecting the health of our children and our future."
Currently, Salt Lake County and other Wasatch Front counties are in violation of federal health limits on particulate matter. The region has some of the worst particulate pollution in the U.S. Conservative estimates show that 1,000-2,000 Utahns die prematurely every year because of particulate pollution. According to Utah Physicians for a Healthy Environment, an organization of medical experts dedicated to protecting public health, these levels of pollution can shorten the life span of individuals by about two years.
In 1994, Kennecott agreed to limit production at its Bingham Canyon Mine to 150,500,000 tons of ore and waste rock every year to keep dust, tailpipe emissions, and other sources of air pollution in check. This limit was approved by the U.S. Environmental Protection Agency (EPA) and adopted into federal regulations. However, according to data submitted to the Utah Division of Oil, Gas and Mining, every year since 2006 Rio Tinto has violated this production limit, reaching levels as high as 192,684,252 in 2009—more than 40 million tons above the limit allowed.
Although Kennecott has claimed that production increases were authorized by the state of Utah, most recently in June of 2011 where the state approved a production increase to 260,000,000 tons annually, the increases were never approved by the EPA nor were the air quality impacts analyzed to ensure compliance with federal health standards. Under federal law, States cannot unilaterally modify federal regulations through permits.
"Although the State of Utah is an accomplice in this mess, the responsibility to protect our clean air and our health falls squarely on the shoulders of Kennecott," said Jeremy Nichols, the Climate and Energy Program director for WildEarth Guardians. "As citizens concerned over the impacts of air pollution on today's and future generations, we're saying enough is enough. It's time for Kennecott to come clean, comply with the law, and start being a part of solving our pollution problems, not making them worse."
Under the Clean Air Act, citizens have the right to enforce clean air laws in order to safeguard public health and welfare. Exercising that right, WildEarth Guardians, Utah Physicians for a Healthy Environment, and Utah Moms for Clean Air filed suit under the Clean Air Act in federal court in Salt Lake City. The suit seeks a ruling that Kennecott is violating the Clean Air Act, an order that Kennecott comply with the 150,500,000 ton/year production limit, and pay the maximum penalty of $37,500 per violation per day as allowed by federal law.
For more information, click here.
EcoWatch Daily Newsletter
Smog over Los Angeles. Westend61 / Getty Images
After four decades of improving air quality, the U.S. has started to take a step backwards, as the number of polluted days has ticked upwards over the last two years, the Associated Press reported.
Photobos / iStock / Getty Images
Governors in Vermont and Maine signed bills on Monday that will ban plastic bags in their states next year, The Hill reported.
The Maine ban will go into effect next Earth Day, April 22, 2020. The Vermont ban, which extends beyond plastic bags and is the most comprehensive plastics ban so far, will go into effect in July 2020. The wait time is designed to give businesses time to adjust to the ban.
picture-alliance / AP Images / D. Goldman
By Daniel Moattar
Eastern Kentucky's hills are interrupted by jarring flats of bare rock: the aftermath of mountaintop removal mining, which uses explosives to destroy and harvest coal-rich peaks.
By Molly Taft
Lisa Marshall isn't your typical activist. For one thing, she's not into crowds. "I don't really like rallies," Marshall, a mom of three from upstate New York, said. "They're a little stressful — not my favorite thing."

An oil drilling site in a residential area of Los Angeles, California on July 16, 2014.
Faces of Fracking / Flickr
By Jake Johnson
A comprehensive analysis of nearly 1,500 scientific studies, government reports, and media stories on the consequences of fracking released Wednesday found that the evidence overwhelmingly shows the drilling method poses a profound threat to public health and the climate.

sonsam / iStock / Getty Images
By Grace Francese
A new Environmental Working Group (EWG) study published in Environmental Research found that nitrate, one of the most common contaminants of drinking water, may cause up to 12,594 cases of cancer per year, but that's not its only danger: It can pose unique health risks to children.
Melt water from Everest's Khumbu glacier. Ed Giles / Getty Images
EPA Administrator Andrew Wheeler signs his replacement for the Clean Power Plan. Win McNamee / Getty Images