This website uses cookies to ensure you get the best experience while browsing it. By clicking 'Got It' you're accepting these terms.
Citizens Rally at Nebraska Capitol to Oppose Keystone XL Pipeline
Nov. 12, 2011 10:39AM EST
Energy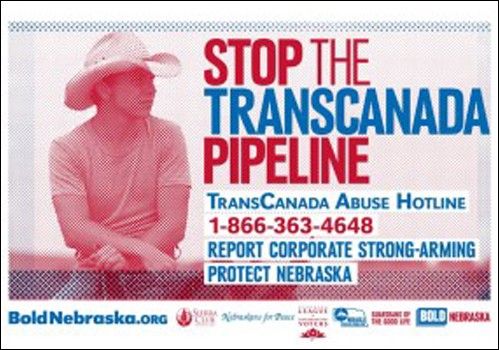 On Nov. 12, the Keystone XL Tour of Resistance landed at Nebraska's capital. A diverse coalition of farmers, ranchers, indigenous leaders, environmental leaders, Occupy Lincoln activists and others biked and marched to the Capitol dome to demand state and federal action to oppose TransCanada's Keystone XL tar sands pipeline. They formed a human wall on the Capitol steps as a symbolic "line in the sand" against Keystone XL.
The Lincoln march and rally come less than a week after 12,000 people surrounded the White House in opposition to Keystone XL, and just days after the Obama administration announced delaying a decision on the pipeline until after the 2012 election. The organizers are calling on the State Legislature to pass a bill regulating pipeline routes, and for President Barack Obama to reject Keystone XL without delay.
Describing Keystone XL as a "dagger into the heartland," Tom Weis, President of Climate Crisis Solutions, said, "We don't need more studies to know Keystone XL threatens America. Obama's announcement to put off a decision on the pipeline until after next November is a deeply cynical political ploy. The President needs to make a decision before the election and develop a green energy plan for our nation that puts unemployed Americans back to work."
Cindy Myers, a lifetime resident of the Sand Hills, questioned the new environmental review being called for by Obama saying people living on the land understand their water resources better than anyone. "There's been so much corruption at the local, state and federal level around Keystone XL, I don't trust our government to do these studies right," she said. "It's like our government has been taken over by Big Oil." Citing concern about the State Department's delay announcement, Myers said, "It is of the utmost importance to Nebraska that we get this pipeline routing legislation in place now."
Robert Bernt, an organic dairy farmer from Wheeler County, criticized TransCanada for their lies and manipulation of the facts. "They're ruthless, they're careless, they have no concern for their fellow man or the land," he said. "They buy their way, force their way, and threaten eminent domain." Referencing threats to the Ogallala Aquifer, which supplies drinking water to nearly two million Americans and one-third of America's farmland irrigation water, Bernt said, "The American people need to step up and protect one of our nation's most precious natural resources, the Ogallala Aquifer."
Lynda Buoy, farmer, rancher and president of the Nebraska Farmers Union, Sand Hills Region, called on Obama to intervene. "I think it's a disgrace that this could happen in the U.S. [that] a foreign company coming into this country and badgering people to the point that they sign easements because they're afraid not to do it."
"If Keystone XL goes through, we're going to erect a monument with a big brass plaque on top of it so people in the future will know who contaminated our water," said Todd Cone, Nebraska rancher and licensed pump installation contractor. "It will have people in the Obama administration on it and all the Nebraska State Senators and how they voted."
As reported by CNNMoney on Nov. 10, TransCanada's president and chief executive officer, Russ Girling, said, "We remain confident Keystone XL will ultimately be approved." According to CNNMoney, the company confirmed it has already bought $1.7 billion worth of steel pipe.
Weis is leading a "rocket trike" tour along the 1,700-mile proposed pipeline route to focus the nation on threats posed to America's breadbasket by Keystone XL. He has pedaled more than 1,000 miles since leaving the U.S./Canada border a month ago. Weis was one of 1,253 people arrested in front of the White House earlier this summer protesting the tar sands pipeline, spending two nights in Washington, D.C.'s Central Cell Block.
For more information, click here.
EcoWatch Daily Newsletter
Tuna auctions are a tourist spectacle in Tokyo. Outside the city's most famous fish market, long queues of visitors hoping for a glimpse of the action begin to form at 5 a.m. The attraction is so popular that last October the Tsukiji fish market, in operation since 1935, moved out from the city center to the district of Toyosu to cope with the crowds.

gmnicholas / E+ / Getty Images
Kristan Porter grew up in a fishing family in the fishing community of Cutler, Maine, where he says all roads lead to one career path: fishing. (Porter's father was the family's lone exception. He suffered from terrible seasickness, and so became a carpenter.) The 49-year-old, who has been working on boats since he was a kid and fishing on his own since 1991, says that the recent warming of Maine's cool coastal waters has yielded unprecedented lobster landings.
Aerial view of lava flows from the eruption of volcano Kilauea on Hawaii, May 2018. Frizi / iStock / Getty Images
Hawaii's Kilauea volcano could be gearing up for an eruption after a pond of water was discovered inside its summit crater for the first time in recorded history, according to the AP.
The Eqip Sermia Glacier is seen behind a moraine left exposed by the glacier's retreat during unseasonably warm weather on Aug. 1 at Eqip Sermia, Greenland. Sean Gallup / Getty Images
hadynyah / E+ / Getty Images
By Johnny Wood
The Ganges is a lifeline for the people of India, spiritually and economically. On its journey from the Himalayas to the Bay of Bengal, it supports fishermen, farmers and an abundance of wildlife.
The river and its tributaries touch the lives of roughly 500 million people. But having flowed for millennia, today it is reaching its capacity for human and industrial waste, while simultaneously being drained for agriculture and municipal use.
Here are some of the challenges the river faces.
By Jake Johnson
As a growing number of states move to pass laws that would criminalize pipeline protests and hit demonstrators with years in prison, an audio recording obtained by The Intercept showed a representative of a powerful oil and gas lobbying group bragging about the industry's success in crafting anti-protest legislation behind closed doors.
Reposted with permission from our media associate Common Dreams.

DESIREE MARTIN / AFP / Getty Images
Wildfires raging on Gran Canaria, the second most populous of Spain's Canary Islands, have forced around 9,000 people to evacuate.