Citizens Can Sue Fracking Companies for Earthquake Damage, Says Oklahoma Supreme Court
Oklahoma almost never used to have earthquakes. But in the last six years they've increased so much that last year the state surged past California as the most seismically active state in the continental U.S. Prior to 2009, the state averaged two quakes of greater than 3.0 magnitude annually. By 2014 that number had soared to 585, up from 109 in 2013.
The culprit? Scientists are convinced it's the wastewater injection wells that have accompanied the explosion of fracking in that state during the same time period.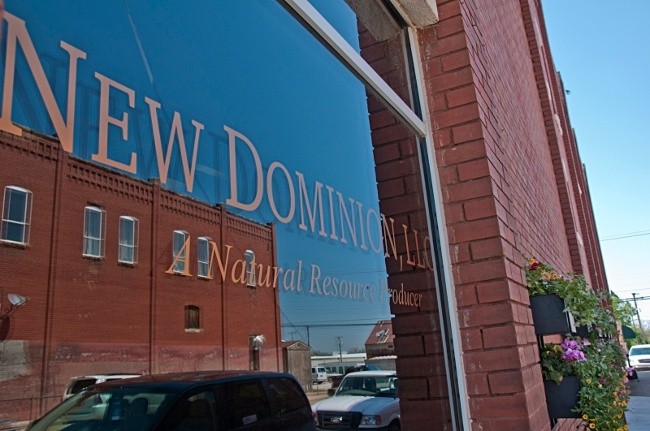 Now the Oklahoma Supreme Court has cleared the way for citizens to sue the oil and gas companies responsible for the wells. In a 7-0 decision, with two justices not voting, the court said that Sandra Ladra, a resident of Prague, Oklahoma, which was hit by a 5.6 magnitude earthquake on Nov. 5, 2011, could seek injuries for injuries she suffered in that tremor.
"On November 5, 2011, Appellant was at home in Prague, Oklahoma watching television in her living room with her family when a 5.0 magnitude earthquake struck nearby," reads Ladra's complaint. "Suddenly, Appellant's home began to shake, causing rock facing on the two-story fireplace and chimney to fall into the living room area. Some of the falling rocks struck Appellant and caused significant injury to her knees and legs, and she was rushed immediately to an emergency room for treatment. She claims personal injury damages in excess of $75,000."
The industry said that the Oklahoma Corporation Commission, which regulates the oil and gas industries and tends to be very friendly toward them, should deal with these cases. The state supreme court disagreed.
"The commission, although possessing many of the powers of a court of record, is without the authority to entertain a suit for damages," the court found. "Private tort actions, therefore, are exclusively within the jurisdiction of district courts."
That decision also clears the way for a second Prague citizen to sue for property damages. That plaintiff, Jennifer L. Cooper, is seeking class-action status, and if granted, tens of millions of dollars in damages could be awarded. Both plaintiffs are suing Tulsa-based New Dominion, which calls itself "the leader in harvesting hydrocarbons," and the smaller Spess Oil Co. of Cleveland, Oklahoma.
"It is refreshing to see that the Oklahoma State Supreme Court ruling will not allow the oil and gas industry to skirt responsibility for the damage their earthquake-inducing practices have caused Oklahomans," said Food & Water Watch organizer Matt Ohloff.
"We know oil & gas wastewater disposal wells are causing the increase in earthquakes in Oklahoma, and those suffering from the property, physical and psychological damage from these earthquakes should receive full rewards directly from the responsible parties—oil & gas. And while it is a major victory that these lawsuits will be allowed to move forward, what we ultimately need is for the Oklahoma state legislature and Oklahoma Governor to enact a moratorium on oil & wastewater disposal wells to stop the earthquakes from happening in the first place," Ohloff continued.
The Prague earthquake was the strongest ever felt in Oklahoma and was followed in the next few days by two more tremors of 5.0 magnitude or greater, destroying half a dozen homes and damaging more than 170 others in the town of about 2,300 people and the surrounding area, where New Dominion is the largest employer. One of its three field offices is located in Prague.
Back in 2012, eight months after the damaging quakes, Jean Antonides, New Dominion's vice president of exploration, said it was silly to think the company's injection wells caused the quakes.
"That's people watching too many Superman movies," Antonides scoffed to Energy & Environment Daily. "Some individuals pick only the data that serves their purpose."
He suggested the real cause of the quakes was heavy rains.
"When you have rainfall amounts of six inches over a few day period, these rainfalls cover a thousand square miles—that's a lot of weight," he said. "That much new weight—potentially trillions of tons—if it's along or across a fault, can be enough to cause an earthquake. If you change the weight, relative near surface, across that fault—either reducing the weight on one side, loading up the other side or vice versa, that could be the trigger point."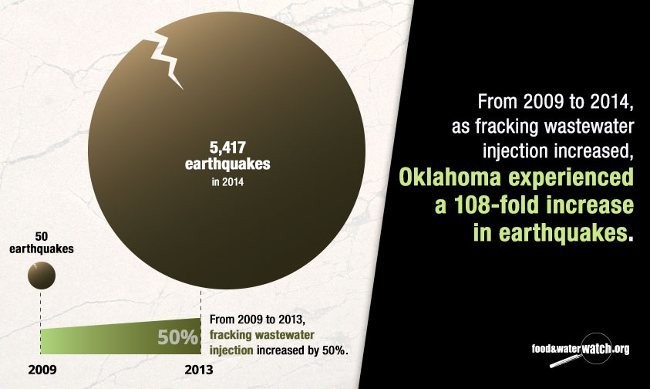 Other scientists not employed by oil and gas exploration companies don't agree with his theory.
"Large areas of the U.S. that used to experience few or no earthquakes have, in recent years, experienced a remarkable increase in earthquake activity that has caused considerable public concern as well as damage to structures," the U.S. Geological Survey (USGS) said last year. "This rise in seismic activity, especially in the central U.S., is not the result of natural processes. Deep injection of wastewater is the primary cause of the dramatic rise in detected earthquakes and the corresponding increase in seismic hazard in the central U.S."
With fossil fuel extraction booming in Oklahoma since the widespread use of fracking began around 2009, the state has been under pressure from oil and gas companies to downplay the connection between injection wells and earthquakes. For instance, in November 2013, University of  Oklahoma president David Boren requested that state seismologist Austin Holland meet with billionaire Harold Hamm of Oklahoma city-based Continental Resources, who is known as the founding father of the U.S. fracking boom.
Bloomberg reported, ""Hamm requested that Holland be careful when publicly discussing the possible connection between oil and gas operations and a big jump in the number of earthquakes, which geological researchers were increasingly tying to the underground disposal of oil and gas wastewater, a byproduct of the fracking boom that Continental has helped pioneer."
Boren called the meeting "purely informational," but Holland said it was "just a little bit intimidating" and he subsequently dialed down making the connection publicly. However, state officials have been less and less able to deny the connection, as studies keep piling up making the connection both in Oklahoma and other states. Those studies provide ammunition for Ladra's and Cooper's attorneys as they are now cleared to press their cases in the courts.
YOU MIGHT ALSO LIKE
Confirmed: Oklahoma Earthquakes Caused By Fracking
Earthquakes Tied to Fracking Boom, Two New Studies Confirm
Oil and Gas Billionaire Pressured Oklahoma Scientist to Ignore Fracking-Earthquake Link
Disturbing footage of a snake in Goa, India vomiting an empty soft drink bottle highlights the world's mounting plastic pollution crisis.
Keep reading...
Show less
By Melissa Hellmann
When her eldest son was in elementary school in the Oakland Unified School District, Ruth Woodruff became alarmed by the meals he was being served at school. A lot of it was frozen, processed foods, packed with preservatives. At home, she was feeding her children locally sourced, organic foods.
Keep reading...
Show less
May. 28, 2017 01:33PM EST
Laurie Woolever
By James O'Hare
There are 20 million people in the world facing famine in South Sudan, Somalia, Nigeria and Yemen. In developed nations, too, people go hungry. Venezuela, for instance, is enduring food insecurity on a national level as a result of economic crisis and political corruption. In the U.S., the land of supposed excess, 12.7 percent of households were food insecure in 2015, meaning they didn't know where their next meal would come from.
Keep reading...
Show less
May. 28, 2017 01:22PM EST
Melwater, Greenland ice sheet. Diane Tuft
Artists are taking the climate crisis into frame and the results are emotional, beautiful and stirring.
So you've seen the best climate change cartoons and shared them with your friends. You've showed your family the infographics on climate change and health, infographics on how the grid works and infographics about clean, renewable energy. You've even forwarded these official National Oceanic and Atmospheric Administration graphs that explain the 10 clear indicators of climate change to your colleagues at the office.
Keep reading...
Show less
May. 27, 2017 01:11PM EST
As the Trump administration moves full speed ahead on boosting the oil and fossil fuel industry, opposition to increased pipeline construction is cropping up in different communities around the country.
Keep reading...
Show less
May. 27, 2017 01:02PM EST
Minke whale stranding near Havergate Island in Suffolk. MCGA.
By Simon Evans
Last Saturday, two dead whales washed up on the coast of Suffolk, in eastern England, and a third was spotted floating at sea.
What happened next illustrates how news can spread and evolve into misinformation, when reported by journalists rushing to publish before confirming basic facts or sourcing their own quotes.
Keep reading...
Show less
May. 27, 2017 01:22PM EST
By Monica Amarelo and Paul Pestano
Sun safety is a crucial part of any outdoor activity for kids, and sunscreen can help protect children's skin from harmful ultraviolet rays. Kids often get sunburned when they're outside unprotected for longer than expected. Parents need to plan ahead and keep sun protection handy in their cars or bags.
Keep reading...
Show less
May. 27, 2017 01:02PM EST
By Joe McCarthy
A lot of people take part in community clean-up efforts—spending a Saturday morning picking up litter in a park, mowing an overgrown field or painting a fence.
Keep reading...
Show less