Citizens Ban Fracking at Ohio Statehouse Rally
Jun. 18, 2012 11:04AM EST
Energy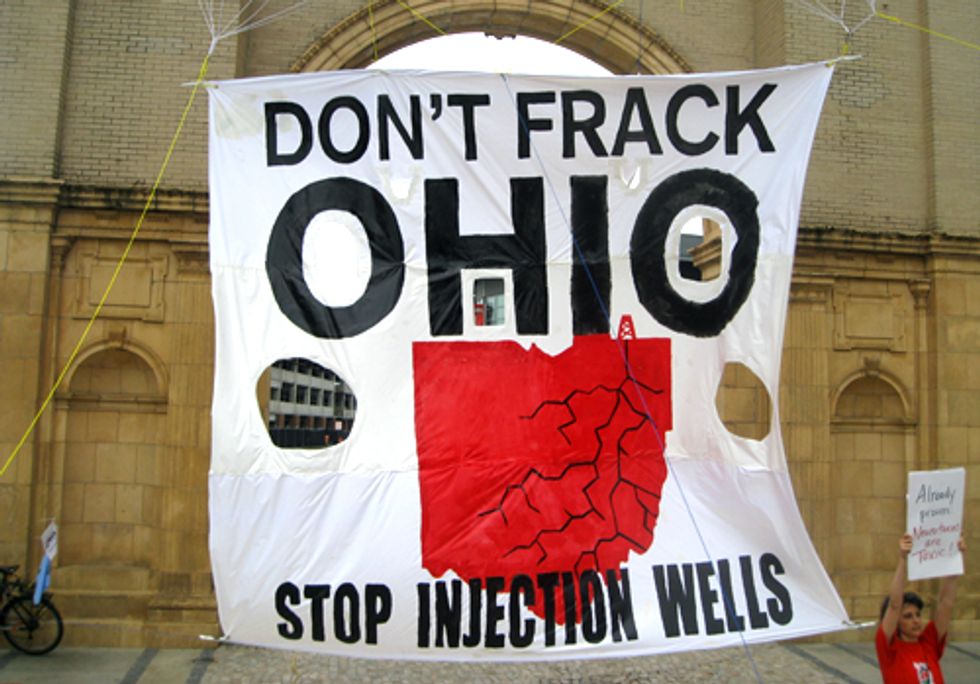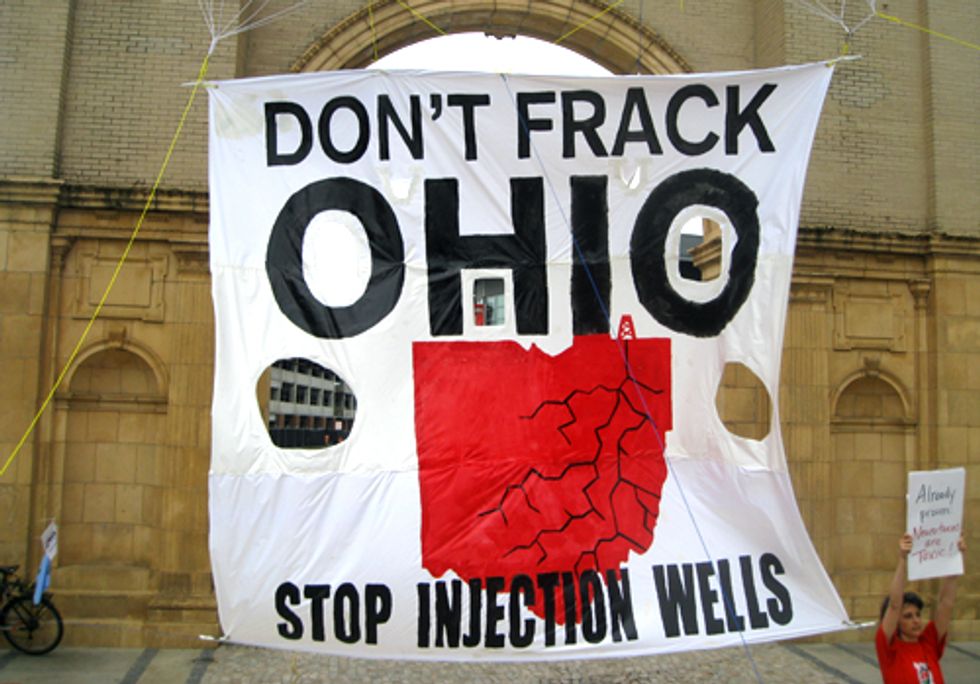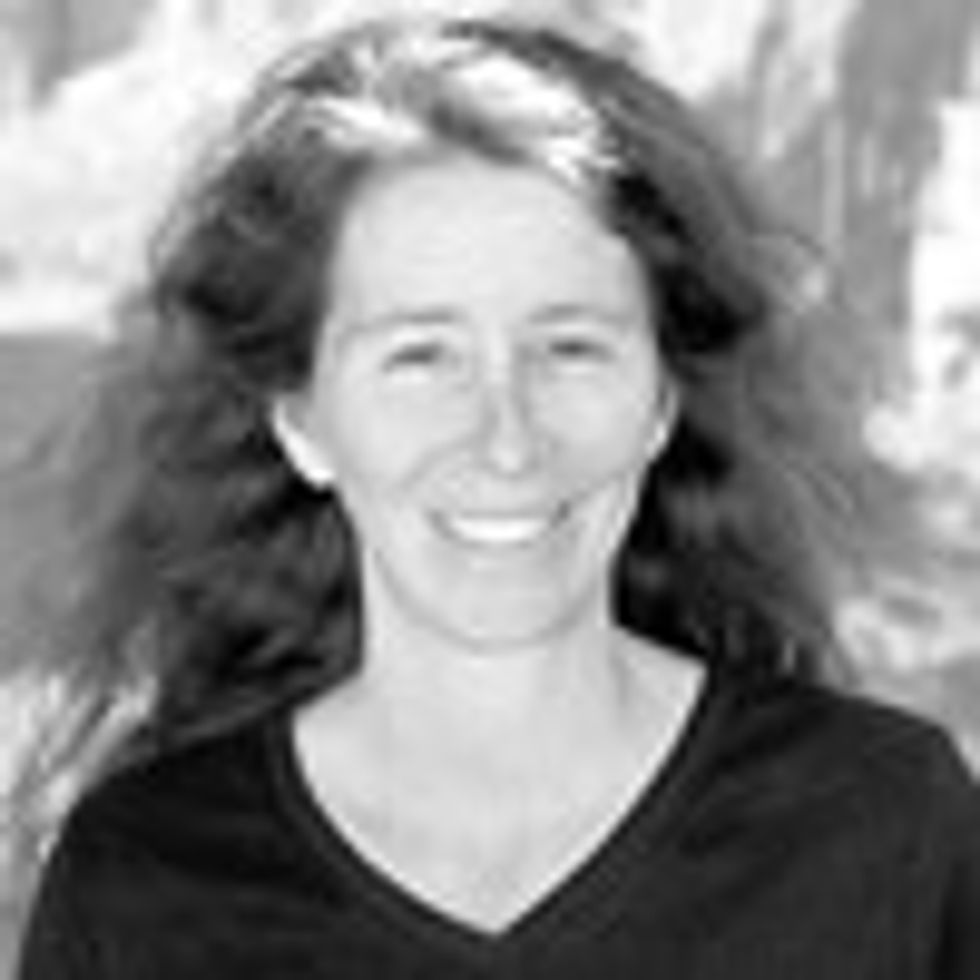 From June 14 to June 17, activists from all over the U.S. gathered in Columbus, Ohio to oppose the controversial drilling technique of hydraulic fracturing, toxic wastewater injection wells, and the lack of policies that support a renewable energy future for Ohio and the U.S.
The first three days of events were attended by more than 200 activists who participated in workshops, trainings, strategy sessions and community-building. People shared their stories about what's happening in their communities as their neighbors sign leases with the natural gas industry. Others detailed the water and air contamination, increased truck traffic and reduction in property value once wells are drilled.
Youngstown, Ohio residents shared their fear of more earthquakes hitting their town as toxic wastewater continues to be injected in wells 8,000 feet below ground. Other issues discussed included water withdrawal, silica sand mining, non-disclosure of fracking chemicals, and the impacts to human health and the environment as the drilling frenzy continues in Ohio, including in its state parks and possibly its only national forest, the Wayne National Forest.
The Don't Frack Ohio event culminated on Sunday, June 17, when more than 1,000 people gathered at Arch Park in downtown Columbus to hear speeches by Bill McKibben, founder of 350.org, Josh Fox, director of Gasland, and Mary Clare Rietz from Ohio Alliance for People and Environment.
Following these environmental leaders' powerful speeches exposing the perils of fracking and the need for immediate action to move beyond fossil fuels, rally participants marched to the Ohio Statehouse and occupied the rotunda.
Once assembled inside the Statehouse, activists chanted, passed a people's resolution to end fracking in Ohio and to support a sustainable future, heard incredible stories from six Ohioans and took a pledge to continue resistance against the fossil fuel industry. The rally not only highlighted what we don't want, but clearly identified what we do want—a federal energy policy that transitions us to a renewable energy future.
Rally participants were also speaking out against the recent passage of SB 315, a bill Gov. Kasich signed in May opening up vast areas of Ohio to the natural gas industry with little oversight. SB 315 allows fracking companies to claim trade secrets to hide chemicals used in the fracking process and gags physicians from disclosing the chemical composition of treated water. The law does not go far enough on water testing or address the serious climate impact associated with fracking.
Organizers involved in the event stressed how Chesapeake Energy and the Oil and Gas Association greased the wheels to push SB 315 into law. They highlighted the millions of dollars in contributions many of the Ohio General Assembly members and Gov. Kasich have received in the last several years from the natural gas industry, ensuring that industry voices were louder than those of the people of Ohio.
"I am dedicated to defending my community from the negative economic and health impacts related to the process of hydraulic fracturing," said Josh Harris, a grassroots organizer in central Ohio. "That is why I participated in a people's assembly—to vote for protective legislation since our state officials have failed to do so. SB 315 is not acceptable for those of us who will be living with these operations around our homes."
Though the rally on Sunday was certainly the high point of the four-day gathering, the days leading up to the march to the Ohio Statehouse had a huge impact on moving the anti-fracking movement forward. I had the chance to sit in on a workshop on Saturday given by Karen Showalter from Oil Change International who discussed how money in politics impacts legislation and she gave an in depth overview of the website priceofoil.org. The website exposes the true costs of fossil fuels and reveals how much money elected officials receive in contributions from the fossil fuel industry and how it impacts their vote.
Saturday evening highlighted four keynote speakers. Jason Box, associate professor and geography atmospheric sciences program researcher at Byrd Polar Research Center at Ohio State University, spoke about climate change and global warming as it relates to the severe weather—including droughts, heat waves, flooding and wild fires—being experienced throughout the world.
Mari Lynn Evans, director and producer of Coal Country, shared her passion for protecting the Appalachian region from coalmining. She discussed the fight to save Blair Mountain and detailed the extremely destructive practices of mountaintop removal where more than 500 mountaintops have been blown up throughout Appalachia.
Josh Fox, director of Gasland, shared how his desire to educate his neighbors on the perils of fracking—as leases were being signed throughout his community—turned into the feature documentary Gasland. He stressed the importance of everyone spreading the information of the dangers of fracking to their family, friends and neighbors. "The fracking contamination is not just the water, it's not just the air, it's the democracy itself," said Fox.
The evening finished with a powerful talk by Bill McKibben, founder of 350.org. He stressed how daunting the science is concerning climate change and global warming, and how that means "we've got to move really fast, and it means that we've got to move really cohesively, and really together, and we have to do it where we are, close to home, but we also have to do it in a kind of global way."
Click here to view photos from the Don't Frack Ohio event.
Visit EcoWatch's FRACKING page for more related news on this topic.
EcoWatch Daily Newsletter
Recent Stories from EcoWatch