Citizen Scientists Track Bee Health and Shed Light on Colony Collapse Disorder
You've probably heard that bees—their honey, their awesome pollinating powers and their stingers—are on the decline. It's a global problem that affects more than just the little yellow and black buzzers; it can and will interrupt the way we produce food if it continues. Bees pollinate most of the crops farmers grow worldwide, so without them, we don't have food. Most scientists agree that pesticides, drought, habitat loss, pollution and other major environmental concerns are all contributing to colony collapse disorder. It's a big deal and there are a lot of people working to keep bees buzzing.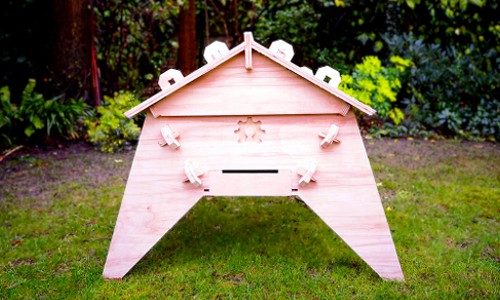 Colorado Top Bar hive
A new project has set out to help understand the issue in individual colonies and bring the problem to the people called Open Source Beehives. This multi-continent partnership between Open Tech Collaborative and Fab Lab Barcelona proposes public participation through easily made backyard hives in conjunction with software that will track hive health.
Individuals can be part of the solution—and the fun—by keeping bees themselves. To construct the hives, keepers don't need glue or screws, only a 4 foot by 8 foot piece of plywood and a CNC router. Those who aren't quite as tech savvy with computer controlled saws can buy a prefabricated kit. There are two models: the smaller Colorado Top Bar (pictured) and the multi-tiered Barcelona Warre. They are easily shipped due to their flat design and packaging.
These "smart hives" will be connected to Smart Citizen through a piece of hardware installed within the hives. Users can view data online as well as through a mobile app. Information such as CO levels, humidity, bee count, noise intensity and more will be sent via Wi-Fi. An upcoming feature will notify beekeepers when there is something amiss within their hive.
The partnership is an open source project, meant to be shared and improved upon through community. Web programmers can find the code for the monitoring software on GibHub, the world's largest code sharing site. Those with other talents and knowledge are also encouraged to help with the project. To contribute, visit Open Source Beehives' collaboration page.
The partnership is finding that many citizens want to participate. Tristan Copley Smith, co-founder and communications director of Open Source Beehives, said, "What we find very interesting is the difference between the public and the political appetite for action on the bee issue—and other ecological issues. Citizens understand the urgency, and are supporting our project, building hives, and helping us improve. Political actors on the other hand have yet to take any meaningful steps on the issue. Citizen science projects in general are giving the public avenues to participate in solving issues themselves, rather than sitting around waiting for solutions from the dysfunctional and corrupt bureaucracies that are failing to protect our planet." You can help by reminding your local government officials how important the issue of colony collapse disorder is and urging them to get involved.
Learn more about Open Source Beehives:
The project has already hosted a successful IndeGoGo campaign to fund the creation of their open source sensor pack and intends to also conduct a Kickstarter campaign in the future.
www.youtube.com
Volkswagen is bringing back its hippie-approved minivan but with a 21st century upgrade—the new I.D. Buzz is all-electric.
The concept car was first revealed at the Detroit Auto Show in January and now the German automaker is officially putting its reinvigorated Microbus into production.
Keep reading...
Show less
I have asked repeatedly to have my short interview clip removed from this film. The director refuses. He believes his film is fair and balanced. I do not.

I am often interviewed (see media) and hardly ever quoted incorrectly or out of context. This film is one of those rare exceptions.
Keep reading...
Show less
Top of JPMorgan Chase Tower, Dallas, Texas. Joe Mabel / Wikimedia
Keep reading...
Show less
Cupping symptoms associated with dicamba damage on a cucumber plant. University of Arkansas.
Arkansas farmers filed a class-action lawsuit last week against Monsanto and German chemical company BASF, alleging that the companies' dicamba-based herbicides caused damage to their properties.
The plaintiffs claim that Monsanto and BASF implemented and controlled the dicamba crop system, releasing seed technology without a corresponding, safe and approved herbicide.
Keep reading...
Show less
Cup and bubblegum corals found in Northeast U.S. Canyons, the Atlantic's first marine monument. NOAA
Interior Sec. Ryan Zinke, who recently recommended a reduction in the size of the 1.35 million acre Bears Ears National Monument to President Trump, is advocating for more drilling and mining on public lands and waters.
The former Montana Rep. told Reuters that the development of America's protected federal lands could help the country become a "dominant" global energy force.
Keep reading...
Show less
Gage Skidmore / Flickr (CC BY-SA 2.0)
Dozens of scientists on the U.S. Environmental Protection Agency's (EPA) Board of Scientific Counselors and board subcommittees have been informed that they will not be renewed for their roles advising the agency, the Washington Post reported.
Keep reading...
Show less
www.youtube.com
Worried about the future of the Great Barrier Reef? If so, you're not alone.
Many publications have already written obituaries for the reef, despite the fact that it is not completely dead. Thanks to this video via Vox for sounding the alarm on this critical issue, before it's too late.
Keep reading...
Show less
Mike Mozart
By Olga V. Naidenko, Ph.D.
In a landmark rule with global repercussions, California state scientists are preparing to issue the world's first health guideline for Monsanto's glyphosate herbicide based on its cancer risk. The state's proposed safe level is more than 100 times lower than the U.S. Environmental Protection Agency's (EPA) legal allowance for the average-sized American.
Keep reading...
Show less
www.youtube.com
By Bob Henson
A high risk of life-threatening flooding continues on Wednesday over parts of the central Gulf Coast as Tropical Storm Cindy lumbers toward shore. The greatest flood threat will be across low-lying areas of far southern Mississippi and Alabama, according to the NWS/NOAA Weather Prediction Center. A second area with a moderate flood risk lies across far southeast Texas and southwest Louisiana.
Keep reading...
Show less