Citizen Scientists Track Bee Health and Shed Light on Colony Collapse Disorder
You've probably heard that bees—their honey, their awesome pollinating powers and their stingers—are on the decline. It's a global problem that affects more than just the little yellow and black buzzers; it can and will interrupt the way we produce food if it continues. Bees pollinate most of the crops farmers grow worldwide, so without them, we don't have food. Most scientists agree that pesticides, drought, habitat loss, pollution and other major environmental concerns are all contributing to colony collapse disorder. It's a big deal and there are a lot of people working to keep bees buzzing.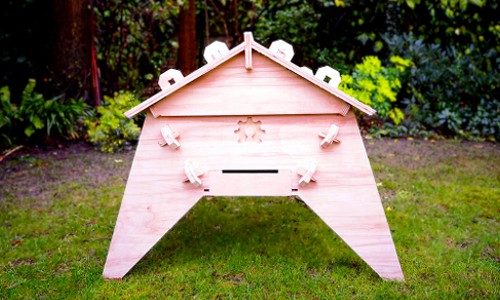 Colorado Top Bar hive
A new project has set out to help understand the issue in individual colonies and bring the problem to the people called Open Source Beehives. This multi-continent partnership between Open Tech Collaborative and Fab Lab Barcelona proposes public participation through easily made backyard hives in conjunction with software that will track hive health.
Individuals can be part of the solution—and the fun—by keeping bees themselves. To construct the hives, keepers don't need glue or screws, only a 4 foot by 8 foot piece of plywood and a CNC router. Those who aren't quite as tech savvy with computer controlled saws can buy a prefabricated kit. There are two models: the smaller Colorado Top Bar (pictured) and the multi-tiered Barcelona Warre. They are easily shipped due to their flat design and packaging.
These "smart hives" will be connected to Smart Citizen through a piece of hardware installed within the hives. Users can view data online as well as through a mobile app. Information such as CO levels, humidity, bee count, noise intensity and more will be sent via Wi-Fi. An upcoming feature will notify beekeepers when there is something amiss within their hive.
The partnership is an open source project, meant to be shared and improved upon through community. Web programmers can find the code for the monitoring software on GibHub, the world's largest code sharing site. Those with other talents and knowledge are also encouraged to help with the project. To contribute, visit Open Source Beehives' collaboration page.
The partnership is finding that many citizens want to participate. Tristan Copley Smith, co-founder and communications director of Open Source Beehives, said, "What we find very interesting is the difference between the public and the political appetite for action on the bee issue—and other ecological issues. Citizens understand the urgency, and are supporting our project, building hives, and helping us improve. Political actors on the other hand have yet to take any meaningful steps on the issue. Citizen science projects in general are giving the public avenues to participate in solving issues themselves, rather than sitting around waiting for solutions from the dysfunctional and corrupt bureaucracies that are failing to protect our planet." You can help by reminding your local government officials how important the issue of colony collapse disorder is and urging them to get involved.
Learn more about Open Source Beehives:
The project has already hosted a successful IndeGoGo campaign to fund the creation of their open source sensor pack and intends to also conduct a Kickstarter campaign in the future.
A coalition of conservation groups and others announced Thursday that a historic number of comments and petitions of support have been submitted to the U.S. Department of the Interior in support of Bears Ears National Monument. Despite the entirely inadequate 15-day comment period ending on May 26, more than 685,000 comments in support of Bears Ears National Monument have been collected.
Keep reading...
Show less
Rink Glacier in western Greenland, with a meltwater lake visible center. NASA/OIB
Scientists have had their eyes on Greenland as its iconic glaciers have begun disappearing due to a warming climate. But, what they didn't expect to see was a whole new type of melting.
Keep reading...
Show less
Mountain View Fire
By Lena Moffitt
An oil tanker in Mead, Colorado exploded, killing one and injuring three on Thursday. Authorities are continuing to investigate the cause of the explosion.
Keep reading...
Show less
Banner created by Alliance for Climate Education
Keep reading...
Show less
Twenty-two GOP senators sent a letter Thursday urging Donald Trump to pull out of the Paris agreement. They argued remaining in the deal could "upend" the administration's ability "to fulfill its goal of rescinding the Clean Power Plan."
Keep reading...
Show less
By Cheryl Johncox
The Federal Energy Regulatory Commission (FERC) rejected on Thursday Energy Transfer Partners' request to resume horizontal directional drilling at two sites for its Rover fracked gas pipeline. This rejection comes after numerous leaks into Ohio's wetlands, and Clean Air and Clean Water act violations. FERC has halted the process at only eight locations of the 32 where drilling is taking place under Ohio's wetlands and streams.
Keep reading...
Show less
By Nadia Prupis
A majority of people in eight countries say they are ready to change their lifestyles if it would prevent climate catastrophe, a survey on global threats released Wednesday found.
Keep reading...
Show less
May. 25, 2017 01:55PM EST
Bill Maher is sick of billionaires' obsession with Mars, more like "Mars-a-Lago," he said.
In a new animation produced by ATTN:, the popular talk show host of Real Time, discusses the perils of our planet, including how "climate change is killing us."
Keep reading...
Show less