This website uses cookies to ensure you get the best experience while browsing it. By clicking 'Got It' you're accepting these terms.


The best of EcoWatch, right in your inbox. Sign up for our email newsletter!
Citizen Scientists Track Bee Health and Shed Light on Colony Collapse Disorder
Jul. 23, 2014 08:08AM EST
By Maureen Wise
You've probably heard that bees—their honey, their awesome pollinating powers and their stingers—are on the decline. It's a global problem that affects more than just the little yellow and black buzzers; it can and will interrupt the way we produce food if it continues. Bees pollinate most of the crops farmers grow worldwide, so without them, we don't have food. Most scientists agree that pesticides, drought, habitat loss, pollution and other major environmental concerns are all contributing to colony collapse disorder. It's a big deal and there are a lot of people working to keep bees buzzing.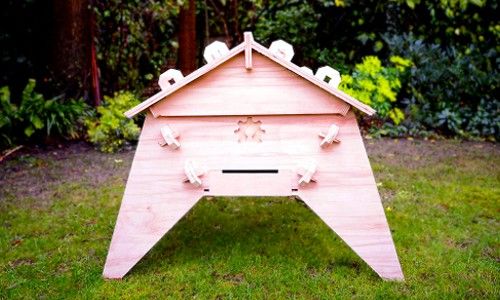 Colorado Top Bar hive
A new project has set out to help understand the issue in individual colonies and bring the problem to the people called Open Source Beehives. This multi-continent partnership between Open Tech Collaborative and Fab Lab Barcelona proposes public participation through easily made backyard hives in conjunction with software that will track hive health.
Individuals can be part of the solution—and the fun—by keeping bees themselves. To construct the hives, keepers don't need glue or screws, only a 4 foot by 8 foot piece of plywood and a CNC router. Those who aren't quite as tech savvy with computer controlled saws can buy a prefabricated kit. There are two models: the smaller Colorado Top Bar (pictured) and the multi-tiered Barcelona Warre. They are easily shipped due to their flat design and packaging.
These "smart hives" will be connected to Smart Citizen through a piece of hardware installed within the hives. Users can view data online as well as through a mobile app. Information such as CO levels, humidity, bee count, noise intensity and more will be sent via Wi-Fi. An upcoming feature will notify beekeepers when there is something amiss within their hive.
The partnership is an open source project, meant to be shared and improved upon through community. Web programmers can find the code for the monitoring software on GibHub, the world's largest code sharing site. Those with other talents and knowledge are also encouraged to help with the project. To contribute, visit Open Source Beehives' collaboration page.
The partnership is finding that many citizens want to participate. Tristan Copley Smith, co-founder and communications director of Open Source Beehives, said, "What we find very interesting is the difference between the public and the political appetite for action on the bee issue—and other ecological issues. Citizens understand the urgency, and are supporting our project, building hives, and helping us improve. Political actors on the other hand have yet to take any meaningful steps on the issue. Citizen science projects in general are giving the public avenues to participate in solving issues themselves, rather than sitting around waiting for solutions from the dysfunctional and corrupt bureaucracies that are failing to protect our planet." You can help by reminding your local government officials how important the issue of colony collapse disorder is and urging them to get involved.
Learn more about Open Source Beehives:
The project has already hosted a successful IndeGoGo campaign to fund the creation of their open source sensor pack and intends to also conduct a Kickstarter campaign in the future.
Correction: The previous byline listed was inaccurate. The byline has been updated.
EcoWatch Daily Newsletter
jenifoto / iStock / Getty Images
Many people consider granola bars a convenient and healthy snack and enjoy their flavor and versatility.
A common green darners (Anax junius). Judy Gallagher / Flickr
By Jason Bittel
It's that time of year again: Right now, monarch butterflies are taking wing in the mountains of northwestern Mexico and starting to flap their way across the United States.
fstop123 / iStock / Getty Images Plus
At EcoWatch, our team knows that changing personal habits and taking actions that contribute to a better planet is an ongoing journey. Earth Day, happening on April 22, is a great reminder for all of us to learn more about the environmental costs of our behaviors like food waste or fast fashion.
To offer readers some inspiration this Earth Day, our team rounded up their top picks for films to watch. So, sit back and take in one of these documentary films this Earth Day. Maybe it will spark a small change you can make in your own life.
Denali national park. Domen Jakus / Flickr / CC BY-NC 2.0
By Stephanie Gagnon
Happy National Parks Week! This year, between April 20 and 28, escape to the beautiful national parks — either in person or in your imagination — and celebrate the amazing wildlife that calls these spaces home.
Sesame, three months old, at Seal Rescue Irleand.
Screenshot / Seal Rescue Ireland Instagram
On Friday, Seal Rescue Ireland released Sesame the seal into the ocean after five months of rehabilitation at the Seal Rescue Ireland facility. Watch the release on EcoWatch's Facebook.

Beer packs of Guinness will now come in a cardboard box. Diageo

By Jordan Davidson
Guinness is joining the fight against single use plastic. The brewer has seen enough hapless turtles and marine life suffering from the scourge of plastic.
Maskot / Getty Images
People of all ages are spending more of their day looking at their phones, computers and television screens, but parents now have another reason for limiting how much screen time their children get — it could lead to behavioral problems.