Cities Prove to Be Vital Voice at Paris Climate Talks
Ecological activism has been a way of life for myself and my family as a native Atlantan. I inherited a passion for environmental stewardship from my dad which has been passed down to my children. Together, we've remained committed to protecting our planet and the local Atlanta community through the years.
This is why I'm proud of the vital work the city of Atlanta is doing to tackle climate change. Our mayor, Kasim Reed, was one of several U.S. mayors that stepped up as a key advocate for climate change action at the COP21, 2015 Paris climate conference.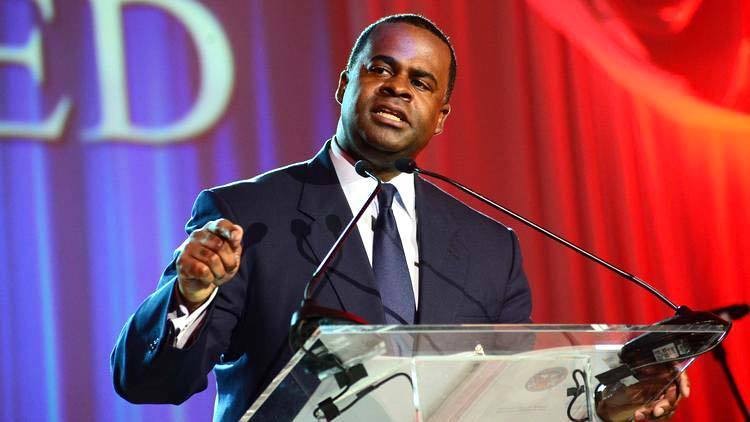 The goal of COP21 was to achieve a legally binding and universal agreement on climate, with the aim of keeping global warming below 2 C. And for the first time in more than 20 years of UN negotiations, global consensus was reached. The Paris accord unites all of the world's nations in a single agreement on tackling climate change for the first time in history.
I was in Paris with my dad and son, John R., to attend events held in tandem with the international talks. I was inspired to see the world's leading mayors playing such a pivotal role at the conference. Cities are vitally important to the success of this agreement.
The activities of cities alone account for more than 70 percent of energy-related carbon dioxide emissions. Roughly 54 percent of the world's 7.3 billion people currently live in cities and by 2050, that number is expected to rise to around 70 percent of the world's population. If the world is to avoid catastrophic climate change, we need our cities to continue to lead by developing and implementing concrete initiatives that improve the health, well-being and economic opportunities of citizens.
At the conference, leading mayors shared examples of how innovative, local solutions are playing a critical role in addressing these challenges. Mayor Reed emerged as a critical voice at the Paris talks as Atlanta is one of the top-tier sustainable cities in the U.S.
"This is the most important set of meetings on climate action since the Kyoto Protocol," Mayor Reed said in an interview with Bloomberg during the Paris climate talks (see below). "I felt that it was important as one of the leading cities in America and the leading city in the Southeast, to be a part of this conversation."
Mayor Reed is not only considered among the leading city executives in the U.S. on sustainability, but he's catapulted Atlanta to an international stage as an exemplary city tackling climate change. Some of Atlanta's key sustainability initiatives include: a project to increase the city's reserve water supply by turning the Bellwood Quarry into a reservoir; the Solar Atlanta initiative that will install solar panels on 28 fire stations and recreation centers while aiming to reduce energy usage at city buildings; and The Atlanta Beltline, a cornerstone sustainability initiative that's setting a national standard for transformative investment, sustainable growth and equitable development. Atlanta is also one of the leading metropolitan markets for electric vehicle sales, thanks to favorable income-tax credits.
The city of Atlanta's local solutions under Mayor Reed's leadership are a reminder that transitioning to a clean energy economy will not only enhance the quality of life for citizens, but put us on a path to prosperity by driving economic growth for decades, creating well-paying jobs and increasing household incomes. According to researchers, the cost of not acting on climate change could be $44 trillion dollars by 2060.
Mayor Reed participated in a number of panel discussions with world leaders during the climate talks, including a "Buildings Day" session focused on ways to reduce the energy consumption and carbon footprint from commercial buildings. He discussed Atlanta's national leadership in the Better Buildings Challenge, a public-private partnership to reduce energy and water consumption by 20 percent by the year 2020. Atlanta leads the nation with more than 100 million square feet of commercial building space committed to the challenge.
Mayor Reed and fellow U.S. mayors also joined the Climate Summit for Local Leaders, hosted by Michael Bloomberg and Paris Mayor Anne Hidalgo. The goal of the summit was to ensure that the voices of local leaders were heard and city efforts around the world were recognized. During his address, French President Francois Hollande admitted that even with a global agreement, "National governments can provide funding, but increasingly cities and regions will be the key player." Mayor Reed also participated in a session, Cities and Regions, Leading from the Front with Equity and Inclusion, to share opportunities and challenges of leading equitable and inclusive climate and clean energy policies.
Outside of the Atlanta community, there are inspiring initiatives happening across the world that give me great hope. To highlight a few, the city of Boston was recently recognized in Paris at the C40 Cities Awards as a climate leader for its work on Greenovate Boston. And Oakland's mayor, Libby Schaaf, took part in the climate talks to highlight the significant climate action change taking place in Oakland.
Cities are showing the world that by working together, we can transition to a clean energy economy while averting the most devastating effects of global warming, improving the health of citizens and redefining the economy of the 21st century.
YOU MIGHT ALSO LIKE
All Hands on Deck for Climate Action in 2016
Germany's Superhighway for Bikes Could Take 50,000 Cars Off the Road Every Day
Meet the World's First Climate Refugees
10 Extreme Weather Events in 2015 That Sound the Alarm on Climate Chaos
Wikimedia Commons
By Stacy Malkan
Neil deGrasse Tyson has inspired millions of people to care about science and imagine themselves as participants in the scientific process. What a hopeful sign it is to see young girls wearing t-shirts emblazoned with the words, "Forget princess, I want to be an astrophysicist."
Keep reading...
Show less
www.youtube.com
By Andy Rowell
Any day now we will truly witness climate change in action. Within days at worst, maybe weeks at best, scientists predict that a huge section of the Larsen C ice shelf in Antarctica will break off into the ocean, in what is called a major "carving" event.
Keep reading...
Show less
www.youtube.com
President Trump visited Cedar Rapids, Iowa on June 21 to speak to a large crowd in the U.S. Cellular Center at a political rally organized by his campaign.
As Trevor Noah noted during The Daily Show episode last night (starts at 2:25), the real reason Trump has these rallies is to "get back in front of his loyal crowds and feed of their energy." Noah believes that "Trump supporters are so on board with their dude he can say anything and they'll come along for the ride."
Keep reading...
Show less
The Kamuthi solar plant in the southern Indian state of Tamil Nadu.
The rapid growth in renewable energy continues to put a dent in the demand for coal.
Coal India, the world's biggest coal mining company and producer of 82 percent of the country's coal, announced the closure of 37 mines that are financially "unviable."
Keep reading...
Show less
www.youtube.com
By Katie O'Reilly
Two years ago—long before coal became one of the most dominant and controversial symbols of the 2016 presidential election—Bloomberg Philanthropies approached production company RadicalMedia with the idea of creating a documentary exploring the U.S. coal mining industry. Last spring, they brought on Emmy-nominated director Michael Bonfiglio, tasked with forging a compelling story out of the multitudes of facts, statistics and narratives underlying the declining industry.
Keep reading...
Show less
Mayors for 100% Clean Energy
Keep reading...
Show less
www.youtube.com
Thanks to Newsy for their coverage on Thursday's news that the U.S. Fish and Wildlife Service removed grizzly bears in the Greater Yellowstone region from the Endangered Species List.
Watch above as Newsy explains that the decision comes despite serious concerns from the environmental and scientific community, and Tribal Nations about a declining, isolated grizzly bear population with diminishing food resources and record-high mortalities.
Keep reading...
Show less
www.facebook.com
By Francine Kershaw
Seismic airguns exploding in the ocean in search for oil and gas have devastating impacts on zooplankton, which are critical food sources for marine mammals, according to a new study in Nature. The blasting decimates one of the ocean's most vital groups of organisms over huge areas and may disrupt entire ecosystems.
And this devastating news comes on the heels of the National Marine Fisheries Service's proposal to authorize more than 90,000 miles of active seismic blasting. Based on the results of this study, the affected area would be approximately 135,000 square miles.
Keep reading...
Show less
By Jill Richardson
Is coconut oil:
good for you
bad for you
neither good nor bad
scientists don't know
The subject of this question is the source of a disagreement. Initially, the question was thought to be settled decades ago, when scientist Ancel Keys declared all saturated fats unhealthy. Coconut oil, which is solid at room temperature, is a saturated fat.
Keep reading...
Show less


Get EcoWatch in your inbox