This website uses cookies to ensure you get the best experience while browsing it. By clicking 'Got It' you're accepting these terms.
Chris Hayes Debunks Myth that Approving Keystone XL and Fracking More Will Weaken Russia in Ukraine Crisis
Mar. 06, 2014 03:45PM EST
Energy
By Denise Robbins
MSNBC host Chris Hayes blasted the myth that expanding unconventional energy sources in the U.S. will weaken Russia, an "absurd" claim that has been perpetuated by conservative media to pin the security crisis in Ukraine on President Barack Obama.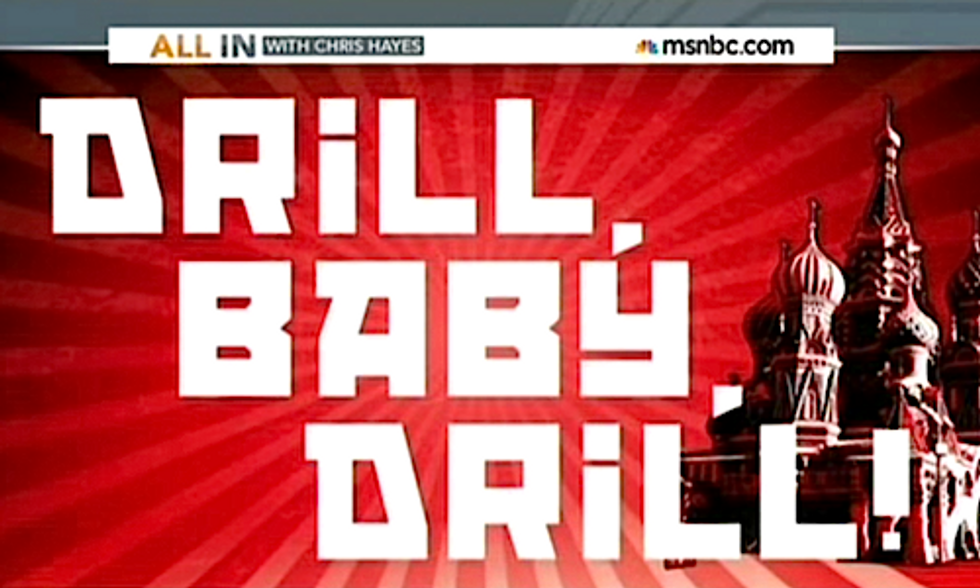 Conservative media are manipulating the Ukraine crisis to push a "drill, baby, drill" agenda, claiming that approving the Keystone XL pipeline and expanding the use of fracking will somehow weaken Russian President Vladimir Putin's influence in Ukraine. They are calling for expanding development of natural gas in the U.S. (including by the environmentally-contentious use of fracking) to ease the concern that Putin may cut off the natural gas supply to Ukraine and subsequently affect natural gas prices in Europe and around the globe.
Liquefying, exporting, and re-gassifying natural gas is more carbon intensive than domestically consuming natural gas and would likely drive up the price of natural gas in the U.S., so some oppose permitting further LNG export terminals—at least until fugitive methane emissions are reigned in.
Despite concerns, the Obama Administration has permitted several LNG export terminals and is expected to permit more. Republicans and the oil and gas industry complain that it's still not fast enough. However, as LNG is very expensive, reports have suggested that even if they were approved, many LNG export terminals probably won't even be used, or at least not for years—far too late to address the Ukraine crisis. MSNBC's Chris Hayes and his guest Dan Dicker, CEO of wealth management group MercBloc, explained on the March 5 edition of All In with Chris Hayes: 
DICKER: The Russians do have a major control, major influence, on most of eastern Europe through natural gas. But we have to distinguish between natural gas—which is a gas—and crude oil which is a liquid. If you want to move a liquid from one place to another, you put in the a dixie cup and you can move it any way you like. Natural gas has two ways of being transported, one is through pipelines. Now, the U.S. can do nothing in terms of creating a pipeline to all of these eastern European nations.

[...]

The only other way you can get it across, and what they're talking about is permitting, is through what we call LNG, which is liquid natural gas. It needs to be cooled, natural gas, to be transported as LNG needs to be cooled to a minus 260 degrees Fahrenheit then put in very, very carefully into very select containers that you can now transport overseas. This costs a lot of money. This is why permitting—you could permit all of the natural gas export plants you want, there are very few energy companies who are going to undertake building these things, they cost $2 billion to convert an import plant into an export plant.
Energy analyst Chris Nelder agreed, writing in an email to Media Matters on Wednesday that liquefied natural gas (LNG) projects are years from completion (as is the Keystone XL pipeline) and may not be economically viable, meaning it is "simply wrong" to think they could undermine Putin:  
U.S. LNG export projects are years away from completion, and I have serious questions about the ability of the U.S. to fulfill 20-year export contracts once they begin operation. I also suspect that U.S. natural gas prices may not remain low enough to make LNG exports viable over a 20-year horizon. So viewing LNG exports as a geopolitical tool is simply wrong, let alone a geopolitical tool that would specifically undercut Russia's exports.
Yet these myths continue to spread. Today, Newt Gingrich was featured on CNN's New Day to push for the expedition of LNG exports. Gingrich cited House Speaker John Boehner's recent statement calling on President Obama to alleviate the "excruciatingly slow approval process" that leads to "a de facto ban on American natural gas exports," going on to say "the greatest thing you can do to hurt Putin is reduce his enormous impact in Western Europe where Germany gets 30 percent of its gas from Russia": 
And The Wall Street Journal published an editorial today to advocate for the U.S. to "unleash" oil and gas on the world as "leverage" to "reduce Putin's influence." The Board suggested that we "[b]egin by approving the Keystone XL pipeline," and went on to vouch for the expansion of LNG export terminals:
The U.S. has more responses to Vladimir Putin's adventure in the Crimea than the no-options caucus suggests, including a few that weren't possible even a few years ago. Namely, a President with a keener strategic mind would unleash North American oil and gas on the world.
[...]
A serious President would also fast-forward permits on new liquefied natural gas terminals that could ship to Europe.
[...]
Cheap, abundant American resources have helped lower global prices and reduce volatility, and this strategic asset could be turned to increase the pressure on Mr. Putin. He feeds his kleptocracy and client states with petro dollars. U.S. exports would reduce the threat of energy blackmail, and if they reduced global oil prices they'd reduce his influence.
Visit EcoWatch's ENERGY page for more related news on this topic.

EcoWatch Daily Newsletter
Aerial view of Ruropolis, Para state, northen Brazil, on Sept. 6, 2019. Tthe world's biggest rainforest is under threat from wildfires and rampant deforestation. JOHANNES MYBURGH / AFP via Getty Images
By Kate Martyr
Deforestation in Brazil's Amazon rainforest last month jumped to the highest level since records began in 2015, according to government data.
A total of 563 square kilometers (217.38 square miles) of the world's largest rainforest was destroyed in November, 103% more than in the same month last year, according to Brazil's space research agency.
From January to November this year an area almost the size of the Caribbean island of Puerto Rico was destroyed — an 83% overall increase in destruction when compared with the same period last year.
The figures were released on Friday by the National Institute for Space Research (INPE), and collected through the DETER database, which uses satellite images to monitor forest fires, forest destruction and other developments affecting the rainforest.
What's Behind the Rise?
Overall, deforestation in 2019 has jumped 30% compared to last year — 9,762 square kilometers (approximately 3769 square miles) have been destroyed, despite deforestation usually slowing during November and December.
Environmental groups, researchers and activists blamed the policies of Brazil's president Jair Bolsonaro for the increase.
They say that Bolosonaro's calls for the Amazon to be developed and his weakening support for Ibama, the government's environmental agency, have led to loggers and ranchers feeling safer and braver in destroying the expansive rainforest.
His government hit back at these claims, pointing out that previous governments also cut budgets to environment agencies such as Ibama.
The report comes as Brazil came to loggerheads with the Association of Small Island States (AOSIS) over climate goals during the UN climate conference in Madrid.
AOSIS blasted Brazil, among other nations, for "a lack of ambition that also undermines ours."
Last month, a group of Brazilian lawyers called for Bolsonaro to be investigated by the International Criminal Court over his environmental policies.
Reposted with permission from DW.
The Carolina parakeet went extinct in 1918. James St. John /
CC BY 2.0
The Carolina parakeet, the only parrot species native to the U.S., went extinct in 1918 when the last bird died at the Cincinnati Zoo. Now, a little more than 100 years later, researchers have determined that humans were entirely to blame.
Pexels
Vitamin C is a very important nutrient that's abundant in many fruits and vegetables.
BLM drill seeders work to restore native grasses after wildfire on the Bowden Hills Wilderness Study Area in southeast Oregon, Dec. 14, 2018. Marcus Johnson / BLM / CC BY 2.0
By Tara Lohan
In 2017 the Thomas fire raged through 281,893 acres in Ventura and Santa Barbara counties, California, leaving in its wake a blackened expanse of land, burned vegetation, and more than 1,000 destroyed buildings.