This website uses cookies to ensure you get the best experience while browsing it. By clicking 'Got It' you're accepting these terms.
Chinese Herbs: Health Remedy or Pesticides Cocktail?
Jun. 24, 2013 12:51PM EST
Health + Wellness
By Eric Darier
Traditional Chinese herbs have a strong reputation for their medicinal benefits, but a Greenpeace East Asia investigation has revealed that these herbs are coated in a toxic cocktail of pesticide residues, posing long-term health risks instead.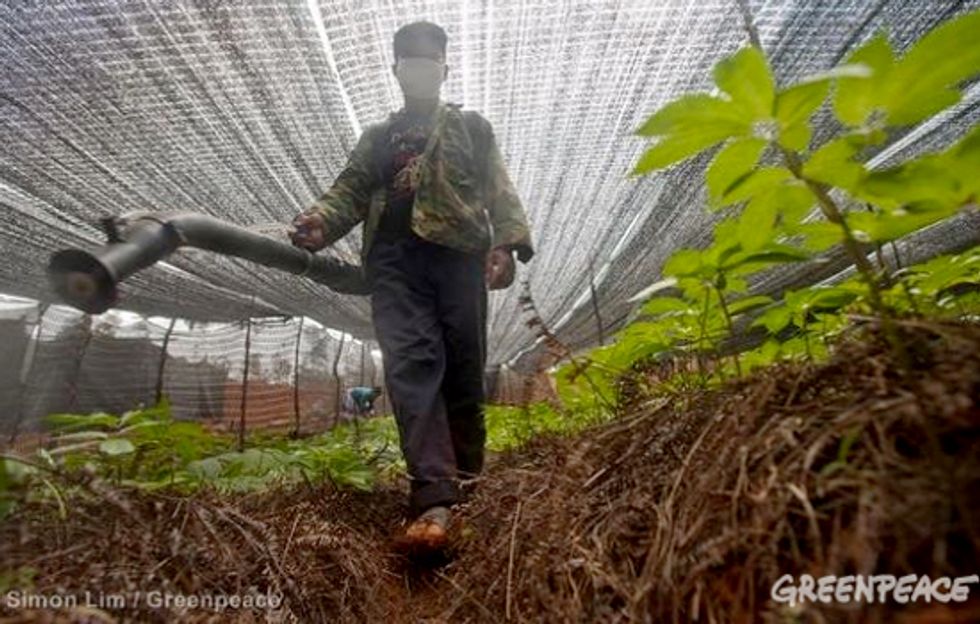 In China, these herbal products are extensively used in daily cooking and are part of the country's culinary heritage. Many people add ginseng, red dates or chrysanthemums, for example, to their soups or tea to cure various health problems.
These herbs are also consumed outside China by people looking for alternative medicines in a global market estimated to be worth US$60 billion annually and growing swiftly.
In its report, Greenpeace East Asia explains how it tested 65 samples of Chinese herbal products and found them to be coated in pesticide residues—some of them banned in China.
Many herbal products are cultivated using chemical-intensive agriculture methods and are no longer picked in the wild—another example of the dominant chemical-based industrial agriculture system and its failure to deliver toxic-free foods.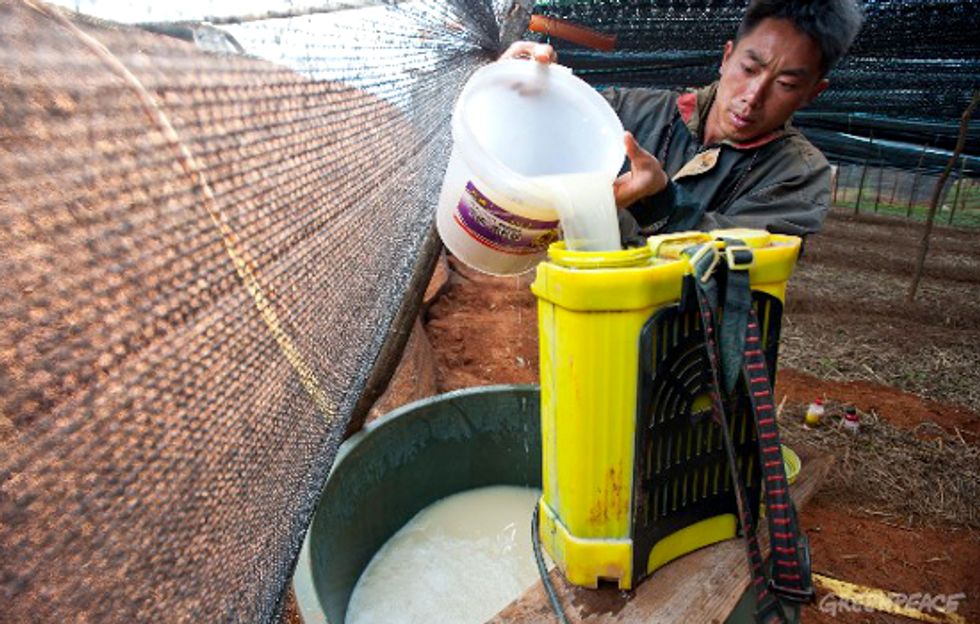 Some of the pesticides detected in the Greenpeace East Asia investigation are considered "highly hazardous" by the World Health Organization (WHO). Some herbal products had residue levels that would breach European food safety standards.
The WHO and European authorities have already ranked or banned some pesticides because of indications that exposure to some of them via food poses health risks due to bioaccumulation in the body. Chronic pesticide poisoning may lead to learning difficulties, hormone disruption and reproductive abnormalities.
Greenpeace champions ecological farming as a more environmentally and human friendly solution to industrial agriculture, and opposes the widespread industrial agriculture model that damages the environment with toxic chemicals and poses threats to human health.
Ecological farming does not rely on chemical pesticides but on natural pest management techniques, rotation and diverse cropping to ensure healthy, nutritious and sufficient food for people while protecting our environment, water and wildlife from toxic poisoning.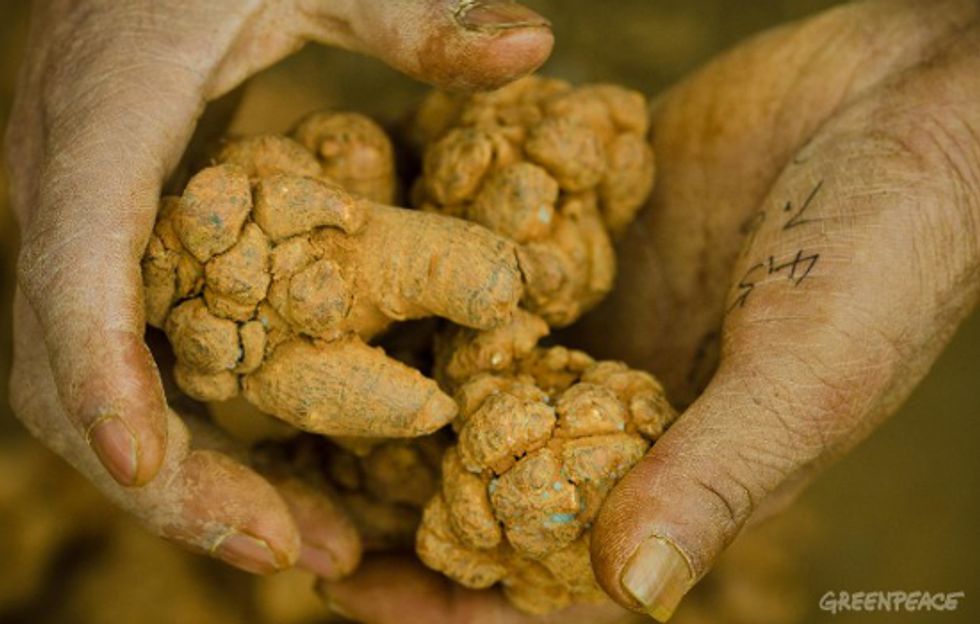 Greenpeace East Asia is urging the Chinese government to impose stricter supervision and control of illegal pesticides, provide clear pesticides reduction timelines and commit to a road map to fully phase out chemical pesticides in agriculture. Additionally, we call on the Chinese authorities to divert financial funding towards more ecological farming practices.
We must walk this ecological path now to preserve the future of traditional herbal medicine and food production in China and globally. The challenge to switch to ecological farming and away from chemicals-based agriculture is one that all governments need to embrace.
Visit EcoWatch's FOOD page for more related news on this topic.
EcoWatch Daily Newsletter
Pro-environment demonstrators on the streets of Washington, DC during the Jan. 20, 2017 Trump inauguration.
Mobilus In Mobili
/ Flickr /
CC BY-SA 2.0
By Dr. Brian R. Shmaefsky
One year after the Flint Water Crisis I was invited to participate in a water rights session at a conference hosted by the US Human Rights Network in Austin, Texas in 2015. The reason I was at the conference was to promote efforts by the American Association for the Advancement of Science (AAAS) to encourage scientists to shine a light on how science intersects with human rights, in the U.S. as well as in the context of international development. My plan was to sit at an information booth and share my stories about water quality projects I spearheaded in communities in Bangladesh, Colombia, and the Philippines. I did not expect to be thrown into conversations that made me reexamine how scientists use their knowledge as a public good.
Mt. Rainier and Reflection Lake on Sept. 10, 2015. Crystal Geyser planned to open a bottling plant near Mt. Rainier, emails show.
louelke - on and off / Flickr
Bottled water manufacturers looking to capture cool, mountain water from Washington's Cascade Mountains may have to look elsewhere after the state senate passed a bill banning new water permits, as The Guardian reported.
Large storage tank of Ammonia at a fertilizer plant in Cubatão, Sao Paulo State, Brazil. Luis Veiga / The Image Bank / Getty Images
The shipping industry is coming to grips with its egregious carbon footprint, as it has an outsized contribution to greenhouse gas emissions and to the dumping of chemicals into open seas. Already, the global shipping industry contributes about 2 percent of global carbon emissions, about the same as Germany, as the BBC reported.
At high tide, people are forced off parts of the pathway surrounding DC's Tidal Basin. Andrew Bossi /
Wikimedia
The Jefferson Memorial in Washington, DC overlooks the Tidal Basin, a man-made body of water surrounded by cherry trees. Visitors can stroll along the water's edge, gazing up at the stately monument.
But at high tide, people are forced off parts of the path. Twice a day, the Tidal Basin floods and water spills onto the walkway.
Lioness displays teeth during light rainstorm in Kruger National Park, South Africa. johan63 / iStock / Getty Images
Ahead of government negotiations scheduled for next week on a global plan to address the biodiversity crisis, 23 former foreign ministers from various countries released a statement on Tuesday urging world leaders to act "boldly" to protect nature.