This website uses cookies to ensure you get the best experience while browsing it. By clicking 'Got It' you're accepting these terms.
Chinese Army Bans All GMO Grains and Oils
May. 15, 2014 08:51AM EST
Food
China's military is the world's largest with nearly 2.3 million in personnel, and it has announced one of the largest decisions of any armed forces when it comes to genetically modified organisms (GMOs).
The Chinese army this month began ordering all military supply stations to only allow the purchase of non-GMO grain and food, oil due to health and safety concerns regarding GMOs, according to Food Democracy Now! The decision is viewed as an important step toward the government's anticipated ban on the import of all GMO grains and oilseeds within the next two years.
In 2013, China began rejecting shipments of corn made with GMOs.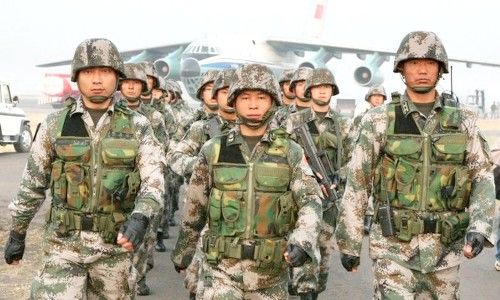 "The army has established [an] excellent model for people of the whole nation: No GMO staple food and GMO food oil should enter the army food supply," said Chen Yiwen, an advisor to the China Disaster Prevention Association's Committee of Disaster History.
Food Democracy Now! Founder and Executive Director applauded the Chinese army's decision, but lamented the fact that such action has yet to be taken in the U.S.
"It's about time that government officials took a proactive step to protect their citizens against the increasing rates of pesticide residue as result of the over application of roundup on GMO crops," Murphy said. "The remarkable fact is that it's China and not America."
Murphy added that it could have a big impact on Monsanto's future.
"This could be the nail in the coffin for Monsanto," he said. "Rejection of Monsanto's flagship product, genetically engineered Roundup Ready soybeans, by China is a pretty damning market based decision by the most populous nation on the planet.
"The question is, what does the Chinese military know about GMOs and the negative impact of Roundup that the U.S. government is not telling us?"
According to Mi Zhen-yu, a former vice president of the China Academy of Military Science doctoral tutor and lieutenant general, China imported more than 63 million tons of GM soybeans from the U.S. and other countries last year. The country's imported GM soybeans, used to extract the soybean food oil that dominates China's food oil market, including much of the restaurant industry.
"The glyphosate residue contained in GM soybean food oil [and GM soybean protein powder processed from GM soybean cake, a by-product of GM soybean food oil] eaten three meals a day, continuously penetrates the bodies of most Chinese, including children at kindergarden, primary school and middle school, university students and teachers, staff members and soldiers of the Chinese army, government staff members and other consumers," Zhen-yu wrote in an April paper entitled, We Must Face the harm caused by imported GM Soybeans to 1.3 billion Chinese People.
"During the past 20 years, the health level of the Chinese people has rapidly deteriorated with various diseases rapidly increasing. The situation is shocking."
——–
YOU ALSO MIGHT LIKE
Millions to 'March Against Monsanto' on May 24
U.S. Farmers Increase Planting of GMO Corn Banned From China Markets
French Parliament Bans GMO Corn
——–
EcoWatch Daily Newsletter
By Anita Desikan
The Trump administration is routinely undermining your ability — and mine, and everyone else's in this country — to exercise our democratic rights to provide input on the administration's proposed actions through the public comment process. Public comments are just what they sound like: an opportunity for anyone in the public, both individuals and organizations, to submit a comment on a proposed rule that federal agencies are required by law to read and take into account. Public comments can raise the profile of an issue, can help amplify the voices of affected communities, and can show policymakers whether a proposal has broad support or is wildly unpopular.
Alena Gamm / EyeEm / Getty Images
Picture this: a world where chocolate is as rare as gold. No more five-dollar bags of candy on Halloween. No more boxes of truffles on Valentine's day. No more roasting s'mores by the campfire. No more hot chocolate on a cold winter's day.
Who wants to live in a world like that?
Fabian Krause / EyeEm / Getty Images
Water protectors of all persuasions gathered in talking circles at Borderland Ranch in Pe'Sla, the heart of the sacred Black Hills, during the first Sovereign Sisters Gathering. At the center are Cheryl Angel in red and white and on her left, Lyla June. Tracy Barnett
By Tracy L. Barnett
Sources reviewed this article for accuracy.
For Sicangu Lakota water protector Cheryl Angel, Standing Rock helped her define what she stands against: an economy rooted in extraction of resources and exploitation of people and planet. It wasn't until she'd had some distance that the vision of what she stands for came into focus.
Hedges, 2019 © Hugh Hayden. All photos courtesy of Lisson Gallery
By Patrick Rogers
"I'm really into trees," said the sculptor Hugh Hayden. "I'm drawn to plants."
BruceBlock / iStock / Getty Images
Thanks to their high concentration of powerful plant compounds, foods with a natural purple hue offer a wide array of health benefits.