This website uses cookies to ensure you get the best experience while browsing it. By clicking 'Got It' you're accepting these terms.
China's 'War on Pollution' Helps Kick Coal Habit
Sep. 05, 2014 08:45AM EST
Climate
There are still doubts. The statistics might be proved wrong. But it looks as if China might be starting to wean itself off its coal consumption habit.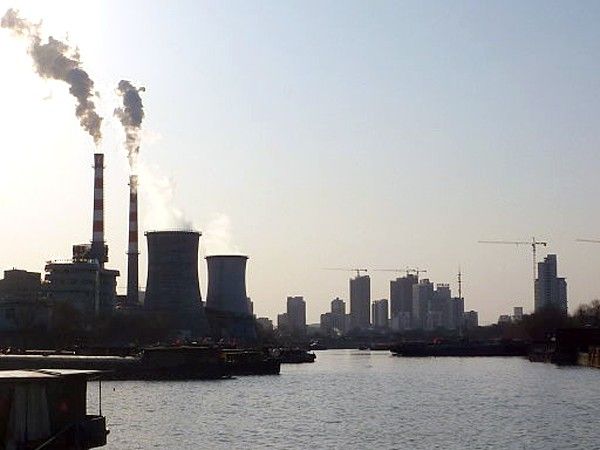 Photo credit: Vmenkov via Wikimedia Commons
China produces and consumes nearly as much coal as the rest of the world combined. Coal, the most polluting of all energy sources, has powered the growth of China's flyaway economy. But as incomes have risen, so has pollution. The country is now the world's No.1 emitter of greenhouse gases.
Latest figures indicate that change is on the way, spurred on by a much-vaunted government "war on pollution" campaign. The state-run National Development and Reform Commission reports that domestic coal output shrank over the first five months of 2014—the first such decline since the start of China's rapid economic expansion back in the late 1980s.
Virtual Halt
Greenpeace, the environmental NGO, said in a recent analysis of China's coal sector that growth in coal imports, which had been going up at an annual rate of between 13 percent and 20 percent in recent years, has come to a virtual halt.
Meanwhile, the official Xinhua news agency says Beijing—a city of nearly 12 million people—will ban the sale and use of coal in its six main districts by 2020.
Coal-fired factories and power plants around the Chinese capital are being shut down and replaced by natural gas facilities. Coal generated 25 percent of Beijing's energy in 2012, and the aim is to bring that figure down to less than 10 percent by 2017. Other cities and regions are following Beijing's lead.
Just how meaningful these cutbacks in coal use are is difficult to gauge. Air pollution—much of it caused by the burning of low-grade thermal coal—is not only a big environmental issue in China but also a political one as well.
China's leaders have promised a population increasingly angry about the low quality of the air they breathe and the water they drink that the government is determined to tackle pollution.
Yet coal-fired power plants are still being built at a considerable pace, and many more are planned.
Some analysts argue that the present slowdown in China's coal consumption is only temporary, the result of a dip in industrial output that will be reversed as soon as the economy roars ahead again.
Less Reliant
Others say the decline in coal consumption is part of a long-term trend. As China's economy matures, becoming less dependent on heavy industrial goods and embarking on more hi-tech and service-oriented projects, the country will become ever more energy efficient—and less reliant on coal.
China might be the world's biggest emitter of fossil fuel emissions, but it also has fast become a global leader in hydro, wind and solar power.
No one is suggesting that coal is going to be absent from China's energy mix anytime soon. The lung-jarring pollution of many of China's cities is likely still to be evident for some years yet. But coal is no longer king.
That's bad news for big coal exporters to China, particularly Australia and Indonesia. But it's potentially good news for millions in China who crave clean air. And it's very good news for the planet.
You Might Also Like
9 Chinese Cities Exceeded Beijing's Abysmal 2013 Air Pollution Levels
National Geographic Photojournalist Captures Images of Critical Pollution Problems Worldwide
EcoWatch Daily Newsletter
A typical adult takes around 20,000 breaths per day. If you live in a megacity like Beijing, with many of those lungfuls you're likely to inhale a noxious mixture of chemicals and pollutants.
Fred Stone holds his brown swiss cow Lida Rose at his Arundel dairy farm on March 18 after a press conference where he spoke about PFAS chemical contamination in his fields. Gregory Rec / Portland Portland Press Herald via Getty Images
By Susan Cosier
First there was Fred Stone, the third-generation dairy farmer in Maine who discovered that the milk from his cows contained harmful chemicals. Then came Art Schaap, a second-generation dairy farmer in New Mexico, who had to dump 15,000 gallons of contaminated milk a day.
Protesters attend the 32nd Annual Fur-Free Friday demonstration on Nov. 23, 2018 in Beverly Hills, California. Ella DeGea / Getty Images
California Governor Gavin Newsom signed into law a bill that that bans the sale and manufacture of fur products in the state. The fur ban, which he signed into law on Saturday, prohibits Californians from selling or making clothing, shoes or handbags with fur starting in 2023, according to the AP.
By Simon Evans
During the three months of July, August and September, renewables generated an estimated total of 29.5 terawatt hours (TWh), compared with just 29.1TWh from fossil fuels, the analysis shows.
A demonstrator waves an Ecuadorian flag during protests against the end of subsidies to gasoline and diesel on Oct. 9 in Quito, Ecuador. Jorge Ivan Castaneira Jaramillo / Getty Images
Protesters block the road outside Mansion House in London during an XR climate change protest. Gareth Fuller / PA Images via Getty Images
Protestors marched outside the Prudential Center in Newark, New Jersey on Monday, August 26, during the MTV Video and Music Awards to bring attention to the water crisis currently gripping the city. Karla Ann Cote / NurPhoto / Getty Images
By Will Sarni
It is far too easy to view scarcity and poor quality of water as issues solely affecting emerging economies. While the images of women and children fetching water in Africa and a lack of access to water in India are deeply disturbing, this is not the complete picture.
Pexels
Mice exposed to nicotine-containing e-cigarette vapor developed lung cancer within a year.
More research is needed to know what this means for people who vape.
Other research has shown that vaping can cause damage to lung tissue.
A new study found that long-term exposure to nicotine-containing e-cigarette vapor increases the risk of cancer in mice.