This website uses cookies to ensure you get the best experience while browsing it. By clicking 'Got It' you're accepting these terms.
China's Coal Use and Carbon Emissions Fall as Renewables Have Record-Breaking Year
Feb. 29, 2016 11:35AM EST
Business
China witnessed a historic fall in CO2 emissions in 2015 as its coal use fell for the second year in a row, according to newly released government data.
Fossil fueled carbon emissions likely fell by a mighty 2.3 percent last year, following 0.8 percent drop in 2014—which was the first year that had ever happened.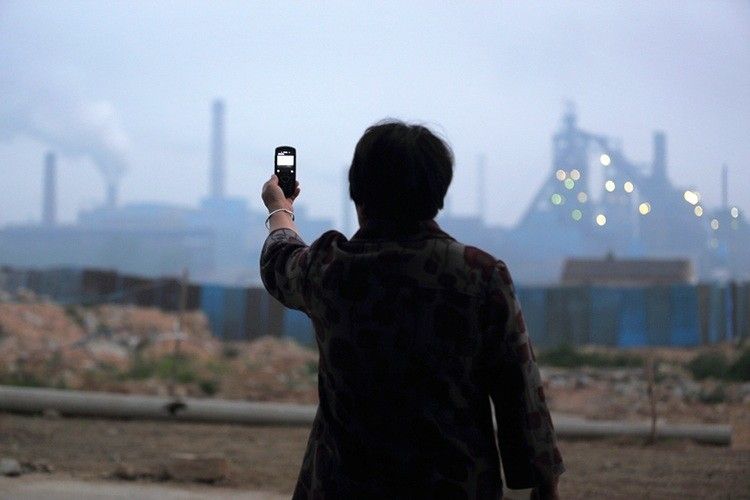 What's behind this groundbreaking downturn?
The fall of coal, of course.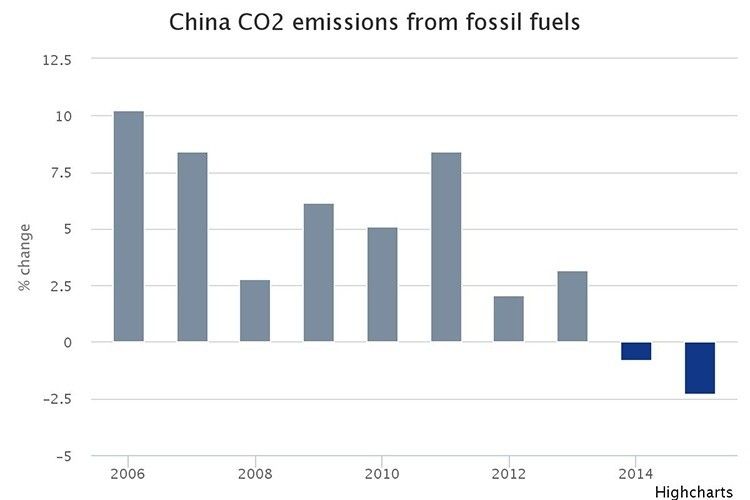 China burned less than 4 billion tons of raw coal for the first time in five years, with last year's 3.7 percent reduction following a 2.9 percent fall in 2014.
As an Energydesk analysis recently revealed, coal use around the world is dropping at a record-breaking rate as commodity markets are tanking, renewable energy is rising and energy demand growth is slowing.
But the story of coal's fall is particularly stark in China, where it fueled the country's stratospheric economic rise—and created the deadly air pollution crisis with which Beijing is still grappling.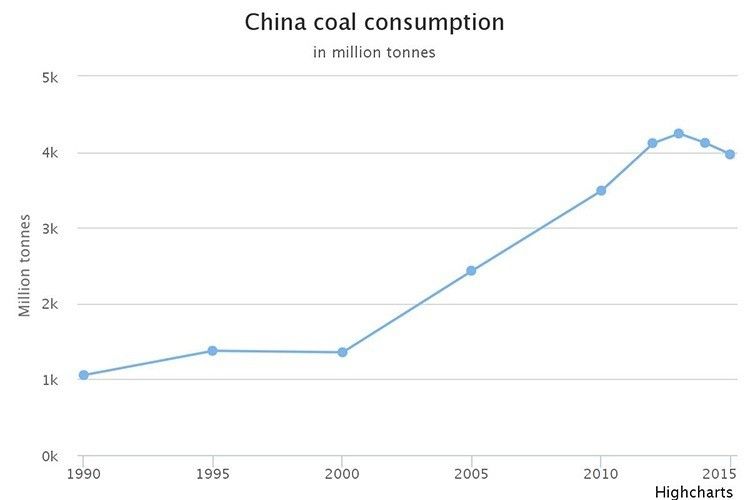 These stats come just weeks after the Chinese government announced its intention to close more than a thousand coal mines across the country and enforce a moratorium on new ones until 2019.
China is also looking to cull 1.8 million jobs in its coal and steel sectors.
For reference, the UK has fewer than 25,000 coal and steel workers.
Climate Change Targets
Meanwhile China's wind and solar capacity enjoyed a record-breaking year for all the right reasons, growing by 34 percent and 74 percent respectively.
For the first time ever, these two renewables covered the country's entire electricity demand growth.
This trend gives credence to recent claims made by China's climate envoy that the country will easily meet its 2020 target.
It will be interesting to see how these developments are reflected in next month's highly-anticipated five year plan.
Calculations by Lauri Myllyvirta
YOU MIGHT ALSO LIKE
Leonardo DiCaprio Devotes Oscars Speech to Climate Change
Porter Ranch 'Monster' Gas Leak Largest in U.S. History
The Biggest Oil Leak You've Never Heard Of, Still Leaking After 12 Years
EcoWatch Daily Newsletter
Fabian Krause / EyeEm / Getty Images
Water protectors of all persuasions gathered in talking circles at Borderland Ranch in Pe'Sla, the heart of the sacred Black Hills, during the first Sovereign Sisters Gathering. At the center are Cheryl Angel in red and white and on her left, Lyla June. Tracy Barnett
By Tracy L. Barnett
Sources reviewed this article for accuracy.
For Sicangu Lakota water protector Cheryl Angel, Standing Rock helped her define what she stands against: an economy rooted in extraction of resources and exploitation of people and planet. It wasn't until she'd had some distance that the vision of what she stands for came into focus.
Hedges, 2019 © Hugh Hayden. All photos courtesy of Lisson Gallery
By Patrick Rogers
"I'm really into trees," said the sculptor Hugh Hayden. "I'm drawn to plants."
BruceBlock / iStock / Getty Images
Thanks to their high concentration of powerful plant compounds, foods with a natural purple hue offer a wide array of health benefits.
Environmental Investigation Agency
Last week, the Peruvian Palm Oil Producers' Association (JUNPALMA) promised to enter into an agreement for sustainable and deforestation-free palm oil production. The promise was secured by the U.S. based National Wildlife Federation (NWF) in collaboration with the local government, growers and the independent conservation organization Sociedad Peruana de Ecodesarrollo.
Pixabay
Leaked documents show that Jair Bolsonaro's government intends to use the Brazilian president's hate speech to isolate minorities living in the Amazon region. The PowerPoint slides, which democraciaAbierta has seen, also reveal plans to implement predatory projects that could have a devastating environmental impact.
XL CATLIN SEAVIEW SURVEY / THE OCEAN AGENCY
Hope may be on the horizon for the world's depleted coral reefs thanks to scientists who successfully reproduced endangered corals in a laboratory setting for the first time, according to Reuters.