This website uses cookies to ensure you get the best experience while browsing it. By clicking 'Got It' you're accepting these terms.
China Bulldozes Mountains to Expand Cities
Jun. 09, 2014 09:04AM EST
Between its massive population and booming economic growth, it's no surprise that China is experiencing a shortage of land. What is surprising, however, is how China is handling the situation. The country is opting to literally decimate mountains in order to clear more space. Mountains—particularly those adjacent to urban areas—are being leveled to enable construction on the newly flattened terrain.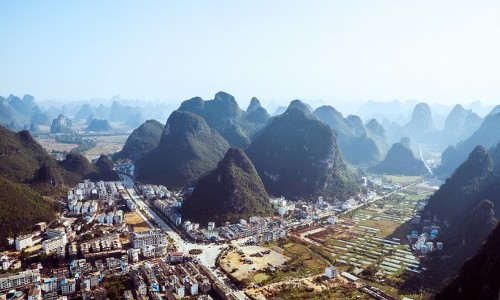 Obviously, obliterating mountains is not an easy, cheap or quick undertaking. Nonetheless, that hasn't stopped the Chinese people from rushing to take down the mountains. There's a reason that "moving mountains" is an expression that connotes a near-impossible feat. However, teams with no experience in mountaintop removal have helmed these projects, thereby practically ensuring that major mistakes will be made.
While it seems like an ecological disaster in itself to alter the landscape by getting rid of mountains, the environmental consequences go well beyond aesthetic changes. The destruction of mountains has already caused dangerous and unanticipated landslides and flooding. Once reliable water sources have been both polluted and diverted due to the change in landscape, too. Plus, as if the sky in China weren't dingy and unhealthy enough from pollution, now the air is literally brown from the dust that is rustled up.
Call for caution in China's mountain-moving schemes http://t.co/y7KZ8mJoM8 pic.twitter.com/ahnpDSBbsw

— Nature News&Comment (@NatureNews) June 5, 2014
Mountain demolishing began in the city of Yan'an months before any research on the environment was conducted. Belatedly, experts discovered that the area's mountains were comprised of "thick, million-year-old deposits of windblown silt." As a result, this surface is unsound for constructing buildings upon; whether people will choose to build on this unsafe ground anyway is not as clear-cut, sadly.
Thus far, the government has faced criticism for prioritizing immediate economic development over enforcing environmental regulations. In the meantime, animals are threatened, habitats are lost and several creeks have disappeared altogether.
It is also reasonable to expect that nearby residents will suffer health consequences. About 20 percent of China's citizens live in mountainous locales. American research found that those living near mountaintop removal sites developed cancer at significantly higher rates.
While Nature, an international weekly journal of science, is fretting these projects for many of the aforementioned reasons, it is further troubled by the fact that workers aren't even putting in minimal efforts to avoid exacerbating the problems. Laborers have been told to wet the dirt in order to minimize air pollution, but even that simple directive is often ignored.
Unfortunately, because this sort of mountain removal is unprecedented, experts can only guess at the kind of long-term repercussions the Chinese environment will experience. Given all of the immediate consequences the local human and wildlife populations have already suffered, however, it's difficult to imagine that this plan is the right way to go about creating more space for buildings.
--------
YOU MIGHT ALSO LIKE
China Coal Cap Could Strand Assets Around the World
Chinese Army Bans All GMO Grains and Oils
--------
Plus, learn if there's one that's best for your health.
Catherine Falls Commercial / Moment / Getty Images
An invasive Amynthas worm, also known as a crazy snake worm, Asian jumping worm and Alabama jumper Tom Potterfield / Flickr
By Jason Bittel
My wife and I built a house two years ago on a few acres of woodland outside of Pittsburgh. The backyard is full of maples, poplars, briars and common spicebush. Two-lined salamanders and grumpy-looking crayfish wade among the rocks in the small stream that runs down the edge of the property. Deer, raccoon and opossum tracks appear regularly in the snow and mud. Sometimes, my trail-cam even catches a pair of gray foxes as they slink through the night.
AleksandarNakic / Getty Images
By Kate Murphy
No matter the time of year, there's always a point in each season when my skin decides to cause me issues. While these skin issues can vary, I find the most common issues to be dryness, acne and redness.

David Woodfall / The Image Bank / Getty Images
By Sam Nickerson
The U.S. Environmental Protection Agency (EPA) in April 2018 proposed relaxing standards related to how it assesses the effects of exposure to low levels of toxic chemicals on public health.
Now, correspondence obtained by the LA Times revealed just how deeply involved industry lobbyists and a controversial, industry-funded toxicologist were in drafting the federal agency's proposal to scrap its current, protective approach to regulating toxin exposure.
Steve Irwin poses with a three foot long alligator at the San Francisco Zoo on June 26, 2002. Justin Sullivan / Getty Images
February 22 is the birthday of conservationist and beloved TV personality "Crocodile Hunter" Steve Irwin, who would have been 57 years old today.
Irwin's life was tragically cut short when the barb from a stingray went through his chest while he was filming in 2006, but his legacy of loving and protecting wildlife lives on, most recently in a Google Doodle today honoring his birthday.