China and UK Join Forces on Climate Change Agreement
Jun. 18, 2014 09:49AM EST
Climate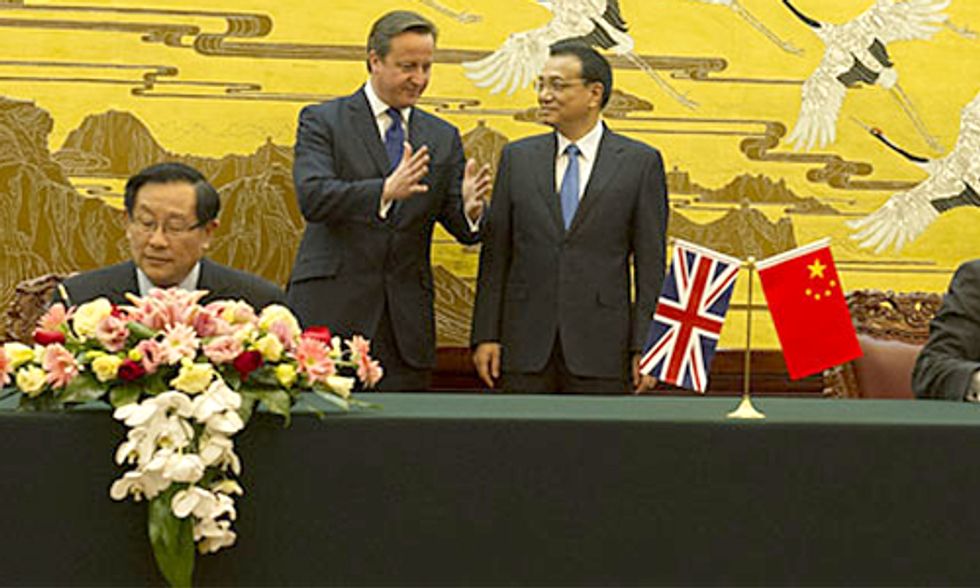 The significance of solidarity on climate change grows as the next year's international climate conference in Paris nears. That's one of several reasons why a climate agreement between two countries announced Tuesday meant so much.
For the first time, China and the United Kingdom issued a joint statement declaring the importance of climate change action and a promise to work together on cutting back on fossil-fuel burning and making other "low-carbon transitions."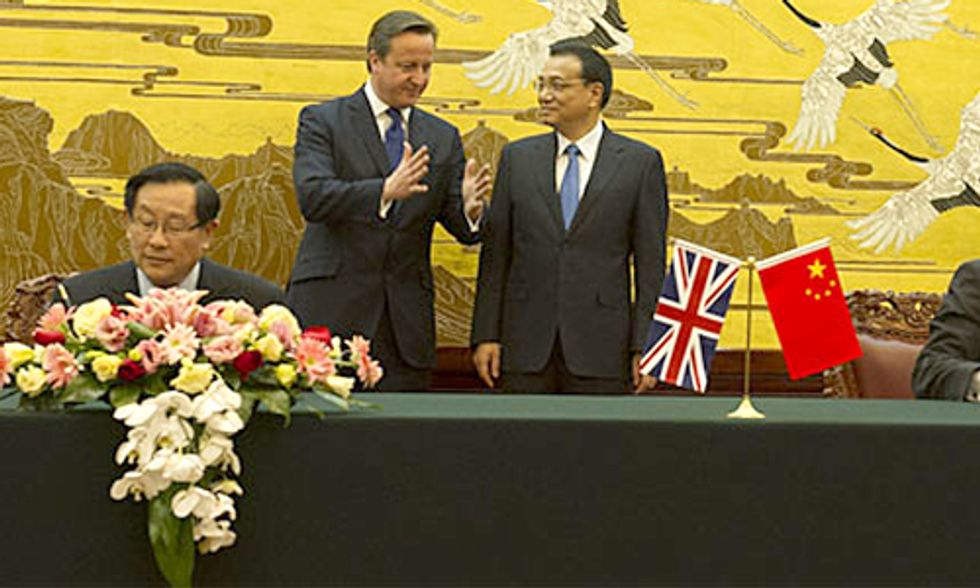 "Both sides recognize that climate change and air pollution share many of the same root causes, as well as many of the same solutions. This constitutes an urgent call to action," the statement reads.
The countries agree with the Fifth Assessment Report of the Intergovernmental Panel on Climate Change's assessment that fossil fuel divestment must begin now, along with reversing human activity that accelerates greenhouse gas emissions.
"The UK has the diplomatic muscle to help build a consensus on an ambitious global deal on climate change that includes big players like China and the USA, but that won't happen unless political leaders at the highest level get stuck in," Ben Stafford, head of public affairs at wildlife charity World Wildlife Fund-UK, said, according to the Huffington Post.
"[Tuesday's] joint summit was a step in the right direction. The next step is for the Prime Minister to join other world leaders at the UN secretary general's climate summit in September and demonstrate that climate change is as big a priority for him, and the UK, as it was when he became party leader."
On the economic front, the nations announced a few developments surrounding their agreement:
The UK and China are both engaged in the New Climate Economy project, an international study on the economics of climate change, with findings to be published later this year.
The UK and China have launched a joint, $34 million research program on low-carbon innovation, including work on offshore renewables, low-carbon manufacturing processes and technologies and low-carbon cities. This builds on strong existing bilateral energy research co-operation in fields including electric vehicles, smart grids, cleaner fossil fuels and energy storage, according to the agreement.
Last year, the UK and China signed a memorandum of understanding on offshore wind. The companies say this is leading to new policy collaboration to help commercial deployment. 
"It's heartening to hear the UK and Chinese governments agreeing on the urgency and importance of climate change policy, helping to build momentum towards a new global climate deal in Paris in 2015," Ruth Davis, a political advisor to Greenpeace UK, said. "It's also clear that for China, reducing crippling air pollution and addressing climate change go hand in hand. But whilst China plans new measures to cap coal use and massively boost investment in clean technologies, the UK Government is stubbornly refusing to regulate our aging coal plants, risking both our respiratory health and our climate change commitments.
"It's the 21st century—we need to wake up and call time on the world's dirtiest fuel."
EcoWatch Daily Newsletter
Related Articles from EcoWatch