China Accelerates Water Crisis With the Building of 16 Coal-Fired Power Plants
Aug. 14, 2012 09:27AM EST
Energy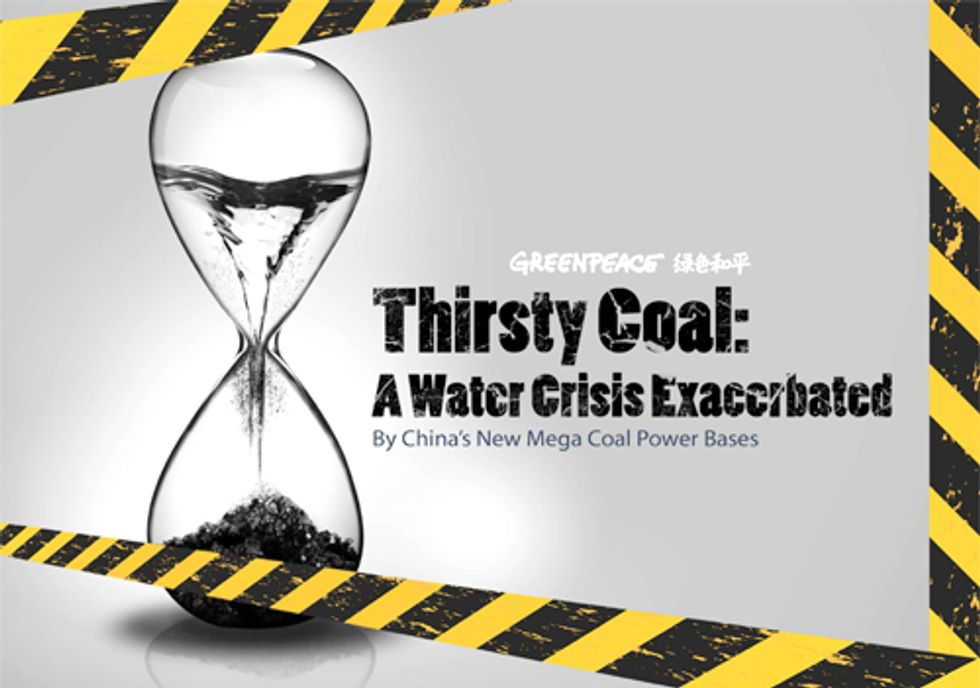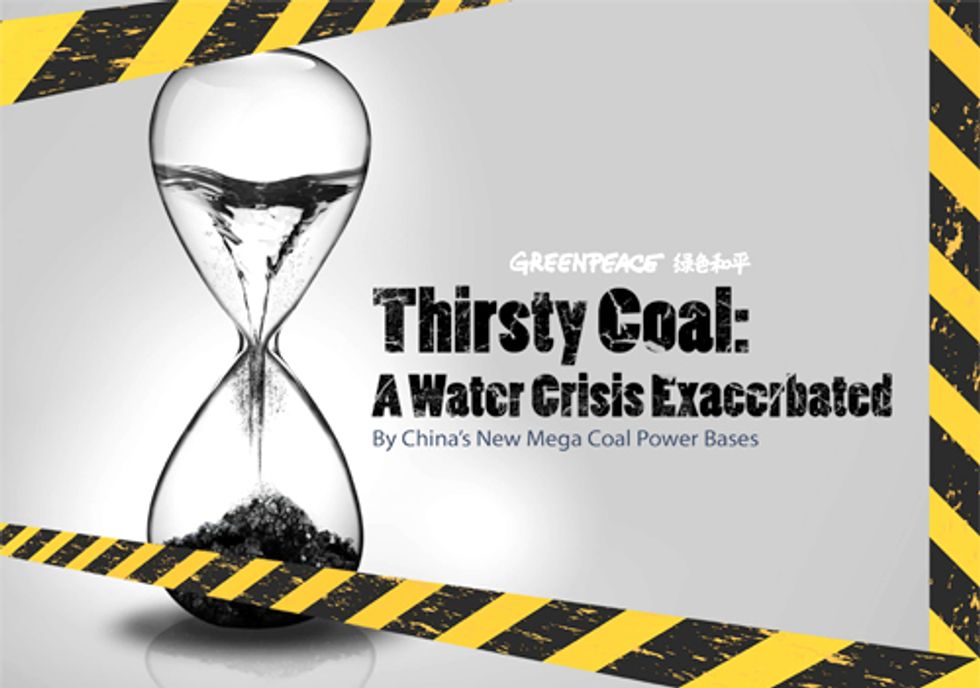 At least some 10 billion cubic meters of water—equivalent to about one-sixth of the annual total water volume of the Yellow River—will be consumed by 16 new coal power bases in China in 2015, triggering severe water crises in the country's arid Northwest, a new Greenpeace report claims.
"The truth is, in this part of the country, even a single drop of water is too precious to be squandered. China is basically trading water rights of millions for energy," says Li Yan, Greenpeace East Asia Climate and Energy campaign manager, also citing a statistic that says per capita water supply in China's coal-rich areas is one-tenth of the national average. "It's plain sad to see these coal power bases add another layer of meaning to their dirty nature."
Greenpeace commissioned the Institute of Geographical Sciences and Natural Resources under the Chinese Academy of Sciences to carry out the study, which calculates the least amount of water required by the total of 16 coal power bases that China plans to construct during the period of its 12th Five-Year Plan (2011-2015).
The conclusion: If finished as planned, these coal bases, while providing the majority of China's coal output and more than one-third of coal power generation capacity in 2015, will consume at least 9.975 billion cubic meters of water. As a result, arid Northwestern provinces such as Inner Mongolia, Shaanxi, Shanxi and Ningxia, where 11 of these coal bases are situated, will see their water supply capacity severely challenged in three years time.
"Two years into the Five-Year Plan, it's time to rethink the pros and cons of this westward coal expansion, and acknowledge the profoundly painful heritage they will leave: huge carbon emissions, horrible air pollution, and now, a grim future for vast arid areas," said Li.
About two-thirds of this huge amount of water will be used for water-intensive coal extraction, with the pumping out of ground water a prelude to extraction. As Greenpeace witnessed in the country's biggest coal power bases, located in Eastern Inner Mongolia, such unchecked depletion of groundwater resources in the arid grassland has already accelerated grassland and wetland degradation, forcing herders to seek alternative livelihoods.
"For China, energy is vital, but water is life. While energy can and is already being generated via renewable sources, the depletion of water is irreversible," Li said. "The Chinese government must find a way out of this dilemma and protect the one truly indispensable resource."
Greenpeace strongly urges China's authorities to immediately carry out a strict and robust water-demand assessment on China's coal power bases and their overall environment impact on the respective regions. More importantly, it demands China's energy and development authorities take the lead in adjusting the development plans of China's coal energy bases, so that those projects which threaten the environment or water security are urgently revised to ensure sustainable socio-economic development.
Visit EcoWatch's WATER and COAL pages for more related news on this topic.
EcoWatch Daily Newsletter
Recent Stories from EcoWatch