This website uses cookies to ensure you get the best experience while browsing it. By clicking 'Got It' you're accepting these terms.
Chevron Faces 'Irreparable Damage' from Possible $18 Billion Ecuador Judgment
May. 17, 2012 10:15AM EST
Energy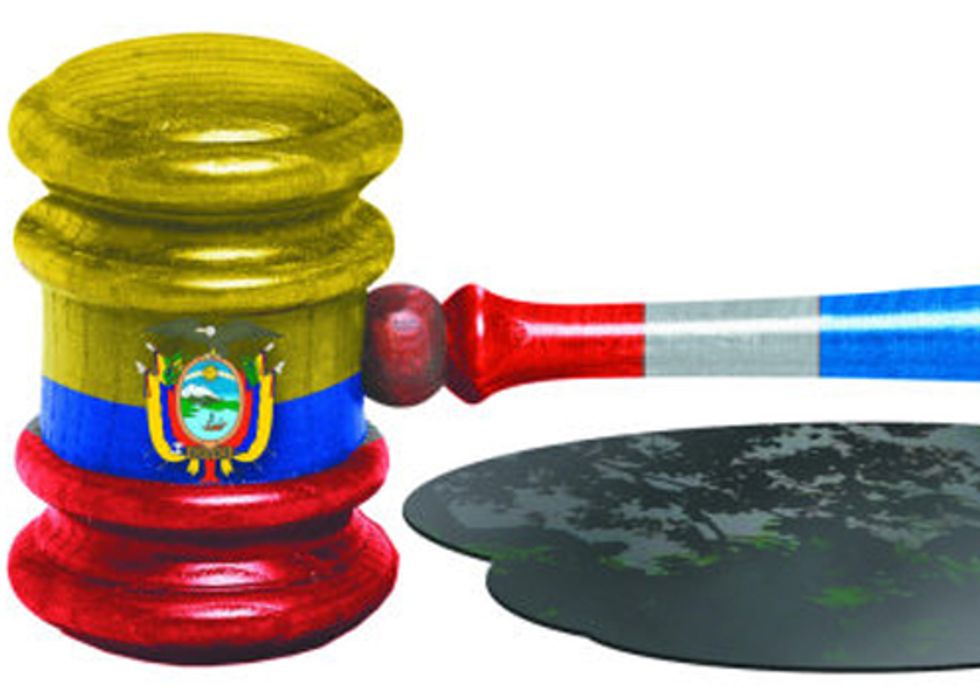 A new financial analysis has found that Chevron's $18 billion Ecuador environmental liability poses a threat of "irreparable damage" to the oil major's global operations if the plaintiffs make good on their promise to launch legal actions to enforce the judgment in countries where Chevron has billions of dollars in assets.
The report, by social investment analyst Simon Billenness, notes that the long-running case (Aguinda v. ChevronTexaco) "is reaching its most risky phase" for Chevron after an appeals court in Ecuador upheld the judgment in January and rendered it immediately enforceable. The report notes that Chevron's defenses have been "severely compromised" because of a separate ruling by a New York federal appellate court that vacated a preliminary injunction purporting to bar worldwide enforcement of the judgment.
The Billenness Report also notes that Chevron has yet to disclose in its public filings that its own comptroller, Rex Mitchell, quietly submitted a sworn affidavit to U.S. federal court that concluded any enforcement of the judgment will cause "irreparable damage" to the company. Chevron has been trying to downplay the risk posed by the judgment in its public filings and press releases, concluded Billenness in the report, titled An Analysis of the Financial and Operational Risks to the Chevron Corporation from Aguinda v. ChevronTexaco.
"In sworn legal statements, Chevron has admitted that the company faces 'irreparable injury' to [its] business relationships' [from any enforcement of the Ecuador case] yet has consistently refused to fully characterize these risks to its shareholders," he wrote in the report. "Shareholders are rightly questioning whether the board and management are fulfilling their fiduciary duties to properly manage the significant risks to the company's business and value."
The report also concluded "the enormous breadth of Chevron's global business operations makes the company particularly vulnerable to enforcement. There are many jurisdictions around the world in which the plaintiffs could seek court recognition and enforcement of the judgment, including many where Chevron has substantial reserves and that are of strategic importance."
Key findings of the Billenness report include:
The Ecuador judgment poses serious risks to Chevron's worldwide operations, with the possibility of asset attachments and loss of social license to operate in new areas and markets
Chevron's principal legal defenses against enforcement have either been severely compromised or have failed. These include the reversal of a preliminary injunction barring enforcement and the rejection by Ecuador's government of a private investment arbitration that tried to halt the litigation
Chevron's shareholders are stepping up calls for more transparent disclosure of the Ecuador liability, leading to increased pressure on management
Chevron risks violating securities laws for withholding material information from shareholders
Shareholders have been speaking out against Chevron management on the Ecuador issue for some time.
Last year, New York Comptroller Thomas DiNapoli blasted the company for "doing grave reputational damage" to itself by pursuing more legal proceedings "that only delay the inevitable…it's time to face reality...[t]he entire case is looming like a hammer over shareholders' heads." And in a letter last May, several prominent institutional investors called on Chevron "to fully disclose ... the risks to its operations and business from the potential enforcement" of the Ecuador judgment.
Chevron refused to even acknowledge or answer either the investor letter, according to the shareholders.
The plaintiffs have said they plan to enforce the judgment in various countries, but they have not announced any specifics other than to say Venezuela and Panama are being considered. Chevron has billions of dollars of assets in Australia, Kazakhstan, Singapore, Brazil and Venezuela and operates in dozens of countries around the world, said Karen Hinton, the spokesperson for the Ecuadorians.
Billenness specializes in analyzing how environmental, social and governance factors pose risks to shareholders. He has worked as an analyst and advisor to Trillium Asset Management and the Office of Investment of the AFL-CIO. He is a member of the U.S. Social Investment Forum and consults with entities that focus on social investing.
EcoWatch Daily Newsletter
The Ernest N. Morial Convention Center in New Orleans, Louisiana has been converted to a 1,000-bed field hospital for coronavirus patients to alleviate stress on local hospitals. Chris Graythen / Getty Images
An area in Louisiana whose predominantly black and brown residents are hard-hit by health problems from industry overdevelopment is experiencing one of the highest death rates from coronavirus of any county in the United States.
A woman lies in bed with the flu. marka/Universal Images Group via Getty Images
A central player in the fight against the novel coronavirus is our immune system. It protects us against the invader and can even be helpful for its therapy. But sometimes it can turn against us.
Several flower species, including the orchid, can recover quickly from severe injury, scientists have found. cunfek / iStock / Getty Images Plus
Calling someone a delicate flower may not sting like it used to, according to new research. Scientists have found that many delicate flowers are actually remarkably hearty and able to bounce back from severe injury.
A Boeing 727 flies over approach lights with a trail of black-smoke from the engines on April 9, 2018. aviation-images.com / Universal Images Group via Getty Images
With global air travel at a near standstill, the airline industry is looking to rewrite the rules it agreed to tackle global emissions. The Guardian reports that the airline is billing it as a matter of survival, while environmental activists are accusing the industry of trying to dodge their obligations.
A National Guard member works on election day at a polling location on April 7, 2020 in Madison, Wisconsin. Andy Manis / Getty Images.
ByJulia Baumel
The outbreak of COVID-19 across the U.S. has touched every facet of our society, and our democracy has been no exception.