This website uses cookies to ensure you get the best experience while browsing it. By clicking 'Got It' you're accepting these terms.
Chemical Safety Reform Bill Headed to Obama's Desk Lets Down Women With and at Risk of Breast Cancer
Jun. 06, 2016 12:53PM EST
Health + Wellness
Cost. Quality. Color. These are some of the things we consider when choosing which products to buy.
We shouldn't also have to consider whether the chemicals in the products are linked to cancer.
I run a breast cancer watchdog organization, which for 26 years has been a leader in calling for protections from chemicals that can increase the risk of cancer. The outreach flyer for the first meeting to form Breast Cancer Action read: "Our goals are education and political action to prevent a further rise in the incidence of breast cancer; indeed, we hope that our efforts will serve in the future to lower the breast cancer rate in the United States."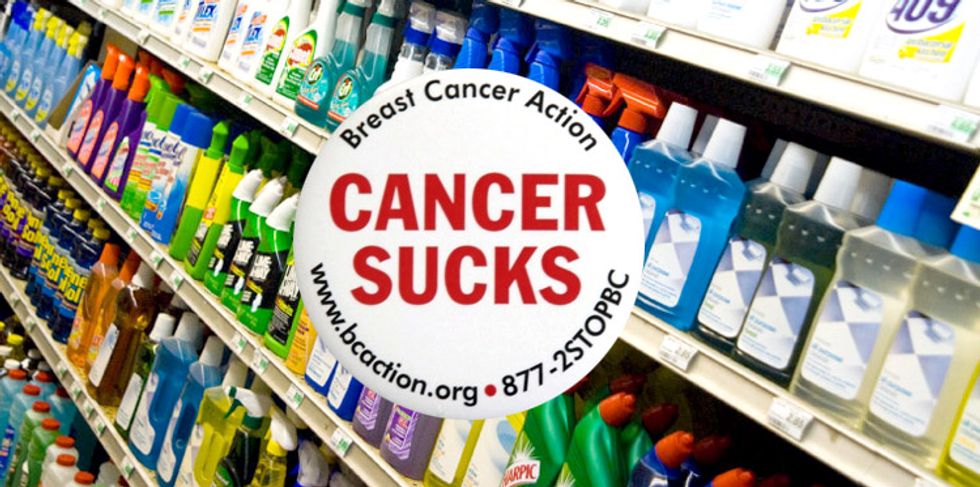 You would think that our founders, only one of whom is alive today, would be pleased then to see that long-overdue updates to chemical safety regulations are nearing the president's desk. Unfortunately, the compromise bill that resulted from approximately a dozen years of negotiations puts industry interests first and lets down women at risk of and living with breast cancer.
Most of us assume that anything that makes it onto store shelves is fully regulated and appropriately safety tested to ensure that we aren't harmed from using them. Unfortunately, that has never been true. And despite much-touted reforms to chemical safety laws, it is still "buyer beware" when it comes to chemicals linked to breast cancer.
The problem with putting the burden of protecting their own health on the public is that essentially none of us are equipped with the knowledge and expertise necessary to do so. This is not a question of passing a high school chemistry class. This each-for-her-own approach basically asks each of us to individually develop the safety-standard expertise of entire research groups and regulatory agencies in order to assess whether a particular chemical in a particular product is linked to health harms. Rather than accepting this requirement to become our own U.S. Environmental Protection Agency (EPA) to protect ourselves and our loved ones, we should continue to demand that our government act to protect our health—no matter who we are or how much we know about toxicology or epidemiology.
The primary law that has regulated chemicals used in everyday products for the past 40 years is called the Toxic Substances Control Act (TSCA). Since it was first introduced, TSCA has failed to protect us from toxic chemicals in everything from sippy cups to saucepans. Under this weak law, since its passage in 1976, the EPA has been able to limit the uses of just five of the 85,000 chemicals currently on the market. For more than a decade, Breast Cancer Action has been working alongside other environmental health organizations to demand lawmakers update this toothless and out-of-date law.
Unfortunately, the Frank R. Lautenberg Chemical Safety for the 21st Century Act, as the current compromise bill is optimistically named, puts corporate interests before public health and fails to improve chemical safety regulations for people living in the majority of states. This bill that Congress is preparing to send to the president for signature—barring further delay from Sen. Rand Paul—is a missed opportunity to reduce the incidence of cancer and other diseases and disorders.
How could efforts at reform fall so far short of the goals of environmental health advocates who have been working on this issue for years? It has often been said that "laws are like sausages, it is better not to see them being made" because of the messy, slow and too often mysterious process of making both.
To shorten a long story, by 2013 after nearly a decade of environmental health advocates working together on the issue, it appeared that a strong TSCA reform bill had a chance of moving forward. Seeing change on the horizon, industry moved quickly to hijack these efforts to improve TSCA. In fact, the Senate version of the bill was written by the American Chemistry Council, the chemical industry's biggest lobbying group. The resulting compromise bill fails to protect the public from exposure to harmful chemicals in consumer products—ultimately failing to prevent cancer.
As others before me have noted, it is testament to the power of the environmental health groups working on the issue for so long that the current bill is not worse than it is. Even though the revised TSCA doesn't go far enough in protecting public health, these partner groups were able, through diligence and collaboration, to prevent critical roll backs of safety in a few key areas. And there is ground for improvement in some areas such as giving the EPA some ability to assess a chemical before it enters the market and requiring the EPA to consider the most vulnerable populations.
But in other areas—particularly for states with the strongest regulations—we are going backwards when it comes to protecting the public from chemicals linked to breast cancer and other health problems. One of the biggest problems is a provision, referred to as the "pause" provision, that would block a state's ability to protect their residents from toxic chemicals—even when federal action is years away. This provision would stop the ability of states to create and implement laws around a toxic chemical as soon as that chemical went under review by the federal government—a process that can take years! During that time, states cannot protect their residents from exposure to these chemicals of greatest concern.
In the context of weak federal laws, stronger state protections have been important in both protecting their own residents and residents of other states. As a matter of practice, companies manufacturing or selling products in states with strong protections have often ended up lifting the standards for all of their products, even in states with weaker laws. We should not be sinking to the lowest denominator but instead raising everyone up to the highest level of protection.
In the U.S. we live in the richest country in the history of the world, with the world's largest economy and an astonishing assortment of consumer products of every kind. We should be able to trust that our laws uphold the highest health and safety standards to protect us from cancer and other diseases and disorders.
YOU MIGHT ALSO LIKE
These Four People Were Sued for $30 Million After Speaking Out Against a Hazardous Waste Dump
These 33 Cities Cheated on Lead Contamination Tests, Similar to Flint, Michigan
Landmark Federal Study Links Cell Phone Radiation to Brain Cancer
EcoWatch Daily Newsletter
A harbour seal on an ice floe in Glacier Bay, Alaska. A new study shows that the climate crisis has warmed waters, changing ecosystems and crippling sea ice growth. Janette Hill / robertharding / Getty Images Plus
Doctors report that only 1 in 4 children are getting the recommended 60 minutes of physical activity per day. Ronnie Kaufman / DigitalVision / Getty Images
By Dan Gray
Pediatricians are being urged to start writing "exercise prescriptions" for the children they see in their office.
A First Nations protester walks in front of a train blockade in Tyendinaga, near Belleville, Ontario, Canada on Feb. 21, 2020. LARS HAGBERG / AFP via Getty Images
An indigenous rail blockade that snarled train travel in Canada for more than two weeks came to an end Monday when police moved in to clear protesters acting in solidarity with another indigenous community in British Columbia (B.C.), which is fighting to keep a natural gas pipeline off its land.
A rainbow snake, a rare reptile spotted in a Florida county for the first time in more than 50 years, seen here on July 5, 2013.
Kevin Enge / FWC Fish and Wildlife Research Institute / Flickr
A Florida hiker recently stumbled across a slithering surprise — a rare snake that hadn't been spotted in the area for more than 50 years.
We need our government to do everything it can to stop PFAS contamination and exposure from wreaking havoc in communities across the country. LuAnn Hun /
Unsplash
By Genna Reed
The EPA announced last week that it is issuing a preliminary regulatory determination for public comment to set an enforceable drinking water standard to two of the most common and well-studied PFAS, PFOA and PFOS.
This decision is based on three criteria:
PFOA and PFOS have an adverse effect on public health
PFOA and PFOS occur in drinking water often enough and at levels of public health concern;
regulation of PFOA and PFOS is a meaningful opportunity for reducing the health risk to those served by public water systems.