This website uses cookies to ensure you get the best experience while browsing it. By clicking 'Got It' you're accepting these terms.
Chemical Industry Doesn't Want You to Know about the Dangers of Styrene
May. 21, 2012 10:00AM EST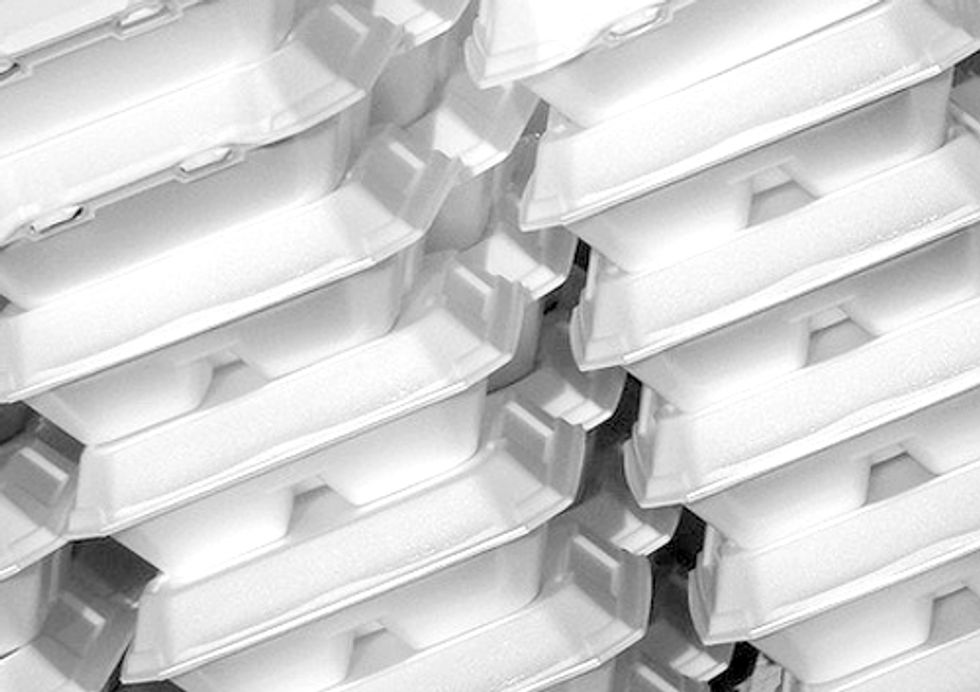 One of the largest labor organizations in the U.S., a leading environmental advocacy group, and one of the top physicians in occupational medicine filed legal papers late Friday aimed at making sure government can alert the American public to the potential dangers of styrene, a chemical used extensively in the manufacture of plastics, as well as boats, cars, bathtubs and products made with rubber, such as tires and conveyer belts. The groups filed a motion to intervene in D.C. District Court, seeking to help defend the U.S. Department of Health and Human Services' listing of styrene as "reasonably anticipated to be a human carcinogen." The motion is in response to a chemical industry lawsuit attempting to force the agency to withdraw the styrene warning.
"This case is about the public's right to have scientifically sound information on the link between styrene exposure and cancer," said Marianne Engelman Lado, Earthjustice attorney representing the groups. "Styrene is a dangerous chemical that is all around us because of its widespread use in plastics manufacturing. It's clear that industry is trying to prevent people from getting scientific information about this toxic chemical and we intend to make sure government can inform the public of the risk of styrene, as well as the potential dangers of other chemicals."
Styrene has long been suspected of being harmful to human health. The listing of styrene by the Department of Health and Human Services (HHS) came after seven years of scientific review, vetting by multiple panels of experts, and numerous rounds of public comment. HHS is the U.S. government's principal agency for protecting the health of all Americans.
In addition to the HHS listing, the U.S. Environmental Protection Agency regulates styrene as a Hazardous Air Pollutant and has described styrene to be "a suspected toxin to the gastrointestinal tract, kidney and respiratory system, among others," and the International Agency for Research on Cancer and World Health Organization have for years considered styrene to be "possibly carcinogenic to humans." Styrene is used to manufacture many common household products such as plastic packaging and disposable cups, and is found in building insulation, automobile parts, floor waxes and polishes, and personal care products among other common items. It is also approved for use in containers and food-contact materials, and is an FDA-approved synthetic flavoring in ice cream and candy.
"Thousands of our members are exposed to styrene on the job," said Michael Wright, director of Health, Safety and Environment, United Steelworkers. "They have a right to know the truth—that our government has found that styrene exposures may lead to cancer in humans—and this listing makes it publicly known. It's time for the chemical industry to stop denying that truth, and instead put its resources into ensuring that styrene and other toxic chemicals are used as safely as possible."
Under the Public Health Service Act, HHS has delegated the responsibility of publishing a biennial report on carcinogens to the National Toxicology Program (NTP), a part of the National Institutes of Health. In its most recent Report on Carcinogens (ROC), released on June 10, 2011, NTP listed the chemical styrene as "reasonably anticipated to be a human carcinogen" based on evidence from studies in both humans and animals.
Immediately following the listing, the Styrene Information and Research Center (SIRC), an industry association, and Dart Container Corporation, the world's largest manufacturer of polystyrene cups, sued HHS in D.C. District Court, seeking to compel HHS to withdraw the styrene listing. SIRC member companies, which include Dart, are involved in the manufacturing and processing of styrene or in the fabrication of styrene-based products.
"Should this industry lawsuit be successful, it will prevent workers, consumers and members of the public who may be exposed to styrene, as well as health professionals, from receiving authoritative information about styrene and its impacts on human health," said Richard Denison, senior scientist at the Environmental Defense Fund and an expert on chemical safety."It could have a major chilling effect on the ability of government agencies to carry out their responsibilities to identify toxic chemicals and provide the public with potentially life-saving information about them."
The motion, which was prepared by the public interest law firm Earthjustice, is filed on behalf of the United Steelworkers, which represents workers who are especially exposed to styrene at their workplaces, and Environmental Defense Fund.
"We are compelled to take decisive action here to help the government vigorously defend its styrene listing," said Earthjustice's Marianne Engelman Lado. "The government must be able to continue its pursuit of sound science and disclose vital conclusions about the impacts of toxics on the public health. Workers, mothers and their children, all of us have a right to know, so that we may make the most informed and healthy choices in our daily lives."
For more information, click here.
EcoWatch Daily Newsletter
California Gov. Gavin Newsom speaking with attendees at the 2019 California Democratic Party State Convention at the George R. Moscone Convention Center in San Francisco.
Gage Skidmore
/ Flickr /
CC BY-SA 2.0
California Gov. Gavin Newsom imposed new restrictions on oil exploration in his state yesterday by putting a moratorium on hundreds hydraulic fracturing permits until the projects are reviewed by independent scientists, as the AP reported.
The endangered Houston toad. Courtesy of U.S. Fish and Wildlife Service
While the planet continues to heat up, almost every single one of the 459 species listed as endangered in the U.S. will struggle as the climate crisis intensifies, according to new research published in the journal Nature Climate Change.
"This singular scientific achievement was accomplished at Heliogen's commercial facility in Lancaster, California."
Heliogen
A startup backed by Bill Gates unveiled a breakthrough solar technology Tuesday that could free heavy industry from fossil fuels.
Rhodiola rosea is an adaptogenic herb that can help with chronic fatigue and stress-related burnout. Tero Laakso / Flickr
By Gavin Van De Walle, MS, RD
While everyone has specific life stressors, factors related to job pressure, money, health, and relationships tend to be the most common.
Stress can be acute or chronic and lead to fatigue, headaches, upset stomach, nervousness, and irritability or anger.
A video shows a woman rescuing a koala from Australia's wildfires.
VOA News / YouTube screenshot
More than 350 koalas may have died in the wildfires raging near the Australian town of Port Macquarie in New South Wales, but one got a chance at survival after a woman risked her life to carry him to safety.