This website uses cookies to ensure you get the best experience while browsing it. By clicking 'Got It' you're accepting these terms.
Chef Tom Colicchio Stands With Federal Lawmakers as GE Food Labeling Bill Is Reintroduced
Feb. 12, 2015 03:01PM EST
Food
Concerned consumers have been pushing for the right to know what's in the food they buy for many years. And companies like Monsanto have been pushing back with their money and political influence to make sure that doesn't happen. So the fight continues for consumers who want companies to be required to label their products if they contain genetically engineered ingredients.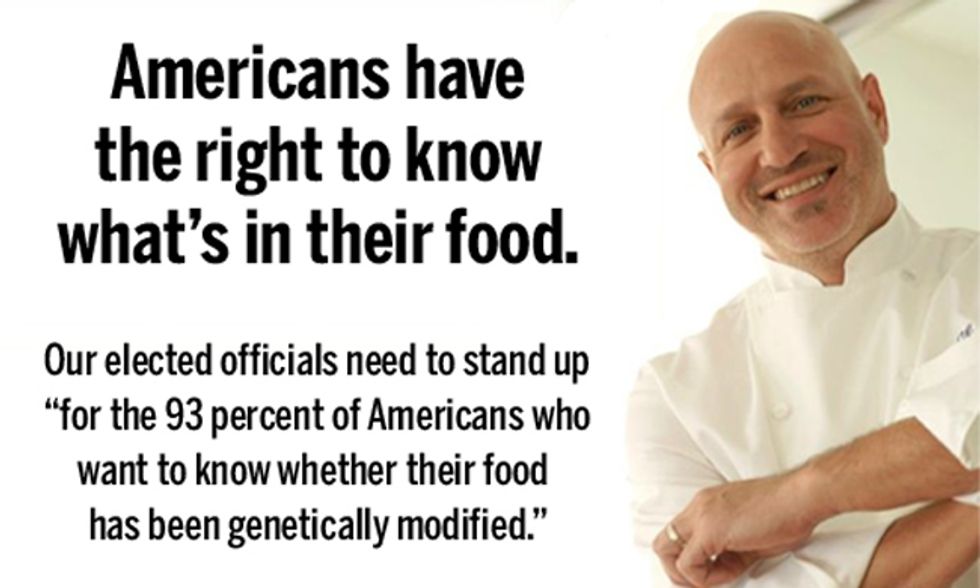 The Center for Food Safety (CFS) announced today that Chef Tom Colicchio joined Senators Barbara Boxer (D-CA) and Richard Blumenthal (D-CT), and Representative Peter DeFazio (D-OR) as they reintroduced the Genetically Engineered Food Right-to-Know Act. Originally introduced in April 2013, the bill would direct the Food and Drug Administration (FDA) to require food manufacturers to labels foods that are genetically modified (GMOs).
"We cannot continue to keep Americans in the dark about the food they eat," said DeFazio. "More than 60 other countries make it easy for consumers to choose. Why should the U.S. be any different? If food manufacturers stand by their product and the technology they use to make it, they should have no problem disclosing that information to consumers."
Tom Colicchio, who owns Craft Restaurants, joined the elected officials because he has been a longtime advocate of using the political system to reform our food system. He co-founded Food Policy Action in 2012 "to hold legislators accountable on votes that have an effect on food and farming." Food Policy Action's site contains an arsenal of information about how each elected official is voting on food policy issues. Colicchio hopes the information will be used by Americans to "Vote with their forks and elect more food policy leaders across the country."
Speaking in support of the GMO Right to Know Act with @BarbaraBoxer @RepPeterDeFazio @SenBlumenthal pic.twitter.com/5fFBmd0pud

— Tom Colicchio (@tomcolicchio) February 12, 2015
"The public wants more information about the food they are buying and how it's grown," said Colicchio. "I applaud Senators Boxer and Blumenthal and Representative DeFazio for their leadership and urge their colleagues to join them in standing up for the 93 percent of Americans who want to know whether their food has been genetically modified."
The bill has many other supporters including Environmental Working Group and Just Label It. Along with Food Policy Action and CFS, these organizations collected signatures from more than 1.4 million people who demand that the FDA require GMO labeling.
The FDA has allowed genetically modified foods to be sold without labeling because it claims these foods are not "materially" different from other foods. Companies can, of course, voluntarily label foods produced with genetically modified ingredients, but Colin O'Neil, director of government affairs at CFS points out, "Not one single company has done so. Consumers want to know more than ever how their food is produced, and a mandatory genetically engineered food labeling bill will give consumers the information they're looking for while balancing the need by companies for a national labeling standard."
Earlier this week, farmers from across the country flew to Washington, DC to urge Congress to pass a GMO labeling law. Many farmers are using more and more toxic herbicides such as Roundup and the new Enlist Duo "for use on crops genetically engineered to withstand herbicides such as glyphosate," CFS said. Monsanto's Roundup has been linked to a number of human and environmental health problems.
GMOs have not only failed to reduce the need for harmful herbicides—as promised—but they've led to farmers using even more harmful herbicides to deal with superweeds. "We've run the first 20 years of the GMO experiment and now know that in fact GMOs require more herbicides over time," said Mary Ellen Kustin, senior policy analyst at Environmental Working Group. "With even more toxic compounds like 2,4-D and dicamba being approved for use on GMO crops, consumers should be able to make informed decisions about what food they're buying."
YOU MIGHT ALSO LIKE
Ice Cream Giant Announces Plans to Stop Using Milk From Cows Treated With Artificial Hormone rBST
EcoWatch Daily Newsletter
Protesters holding signs in solidarity with the Wet'suwet'en Nation outside the Canadian Consulate in NYC. The Indigenous Peoples Day NYC Committee (IPDNYC), a coalition of 13 Indigenous Peoples and indigenous-led organizations gathered outside the Canadian Consulate and Permanent Mission to the UN to support the Wet'suwet'en Nation in their opposition to a Coastal GasLink pipeline scheduled to enter their traditional territory in British Columbia, Canada. Erik McGregor / LightRocket / Getty Images
Tensions are continuing to rise in Canada over a controversial pipeline project as protesters enter their 12th day blockading railways, demonstrating on streets and highways, and paralyzing the nation's rail system
Horseshoe Bend (seen above) is a horseshoe-shaped meander of the Colorado River in Page, Arizona.
didier.camus
/ Flickr /
public domain
Millions of people rely on the Colorado River, but the climate crisis is causing the river to dry up, putting many at risk of "severe water shortages," according to new research, as The Guardian reported.
An alarming sign of an impending drought is the decreased snowpack in the Sierra Nevada Mountain range, as seen here in Christmas Valley, South Lake Tahoe, California on Feb. 15, 2020.
jcookfisher
/
CC BY 2.0
California is headed toward drought conditions as February, typically the state's wettest month, passes without a drop of rain. The lack of rainfall could lead to early fire conditions. With no rain predicted for the next week, it looks as if this month will be only the second time in 170 years that San Francisco has not had a drop of rain in February, according to The Weather Channel.
New and recent books explore how we can effectively respond to climate change while enhancing our health and happiness. Kei Uesugi / DigitalVision / Getty Images
A warm day in winter used to be a rare and uplifting relief.

Now such days are routine reminders of climate change – all the more foreboding when they coincide with news stories about unprecedented wildfires, record-breaking "rain bombs," or the accelerated melting of polar ice sheets.
Where, then, can one turn for hope in these dark months of the year?