This website uses cookies to ensure you get the best experience while browsing it. By clicking 'Got It' you're accepting these terms.
Cheese Really Is 'Daily Crack': New Study Reveals It's as Addictive as Drugs
Oct. 24, 2015 10:26AM EST
Food
True Life: I'm a cheese addict. If you've ever uttered those words, or found yourself scarfing down another slice of honey-coated, creamy baked brie (drooling yet?), you may have a cheese addiction. But good news, cheese fans, your can't-stop-won't-stop struggle is real. Science has confirmed it.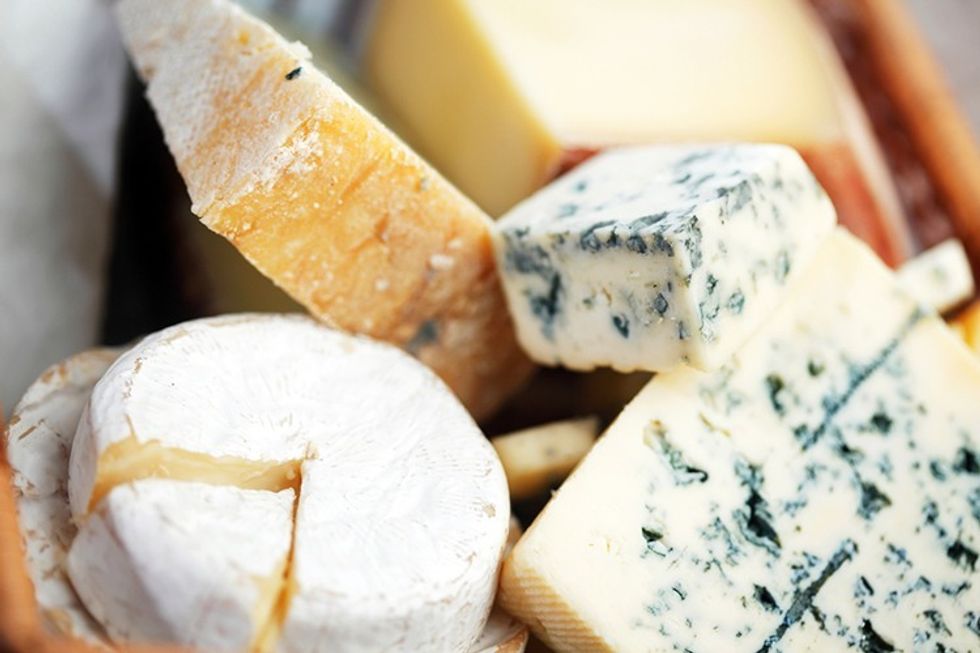 Cheese's protein casein, which is found in milk products, releases casomorphins, an opiate, when digested. Photo credit: Shutterstock
A new study from the University of Michigan has explored the addictiveness of foods investigating about 500 students through the Yale Food Addiction Scale, and ranked the most dependency-causing munchies.
For these college students, it was no surprise. Pizza took top prize, and the main reason behind its ultimate addiction status was the most popular topping: cheese. And according to the research, the fattier the food, the more it leads to addiction.
"Cheese contains protein and fat, so you can use it in a meal as either," explains Rania Batayneh, MPH, in her book, The One One One Diet. "With turkey and bread, it could be a fat. With apples and almonds, it could be a protein."
Cheese's protein casein, which is found in milk products, releases casomorphins, an opiate, when digested. These casomorphins then cling to your brain, activating the opiate receptors, producing an effect not much different than heroin or morphine. Those happy feelings you get when eating the protein-rich cheese quickly develop into a full-blown addiction. Your brain gets swamped with happy feelings of reward, and you reach for more. But don't be so hard on yourself.
"If you have to pick something from the cheese and meat platter or the cookie platter, splurge on the fatty cheeses and meats," writes Jonathan Bailor in his book, Eat More, Lose More. "Natural fats are a wonderful treat because they fill us up while keeping our fat-storing hormones at bay. Sugary starches do just the opposite. Splurge on fat to avoid storing fat."
Hear that? Cheese for dessert, it is. Go ahead and indulge on a little fromage. Your brain is asking for it.
YOU MIGHT ALSO LIKE
Exclusive Interview: Top Chef's Tom Colicchio Shares Importance of Eating Sustainable Fish
4 Ways to Determine if Your Nutritional Supplement Is Healthy for You
50 Powerful Sources of Plant-Based Protein
EcoWatch Daily Newsletter
Pro-environment demonstrators on the streets of Washington, DC during the Jan. 20, 2017 Trump inauguration.
Mobilus In Mobili
/ Flickr /
CC BY-SA 2.0
By Dr. Brian R. Shmaefsky
One year after the Flint Water Crisis I was invited to participate in a water rights session at a conference hosted by the US Human Rights Network in Austin, Texas in 2015. The reason I was at the conference was to promote efforts by the American Association for the Advancement of Science (AAAS) to encourage scientists to shine a light on how science intersects with human rights, in the U.S. as well as in the context of international development. My plan was to sit at an information booth and share my stories about water quality projects I spearheaded in communities in Bangladesh, Colombia, and the Philippines. I did not expect to be thrown into conversations that made me reexamine how scientists use their knowledge as a public good.
Mt. Rainier and Reflection Lake on Sept. 10, 2015. Crystal Geyser planned to open a bottling plant near Mt. Rainier, emails show.
louelke - on and off / Flickr
Bottled water manufacturers looking to capture cool, mountain water from Washington's Cascade Mountains may have to look elsewhere after the state senate passed a bill banning new water permits, as The Guardian reported.
Large storage tank of Ammonia at a fertilizer plant in Cubatão, Sao Paulo State, Brazil. Luis Veiga / The Image Bank / Getty Images
The shipping industry is coming to grips with its egregious carbon footprint, as it has an outsized contribution to greenhouse gas emissions and to the dumping of chemicals into open seas. Already, the global shipping industry contributes about 2 percent of global carbon emissions, about the same as Germany, as the BBC reported.
At high tide, people are forced off parts of the pathway surrounding DC's Tidal Basin. Andrew Bossi /
Wikimedia
The Jefferson Memorial in Washington, DC overlooks the Tidal Basin, a man-made body of water surrounded by cherry trees. Visitors can stroll along the water's edge, gazing up at the stately monument.
But at high tide, people are forced off parts of the path. Twice a day, the Tidal Basin floods and water spills onto the walkway.
Lioness displays teeth during light rainstorm in Kruger National Park, South Africa. johan63 / iStock / Getty Images
Ahead of government negotiations scheduled for next week on a global plan to address the biodiversity crisis, 23 former foreign ministers from various countries released a statement on Tuesday urging world leaders to act "boldly" to protect nature.