This website uses cookies to ensure you get the best experience while browsing it. By clicking 'Got It' you're accepting these terms.
Check Out This Highway Billboard That Grows Organic Lettuce and Generates Drinking Water
Mar. 25, 2015 11:13AM EST
Food
We've seen vertical farms before, but this brings urban agriculture quite literally to the next level. In the Bujama region of Lima, Peru, thousands of lettuce heads are sprouting next to a major highway thanks to a very unusual source: a billboard.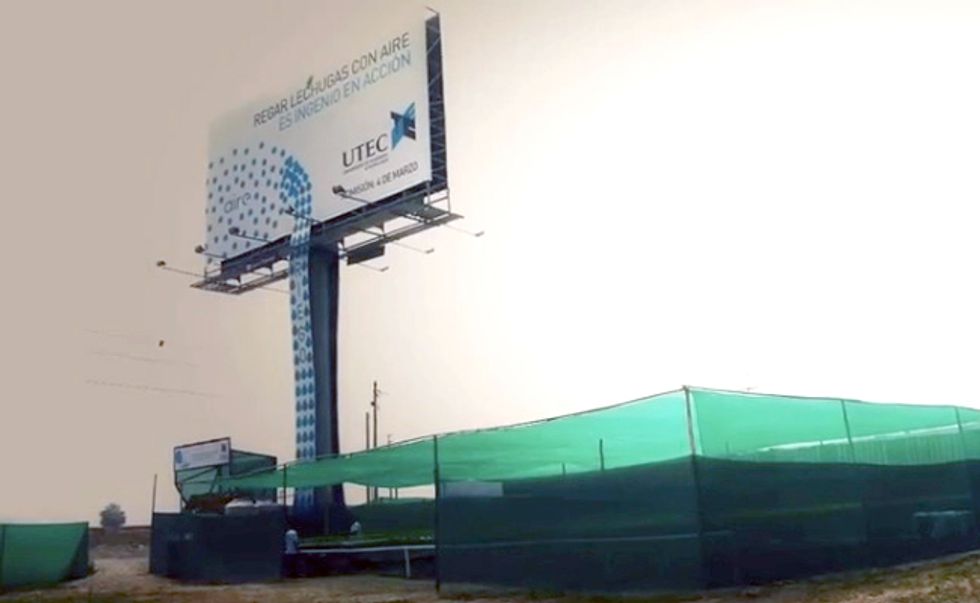 FCB Mayo Peru and University of Engineering & Technology (UTEC)—the minds behind an innovative billboard that's sucking up Lima's notorious pollution and another billboard that's turning the city's humid air into drinking water—have come up with the "Air Orchard" billboard that can generate pollution-free produce.
We all know that this isn't just any old advertisement by the side of the road. So how does it work? The concept is actually very simple to anyone familiar with the soil-free farming method of hydroponics. Sitting behind the billboard's panel are 10 large dehumidifiers that draw in water from the air and turn it into potable water. This water then drips down a series of PVC tubes that are coated in nutrients. The tubes are also white to reflect the sun's rays and boost photosynthesis. Air Orchard's system is simply an adaptation of the "nutrient film technique" of hydroponics, in which plants' roots can constantly access a recirculating stream of fertilizer-rich water.
The billboard is located on Peru's largest and most important highway, the Panamericana Sur, and is already in operation. According to a press release, more than 2,800 heads of lettuce are given away weekly to passersby and the local community from the Air Orchard—all for free.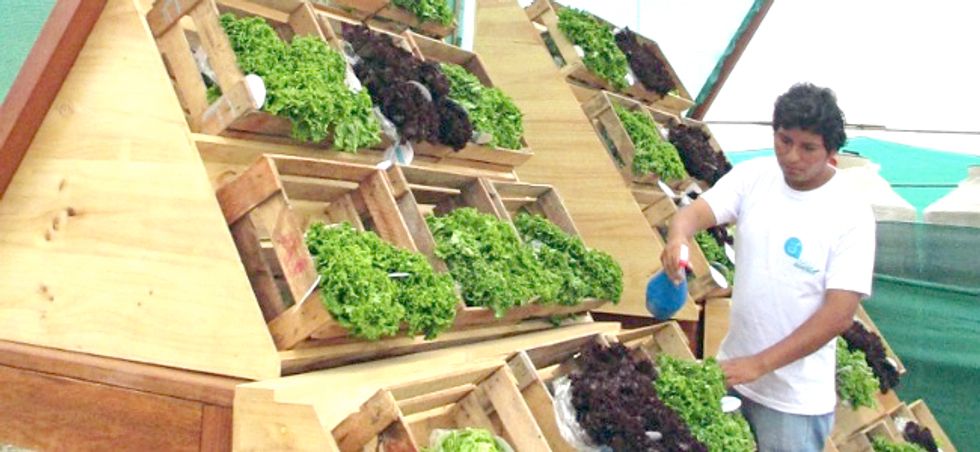 "Currently, organic products are gaining significance, compared to chemically treated products. UTEC wanted to work out the most efficient way to grow a crop of 2,000 heads of lettuce using the clean water generated by the panel," said Jessica Ruas, UTEC marketing director in a statement. "In addition to growing lettuce, the billboard still produces 96 liters of drinking water a day to provide for the surrounding community."
This technique solves a pressing problem in the area. As the video below pointed out, water that's used for irrigating Bujama's fields are highly contaminated with arsenic, lead or cadmium that can seep into nearby farmland and crops. Consequently, this means the majority of the vegetables consumed in Lima are contaminated.
"UTEC is a university that was founded with the mission of developing applied research that provides practical solutions to the challenges of society and industry," said Ignacio Montero, director of business innovation at UTEC in a statement. "These principles are proven through innovative initiatives like the 'Air Orchard.' We improved on our first panel that generated water from moisture in the air for human consumption and increased the production of water to grow healthy food. We have found a practical solution to a real problem, and through creativity and innovation we developed solutions to the challenges of our country and the world."
Now imagine eating fresh vegetables from a billboard on a highway near you.
YOU MIGHT ALSO LIKE
Epic Urban Treehouse Offers Glimpse Into Future Living
Farmers Rewarded for Practicing 'Carbon Farming'
Hydroponic Planter Makes It Easy to Grow Your Own Indoor Edible Garden
EcoWatch Daily Newsletter
Baby orangutan and mother orang utan seen walking in Jakarta, Indonesia. Aprison Photography / Moment / Getty Images
By Tara Lohan
To be a good wildlife photographer, you need an expertly trained eye. But good ears help, too.
Worker spraying toxic pesticides or insecticides on corn plantation. D-Keine / E+ / Getty Images
Poor people in developing countries are far more likely to suffer from exposure to pesticides classified as having high hazard to human health or the environment, according to new data that Unearthed analyzed.
Power to heat, to cool, to drive the world's industries. Renewables can supply it all.
Jason Blackeye / Unsplash
By Paul Brown
Virtually all the world's demand for electricity to run transport and to heat and cool homes and offices, as well as to provide the power demanded by industry, could be met by renewable energy by mid-century.

Phthalates, a group of chemicals used to make plastics more flexible and harder to break, affect health in many ways. Tatyana Tomsickova Photography / Moment / Getty Images
By George Citroner
Exposure to phthalates was associated with autism traits in boys (but not girls) between ages 3 and 4 years, according to a new study.
However, the risk was diminished in women who took folic acid during their pregnancy.
This study is the first to find that folic acid supplements provide a protective effect from phthalates.
Exposure in the womb to a group of endocrine-disrupting chemicals called phthalates was associated with autism traits in boys (but not girls) between ages 3 and 4 years, according to a new study.
A coral and fish community at the Great Barrier Reef, northeast of Port Douglas, Queensland, Australia, on Aug. 28, 2018. Francois Gohier / VWPics / Universal Images Group via Getty Images
Researchers released a sobering study this week showing that all of the world's coral reefs may be lost to the climate crisis by 2100.