Check Out Astronaut's Epic Photo of Wildfires from Space
Aug. 19, 2015 10:42AM EST
Climate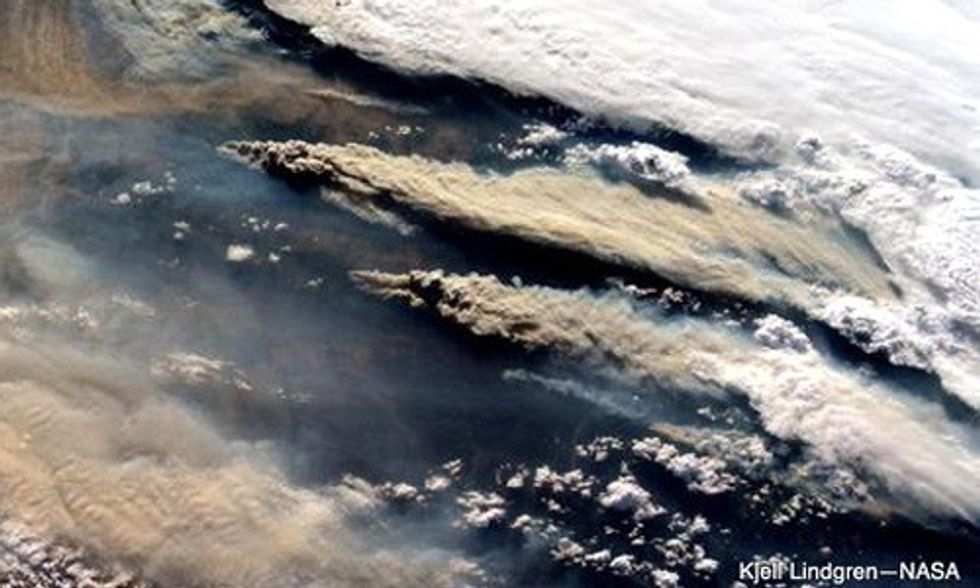 Nearly 100 wildfires continue to burn across the drought-stricken West, destroying scores of structures and sparking evacuations of thousands of people. Nearly 30,000 firefighters—the biggest number mobilized in 15 years—are battling the flames and yet it's still not enough.
With wildfires running rampany in the west, the US army is stepping in. http://t.co/7jVc5j4hHR pic.twitter.com/r0UeflaFjo

— Greenpeace USA (@greenpeaceusa) August 18, 2015
They are calling for back up, enlisting about 200 active-duty military personnel. Active-duty soldiers, who have been called on to fight 35 wildfires since 1987, will provide back up and free up the more experienced crew members to "handle more complex dangerous fire situations," center spokesman Ken Frederick said. The U.S. Forest Service has already enlisted Canadian fire crews to assist in Idaho and Montana and the agency is considering asking Australia and New Zealand to lend firefighters. 
Needless to say the situation has become very drastic. Experts predicted that this year might be the worst wildfire season yet, and they just might be right. Already more than 7.1 million acres has been burned, which is the first time in 20 years that the area charred has exceeded 7 million acres by this date, according to the National Interagency Fire Center.
The wildfires have destroyed hundreds of homes and scorched 1.1 million acres in Oregon, Washington, Idaho, Montana, California, Nevada and Colorado, the National Interagency Fire Center told CNN. Alaska alone has seen more than 5 million acres burned and at one point this summer there were more than 300 active fires across the state. Researchers at Climate Central say that Alaska, along with the rest of the West, is entering a new era for wildfires due to climate change.
NASA's astronaut Kjell Lindgren shared a photo of the massive amounts smoke visible from space:
Thoughts and prayers are with those affected by the wildfires in the Northwest. pic.twitter.com/q6yqb697bN

— Kjell Lindgren (@astro_kjell) August 17, 2015
This "firenado," or fire tornado, from the Soda Fire near Boise, Idaho shows just how extreme the conditions are there:
"In California alone, more than 11,000 firefighters were mobilized, with the U.S. Forest Service spending more than $100 million each week nationwide," reports TIME. "The agency warns it will have exhausted its annual firefighting budget by the end of the week."
Five states are dealing with more than 10 large wildfires: California is battling 16, Idaho 21, Montana 14, Oregon 11 and Washington 17. A few weeks ago, we highlighted an interactive wildfire map from Climate Central that shows in real-time just how bad the fire situation is in the West.
YOU MIGHT ALSO LIKE
We Need to Empower Everyone to Tackle Water Issues
Fossil Fuel Leasing on Public Lands Must End to Prevent Global Climate Crisis, Report Finds
EcoWatch Daily Newsletter