This website uses cookies to ensure you get the best experience while browsing it. By clicking 'Got It' you're accepting these terms.
Chasing Ice: Ground Zero of Climate Change
Oct. 16, 2012 12:00PM EST
Climate
By Paul E McGinniss
I have seen ground zero of climate change thanks to the beautiful and disturbing film, Chasing Ice. See a wall of ice taller than any existing building and greater in size than one third of the entire island of Manhattan falling off a 100,000 year old glacier into the sea. Hear a thunderous roar so overwhelming, even on film, that it will leave you utterly speechless. Bear witness to what acclaimed National Geographic photographer, James Balog, the poetic, daredevil explorer subject of Chasing Ice, presents as "undeniable evidence of our changing planet." 
Twenty years ago, James Balog was a climate change skeptic. "If I hadn't seen it in pictures, I wouldn't have believed it at all," said Balog. He describes the sound of a huge chunk of Store Glacier in Greenland tumbling violently into the waters below as "747s flying overhead." Balog, no longer the doubter, has risked life and limb to gather the evidence and reveal the truth of a world in trouble.
Since 2007, Balog's Extreme Ice Survey (EIS) has performed an unprecedented photographic study of glaciers as they are disappearing. EIS has installed 27 time-lapse cameras at remote glacier sites in Greenland, Iceland, Nepal, Alaska and the Rocky Mountains. The recordings reveal the glaciers receding at alarming rates. In just two years, as an example, EIS captured 2.5 miles of an Alaskan Glacier disappearing into the ocean, lost forever due to global warming.
Balog and his engaging team, captured exquisitely by Director Jeff Orlowski, have also employed episodic photography in Canada, the French and Swiss Alps, and Bolivia. Together, this team of brave and endearing colleagues, who took great risks to install the remote cameras, recorded nearly a million photographs to reveal the extraordinary ongoing retreat of glaciers and ice sheets, helping people to viscerally understand the reality of climate change.
Even at the beginning of his EIS, Balog is in disbelief that the dramatic change he is capturing is really happening. The ice was melting too fast. After reviewing what had happened to the glaciers in just one six month period since his team had last trekked to the remote cameras they installed the season before, he says, looking incredulously at the time lapse images, "We must be wrong!"
A sequence in the film documenting atmospheric data obtained in deep ice glacial core samples scientifically demonstrates how the atmosphere is changing as a result of more CO2 being released into the environment and how this atmospheric change correlates directly with the melting ice phenomenon.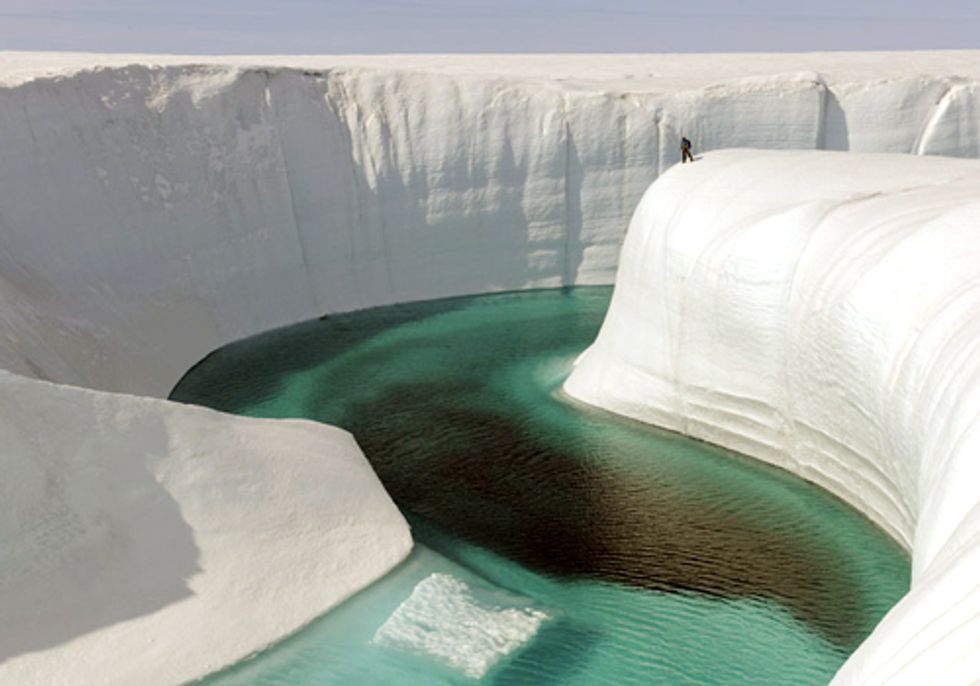 Balog understands the importance of his endeavor to provide visual evidence of climate change and a sense of urgency permeates the film. Balog's emotional testimony in Chasing Ice is compelling: "We're living through a moment of epochal geologic change and we are causing it."
Thankfully, the whole world seems to be tuning in to the message. The National Geographic story, The Big Thaw, was the most widely read article they have published in the past five years.
According to Earth Policy Institute, the North Pole is losing its ice cap. Comparing recent melt seasons with historical records spanning more than 1,400 years shows summer Arctic sea ice in free fall. Many scientists believe that the Arctic Ocean will be ice-free in the summertime within the next decade or two, and some say that this could occur as early as 2016.  The last time the Arctic was completely free of ice may have been 125,000 years ago.
The global upshot of this combined ice melting into the sea is enormous. Consequences include loss of coastal wetlands and barrier islands, and a greater risk of flooding in coastal communities and low-lying areas around the world.
It's hard to discern while watching Chasing Ice just who is the real star of the film, Balog or the disappearing Glaciers he captures in a process he terms "memories of landscape." Balog is clearly in love with his subject. He compares photographing the incredible, stunning array of glacial shapes and ice forms to the way artists like Richard Avedon approach photographing people. "It's like a portrait of people, endless beauty endless variation...endless magic," said Balog.
The film, despite the serious content, engenders hope and optimism. Throughout, touching scenes with Balog, his wife and daughters remind us what we all risk losing by ignoring the imminent peril. As her Dad is off on yet another trek into the remote wilderness, daughter Simone proudly affirms her belief in his mission: "I have never seen him so passionate before." Surely, the film is not just a drama about Balog and his family, but a representation of the struggles borne by the family of man.
At the end of the film, Balog reflects on why he is working so hard despite enormous difficulties, including needing four painful knee surgeries due to injuries resulting from the strenuous hiking required as part of his work. It is clear he is sacrificing himself to warn the world what is happening. Choking with emotion, Balog makes clear what is driving him in his mission. He simply states that if in 30 years his daughters asked him what he did to prevent the momentous, irreversible impacts of man made global warming, he could say, "I was doing everything I knew how to do."
Check out the mesmerizing music video below:
With a siren-like warning, anti-fracking activist and actress, Scarlett Johansson, sings Before My Time over the closing credits of Chasing Ice.
The words give voice to the glaciers and those that watch them disappear:
just a taste of things to come
i still smile
but i don't wanna die alone
i don't wanna die alone
way before my time
Visit EcoWatch's CLIMATE CHANGE for more related news on this topic.
--------
Paul E McGinniss is The New York Green Advocate. He is a green building consultant and real estate broker in New York. He is pretty much obsessed with all things environment and has lately become a resiliency addict.
McGinniss saw Chasing Ice at this year's Woodstock Film Festival.
EcoWatch Daily Newsletter
A pangolin at a rescue center in Cambodia. Rhett A. Butler / Mongabay
A man carries plastic shopping bags in Times Square on May 5, 2018 in New York City. Kena Betancur / VIEWpress / Corbis / Getty Images
White gold man-made diamond solitaire engagement ring. Clean Origin
While keeping track of the new trends in the diamond industry can be hard, it is still an essential task of any savvy consumer or industry observer. Whether you are looking to catch a deal on your next diamond purchase or researching the pros and cons of an investment within the diamond industry, keeping up with the trends is imperative.
Rep. Alexandria Ocasio-Cortez (D-NY) (C) chants with housing and environmental advocates before a news conference to introduce legislation to transform public housing as part of her Green New Deal outside the U.S. Capitol Nov. 14, 2019 in Washington, DC. Chip Somodevilla / Getty Images
Rep. Alexandria Ocasio-Cortez (D-N.Y.) took to the floor of the House of Representatives yesterday to chide Republicans for not reading the Green New Deal, which she introduced over one year ago, as The Hill reported. She then read the entire 14-page document into the congressional record.
Anti Ivan Duque's demonstrator is seen holding a placard with the photos of social leader Alirio Sánchez Sánchez and the indigenous Hector Janer Latín, both killed in Cauca, Colombia during a protest against Ivan Duque visit in London which included a meeting about fracking, environmental issues, the peace process implementation, and questioning the risk that social leaders in Colombia face. Andres Pantoja / SOPA Images / LightRocket / Getty Images
Colombia was the most dangerous nation in 2019 to be an environmental activist and experts suspect that conditions will only get worse.