Charles Koch Blasts President Obama for Comments Made at Climate Speech
Aug. 26, 2015 11:05AM EST
Politics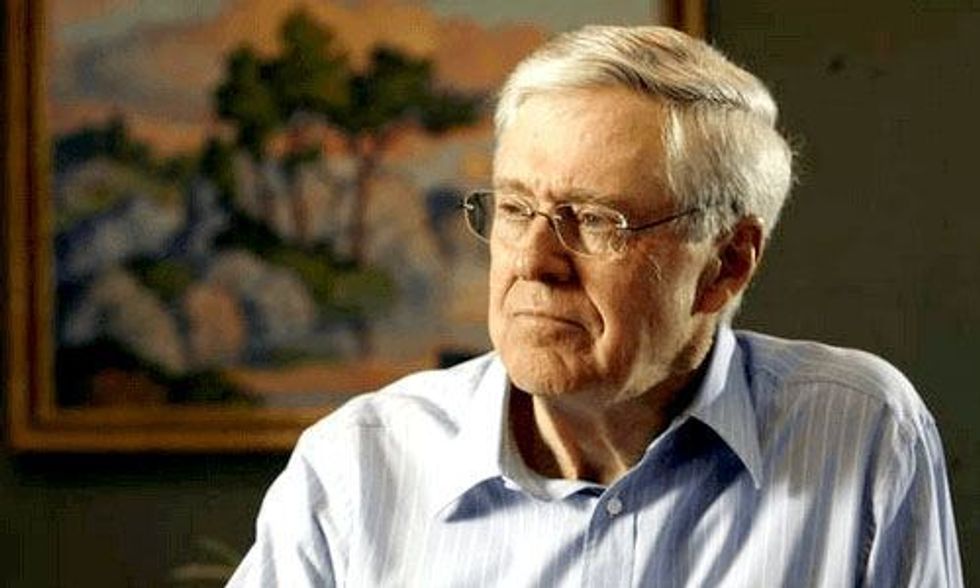 After President Obama called out the Koch Brothers for their anti-renewable energy stance during a climate speech in Nevada on Monday, Charles Koch has sent a missive back to the commander-in-chief.
Charles Koch hit back at criticism of "the Koch brothers" during Obama's energy speech http://t.co/WIxLT9cXjM | AP pic.twitter.com/IlfhBZW5dw

— POLITICO (@politico) August 26, 2015
"It's beneath the President, the dignity of the President, to be doing that," Koch told Politico in a phone interview yesterday.
In his speech in Las Vegas during the National Clean Energy Summit, the President singled out the Koch brothers for their efforts in blocking states in setting new renewable energy standards.
The explosive growth of solar in the U.S. "has some big fossil fuel interests pretty nervous," Obama said. "When you start seeing massive lobbying efforts backed by fossil fuel interests, or conservative think tanks, or the Koch brothers pushing for new laws to roll back renewable energy standards, or to prevent new clean energy businesses from succeeding, that's a problem," Obama continued.
Koch—the co-owner, chairman of the board and chief executive officer of Koch Industries—also accused Obama of siding with Senate Minority Leader Harry Reid (D-Nev.), who is an outspoken critic about Koch and his brother David.
"I was absolutely flabbergasted that he could say so many things about us that were the opposite of the truth," Koch told Politico. "I was really dumbfounded. And I know he was there with Harry Reid. So we expect that with Harry Reid, but I didn't expect that from the president."
He said that his company is "opposed to renewable energy subsidies of all kinds—as we are all subsidies, whether they benefit or help us," adding that the President's words seemed like a personal attack, Politico reported.
"The only thing I can think of is he was there with Harry Reid, and it was kind of a farewell gesture to help Harry Reid," Koch said. "I can think of no other reason to single us out in his remarks in his efforts to promote his favorite forms of energy."
Obama: "I love Harry Reid" because we "deal with the crazies" together http://t.co/wViM2hK60H pic.twitter.com/H7c5DqLIwI

— Talking Points Memo (@TPM) August 26, 2015
EcoWatch mentioned before that the conservative brothers and their network of mega-donors, or the Freedom Partners Chamber of Commerce, aims to spend a jaw-dropping $889 million for the presidential election. The Nevada senator has been vocal about the brothers' unwieldy campaign donations before.
"Looks like the Koch Brothers already bought the House. They should buy the Senate," Reid said last May. "And what's next? They gonna buy a president?"
As EcoWatch previously noted, the Kochs have made a significant part of their billions from fossil fuels, and have enlisted funding groups, lobbyists and elected officials to defend their right to make even more billions—all while spewing climate change-causing greenhouse gases into our atmosphere.
Koch told Politico that his company is not trying to prevent new clean energy businesses from succeeding.
"Any business that's economical, that can succeed in the marketplace, any form of energy, we're all for," he said. "As a matter of fact, we're investing in quite a number of them, ourselves—whether that's ethanol, renewable fuel oil. … We're investing a tremendous amount in research to make those more efficient and create higher-value products."
#Koch reacts to #Obama criticism: "It's beneath the pres, the dignity of the pres" http://t.co/LBd8UpS27P @mikeallen pic.twitter.com/ORELys3Ll2

— PredictIt (@PredictIt_) August 26, 2015
"But it's not going to help the country to be subsidizing uneconomical forms of energy—whether you call them 'green,' 'renewable' or whatever. In that case, the cure is worse than the disease," he explained. "And there is a big debate on whether you have a real disease or something that's not that serious. I recognize there is a big debate about that. But whatever it is, the cure is to do things in the marketplace, and to let individuals and companies innovate, to come up with alternatives that will deal with whatever the problem may be in an economical way so we don't squander resources on uneconomic approaches."
In his climate speech, Obama charged the Republican party for thwarting progress in renewables.
"Now is not the time to pull back from these investments. Many Republicans want to take from these successful clean energy programs," the President said. "That's not the American way, that's not progress, that's not innovation. That's trying to protect the old ways of doing business and standing in the way of the future."
"I mean, think about this," Obama continued. "Ordinarily, these are groups that tout themselves as champions of the free market. If you start talking to them about providing health care for folks who don't have health insurance, they're going crazy: 'This is socialism, this is going to destroy America.' But in this situation, they're trying to undermine competition in the marketplace, and choke off consumer choice, and threaten an industry that's churning out new jobs at a fast pace."
Koch responded, "I don't know whether he knows what that phrase means, but 'rent seeking,' of course, is, in economic terms, is getting the government to rig the system in your favor. And that's exactly what these so-called 'renewable energy' proponents are doing."
YOU MIGHT ALSO LIKE
U.S. Navy Invests in World's Largest Solar Farm
President Obama Doubles Down on Clean Energy
One of the World's Largest Solar Farms to Be Built in California Desert
EcoWatch Daily Newsletter
Recent Stories from EcoWatch