This website uses cookies to ensure you get the best experience while browsing it. By clicking 'Got It' you're accepting these terms.


The best of EcoWatch, right in your inbox. Sign up for our email newsletter!
Charges Dismissed 'In the Interests of Justice' for 42 Seneca Lake Gas Storage Protesters
Mar. 19, 2015 09:57AM EST
Energy
[Author's Note: As this goes to press, Reverend Nancy Kasper's charges were dismissed in the interest of justice. She was one of 42 dismissals at the Reading Town Court on March 18. (See video below) Reverend Kasper will still go to trial for her second arrest.]
It was 4 degrees on February 23, on the drive from Mecklenburg to the Reading Town Court. It had become a familiar route. Since October, I've been part of a local movement protesting the expansion of gas storage beside Seneca Lake by a company called Crestwood Midstream. The argument is a familiar one. People against the expansion cite environmental concerns: unstable caverns with a history of collapse, air quality issues and their associated health risks, increased train and truck traffic. Local winemakers are concerned about their grapes, being sullied by an industry known for its cavalier destruction.
To date, there have been 216 arrests at the gates of Crestwood. Since November, I have watched musicians, professors, nurses, teachers, bakers, chefs, psychologists, farmers, philosophers, business owners, winemakers and parents face charges of trespassing and disorderly conduct at the Reading Town Court. It is, my husband says, my miniseries.
The best part of the drive is heading west on 79 out of Burdett when the lake just appears. Boom. Like a guy jumping out of a cake. I grew up downstate, in a family that eschewed fresh water for salt. I find it hard to trust water that doesn't move with the moon. (I once burst into tears at a gas station in Queens because I could smell the ocean). My children, however, were born here. Ignorant of sand up their swimsuits, or being caught in a dead man's roll, they make piles of shale on Lodi Point every summer, squawking with excitement when a boat goes by, and for a moment, there is a wave. They are lake people. Headed down the hill, the lake was on my right, massive and unapologetic. It was so cold I was driving with my gloves still on.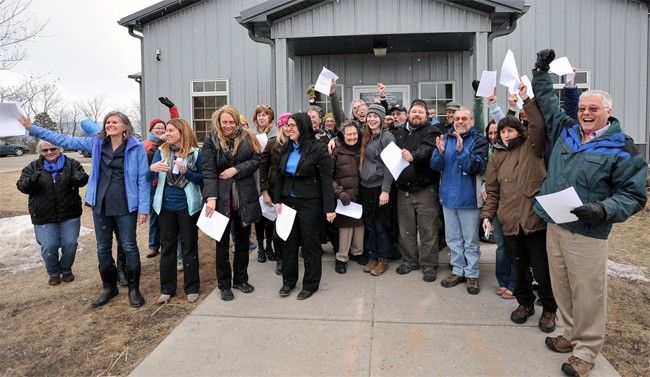 In three speedy hearings on Wednesday night in the Town of Reading court, Judge Raymond Berry granted a motion to dismiss all charges "in the interests of justice" brought by 42 Seneca Lake protesters. Photo credit: We Are Seneca Lake
Today was Reverend Nancy Kasper's trial. She pled not guilty at her arraignment, and chose to go to trial with a public defender. For a violation, there is no jury, just the judge, which I have learned, is called a bench trial. The deputy at the door of the courthouse asked me if I was there for an arraignment or if I was 'just visiting". This is the euphemism he uses every time he sees me, though I am attending a public trial, in a public building. Then it was time for the search. I held my arms out in a T, and told him I'd left my phone in the car. We both agreed that I didn't have any weapons or bombs on me. He outlined my down coat with the metal detector, and it beeped its assent. All I had on me were mechanical pencils.
I've been attending these court proceedings for two reasons. One: moral outrage. Jamming fracked gases into unstable caverns under one of the biggest sources of freshwater in the state, in the heart of a thriving, award winning wine industry is madness. Two: Gratitude. I came of age in a world without trustworthy role models. My heart has grown three sizes watching the people here stand up to defend their home, their water. They have given me the beginnings of faith. So I show up.
There were a handful of people in the courtroom: a few Seneca Lake Defenders that I knew; Barry Moon, the director of operations at Crestwood; and a young man in a dark suit and hair product sitting beside him. He never identified himself.
Wesley Roe, Reverend Kasper's public defender, started things off by reminding Judge Berry that he had passed a motion requesting an expert witness. His argument, he said, was two-pronged. One, the Reverend had acted on a belief of imminent harm, and two, that harm was real. In order to show this, he said specific testimony was necessary from an expert witness.
John Tunney, the assistant District Attorney, took issue with Mr. Roe's request, saying, "justification is not an applicable defense." The question, he said, was not why the defendant had trespassed, but whether or not she had trespassed. Judge Berry said he agreed with ADA Tunney and that there would be no expert witness.
Judge Berry went on to say that in his understanding the application for construction of a compressor station had not yet been approved by the DEC. Roe reminded him that FERC had approved Crestwood's request to expand their current methane storage to 2 billion cubic feet last summer. Judge Berry still would not allow the expert witness.
Mr. Tunney called Barry Moon and Deputy Eberhardt to testify. Mr. Moon, who is the Director of Operations at Crestwood, has worked for the company for the last 27 years, since they were Bath Petroleum. He is familiar with the physical plant, and involved with the wells and layout of salt and gas facilities. He told us about the NO TRESPASSING signs at the site and that the protestors did not have Crestwood's permission to be on the property. He was working at the brine field on November 19, 2014, when he was informed that the gate was being blocked. He made the official complaint to the police that resulted in Rev. Kasper's arrest, among others. This was my first time seeing Barry Moon in the flesh. He wore a striped shirt and corduroy pants. He was unassuming and polite while on the stand. I wondered what he really thought about all of this.
Deputy Eberhardt described the scene at the site of the arrest and identified Rev. Kasper as one of the people blockading the south gate. Mr. Roe asked him if the blockaders were doing any harm. Mr. Tunney objected to that line of questioning. Mr. Roe was finally allowed to ask Mr. Eberhardt if the protestors had been compliant. "Did they resist? Were they reasonable? Did they answer your questions?" They had not resisted, they were compliant.
Reverend Kasper testified on her own behalf. Tall and neatly dressed, she spoke calmly with clarity. She said she was compelled as a mother and as a citizen of this planet to protect our future. She spoke of mass extinctions and environmental degradation, about being a minister, and the harm that she has witnessed to the earth over the course of her lifetime. She said she put her body in the way of progress, that ... But Tunney stopped her before she was finished, saying, "I have tried to be indulgent. I understand the point. It is not unfounded. I am objecting on the subject of relevance." The only thing that mattered, he argued, was that she admitted to trespassing. Mr. Roe urged Judge Berry to dismiss the charges in the interest of justice. Mr. Tunney insisted that was a pretrial motion and couldn't be requested now. Mr. Roe objected to the preclusion of his expert witness and asked again how imminent harm could possibly be irrelevant. He got no answer from Judge Berry.
The court was adjourned. I asked Mr. Tunney to explain his argument about the justification defense not being relevant. He said in Section 35 subdivision 2 of the Penal Code it says that under certain circumstances criminal conduct may be justified and reasonable and necessary to avoid imminent harm, such as a man breaking into a house that is on fire to save a child's life. As an example, he mentioned a case down state where some people had blocked a bulldozer in an attempt to save a park from destruction, but they did so 7 hours before the demolition was to begin. They could have used those 7 hours to call a lawyer and get an injunction, Mr. Tunney explained to me, so they therefore could not use the justification defense. Rev. Kasper's case was even more pronounced, he said, as it had been several months since her arrest, with no new developments at the construction site.
I drove back the way I had come, my face smarting from the short walk to the car. The wind had picked up, and the air was exquisitely painful. The lake was on my left now. Tidal or not, the sight of all water was comforting. Still a liquid, holding strong at 32 degrees. A warm spot. A 600-foot deep, forty-mile long warm spot. Even now, in this harsh winter, the lake was moderating the climate for us. A miracle.
'I have tried to be indulgent,' Tunney had said, as he interrupted Nancy. I have indulged many a toddler in my career, and I know that telling them they are being indulged is the final flourish on the manipulation. He didn't have to let her talk about why she trespassed, but he did. For a little while.
State Route 14 south merged from two lanes into one and I eased in behind a truck. It was hard to keep my attention on the road, rendered a gray by the salt, boring compared to the shifting textures and tones out on the lake. There was wind out there, slicing the water into pieces of light. I ran through the words for blue that I knew: Cobalt. Cerulean. Aegean. Azure. Ultramarine. Sapphire. Lapis. None of them were accurate enough for what I saw. Take all the words for blue, put them into a kaleidoscope, look straight into a cold sun. That's what color it was.
I thought about Mr. Tunney's definition of imminent harm, how small it was. Nancy Kasper, on the other hand, made the issue big. Big like the lake is big. She had big reasons for risking arrest. Our water, our soil, is at the very root of what this place is, and why we are able to live here. Tunney said our concerns weren't unfounded. Why isn't he fighting for us? Why is the DA's office protecting an industry that considers the lake, the grapes, and the farms an insubstantive issue?
Of the 216 arrests that have occurred, Reverend Kasper's trial is the first. She is the first voice of many to publically stand trial in an attempt to protect their home, their water. They aren't going to stop, those clear, calm voices. The water was still on my left as I put my Subaru in fourth to get up the hill. Soon it would be behind me, just out of sight.
YOU MIGHT ALSO LIKE
Dispatches from the Seneca Lake Uprising 
The Speech I Gave to FERC From Baggage Claim Area 3
EcoWatch Daily Newsletter
Secretary Carson surveys recovery in Florida Panhandle following Hurricane Michael. U.S. HUD / Flickr / Public Domain
Pexels
By Ketura Persellin
Global consumption of beef, lamb and goat is expected to rise by almost 90 percent between 2010 and 2050. But that doesn't mean you need to eat more meat. In fact, recent news from Washington gives you even less confidence in your meat: Pork inspections may be taken over by the industry itself, if a Trump administration proposal goes into effect, putting tests for deadly pathogens into the hands of line workers.
MStudioImages / E+ / Getty Images
Backpacking is an exciting way to explore the wilderness or travel to foreign countries on a budget.
Tim P. Whitby / 21st Century Fox / Getty Images
The beauty products we put on our skin can have important consequences for our health. Just this March, the U.S. Food and Drug Administration (FDA) warned that some Claire's cosmetics had tested positive for asbestos. But the FDA could only issue a warning, not a recall, because current law does not empower the agency to do so.
Michelle Pfeiffer wants to change that.
The actress and Environmental Working Group (EWG) board member was spotted on Capitol Hill Thursday lobbying lawmakers on behalf of a bill that would increase oversight of the cosmetics industry, The Washington Post reported.
By Collin Rees
We know that people power can stop dangerous fossil fuel projects like the proposed Line 3 tar sands oil pipeline in Minnesota, because we've proved it over and over again — and recently we've had two more big wins.

Scientists released a study showing that a million species are at risk for extinction, but it was largely ignored by the corporate news media. Danny Perez Photography / Flickr / CC
By Julia Conley
Scientists at the United Nations' intergovernmental body focusing on biodiversity sounded alarms earlier this month with its report on the looming potential extinction of one million species — but few heard their calls, according to a German newspaper report.
DoneGood
By Cullen Schwarz
Ethical shopping is a somewhat new phenomenon. We're far more familiar with the "tried and tested" methods of doing good, like donating our money or time.