Charge Your Smart Phone With 3D-Printed Solar Tree
Scientists at VTT Technical Research Centre have developed a prototype of a tree that harvests solar energy from indoor and outdoor light and turns it into electricity to power small electronic devices, such as phones, humidifiers, thermometers and LED light bulbs. VTT is a leading research and technology company in the Nordic countries and part of the Finnish government's initiatives to spur innovation.
VTT explains that we are harvesting trees for energy in such great numbers, which is not sustainable or environmentally responsible. The company hopes that their innovative electricity-producing "tree" can help reduce deforestation. "Now you can produce energy not by wiping out whole forests. On the contrary, by adding trees," VTT says in their video. The company has produced an "artificial electricity harvesting tree that can be infinitely replicated."
The tree trunk is 3D-printed and made of "wood-based biomaterials," called biocomposites. The leaves are organic solar cells printed using well-established and widely used mass production techniques.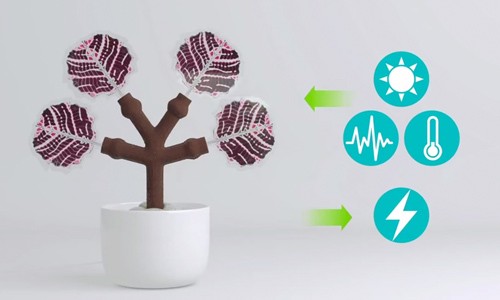 Each leaf has a separate power converter, making it possible to harvest solar energy from its organic solar cells and kinetic energy from vibrations in the surrounding environment. The leaves are relatively affordable and consume very little raw material. And once the panels reach the end of their life, they can be recycled.
Currently, the prototype can only power small electronic devices, but the more solar cells there are in a tree, the more energy it can harvest. "Today it can power your mobile [phone], but imagine the impact a whole forest could have tomorrow," says VTT.
YOU MIGHT ALSO LIKE
Tim Cook: New Solar Farm Will Be Apple's 'Biggest, Boldest and Most Ambitious Project Ever'
Burning Trees for Electricity Is Actually Dirtier Than Coal